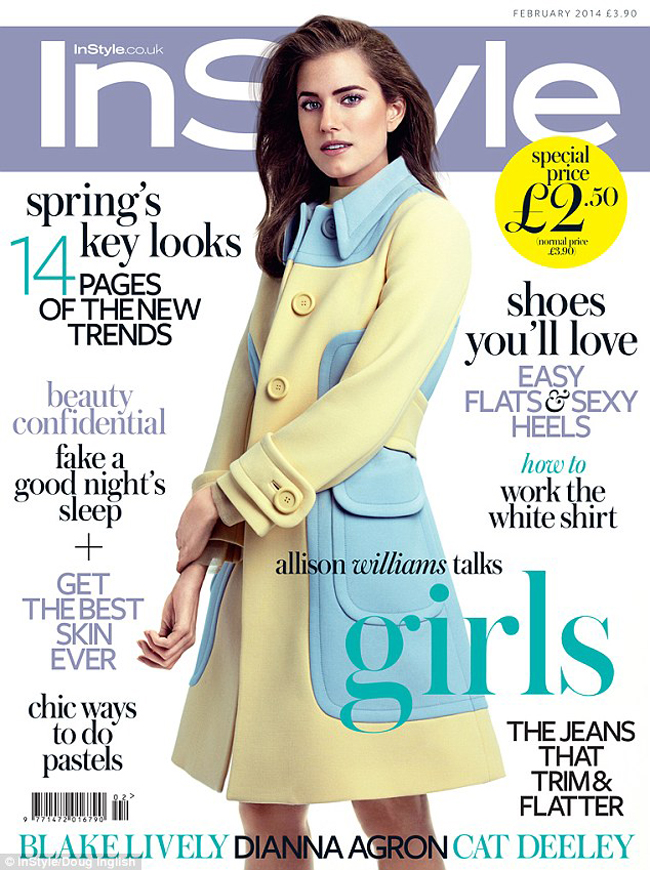 Allison Williams covers the February issue of InStyle UK to promote the third season of Girls. My god, that is one terrible coat. Actually the cut and style aren't so bad. It's the two-tone color that's a killer. Either the yellow or the blue would have been fine all by their lonesome. With both colors hitting full force, poor Allison looks like she's wearing a mixed box of Peeps. The rest of the shoot is just as underwhelming with one of those "check out my underwear" sheer dresses that manage to look frumpy at the same time. Allison is beautiful, but they styled her all wrong for this magazine. Oh well.
The interview is pretty "meh" too so far. Allison doesn't talk about herself too much in these excerpts. She does speak of defending Lena Dunham on a near-daily basis when Lena does stuff like downplay her Uncle Terry connection. Allison also chats up her close friendship with Katy Perry, whom she often tags along with to award shows. Let's do this:
On defending Lena Dunham: "When we first met, I felt like I'd known her forever — it was weird. I'm very protective; it's in my wiring. My rule is, 'if it isn't bugging Lena then it's fine with me."

On the success & backlash of Girls: "[The praise] was like a tidal wave and I knew at some point it would all have to come washing back the other way, that there was going to be an equal and opposite reaction."

On BFF Katy Perry: "Talk about someone who wears it lightly. She's the most followed person on Twitter and still somehow has time to ask, 'So, how did the photo-shoot go?'"

On playing royalty onstage: "When I was younger I played Princess Diana. I was in junior high school and I wore a blonde wig. I was obsessed with her."
[From InStyle]
Oh honey, we all wanted to be Princess Diana. Allison did a wig, but I was so hardcore that I got the feathered haircut in third grade. With new glasses. Man, that was a rough year. Speaking of royalty, I enjoyed Allison's take on Duchess Kate's "booty dance" in those Funny or Die videos. Oliver Jackson-Cohen played Wills. You should watch those videos and forget about this lame InStyle UK shoot.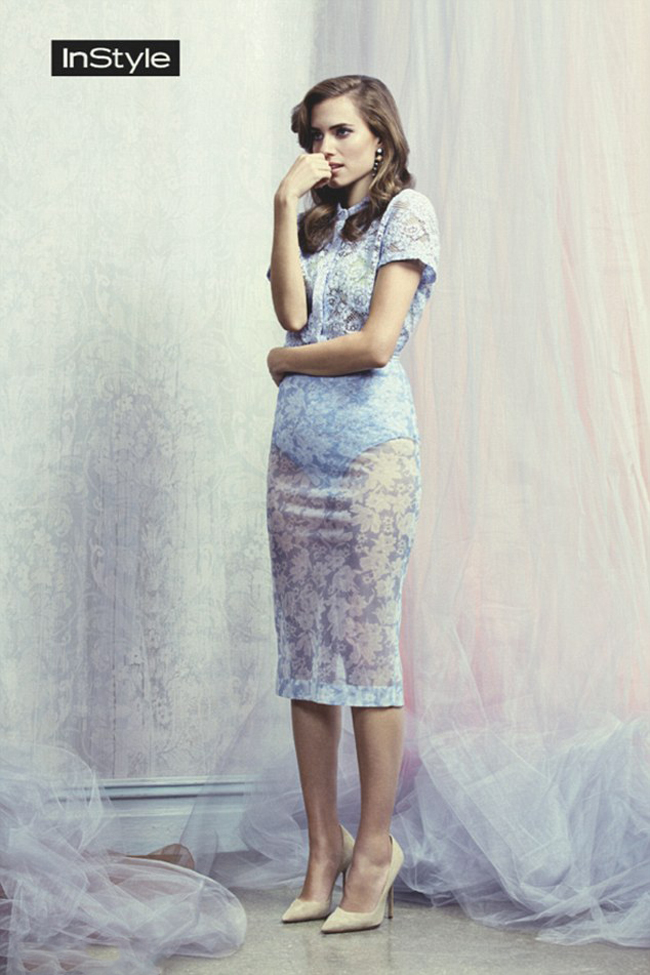 Photos courtesy of InStyle