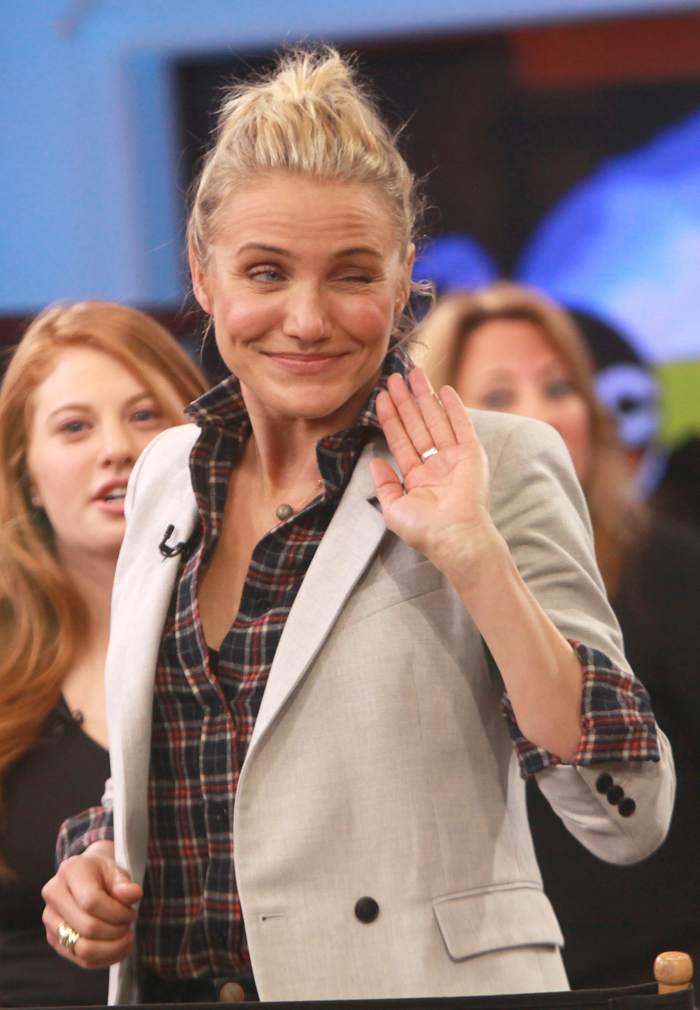 Cameron Diaz has gone on the talk show circuit to promote her first publishing venture, The Body Book. As always, Cam is nothing if not animated. I appreciate that brand of enthusiasm as opposed to certain bored starlets (I won't name names) who can't be bothered to promote their work. I think Cameron would probably drive me nuts in real life because everything is so amazing to her, but she makes for a highly entertaining interview.
Cameron has already shared excerpts about her book's stance on pubic hair, adult acne, and promoting longevity over thinness. Now she's talking about all sorts of stuff with GMA, Entertainment Tonight, and USA Today. I've pieced together some excerpts. There is one part where I think she's completely full of crap, but you be the judge:
She sounds like a cool cook: "I'm always looking for new ways to build flavor and have fun with my carbs. For instance, I prefer savory over sweet, so in the mornings when I make oatmeal, instead of eating it with something sweet, I make a yummy concoction of sauteed zucchini with collard greens, caramelized shallots, and egg whites. I top it all off with ponzu sauce (a Japanese sauce made from rice vinegar and citrus) or some lemon juice. It's a breakfast that is delicious and savory and all the things that I love to taste. I created this dish so that I could eat oatmeal in the morning, because it is an awesome source of complex carbohydrates."

She's natural? "I've tried [Botox] before, where it was like [a] little tiny touch of something. It changed my face in such a weird way that I was like, 'No, I don't want to [be] like [that]. I'd rather see my face aging than a face that doesn't belong to me at all."

On wrinkles: "I love [them,] I don't mind. It's like, 'Guess what this means, I've smiled my whole life.' I love life. I'm happy I don't have a problem with that."

She started exercise in her late 20s: "It felt amazing. I watched my body transform over a week of intense training — some days doing upward of 1,500 to 2,000 kicks a day. Kicking, kicking, kicking for eight hours. All of a sudden I had six-pack abs. It was painful. I would not recommend that anyone blast their body like that. It was an intense, physical challenge. But it woke me up to my own body and what it was capable of."

She still works out: "I went to the gym this morning. I did cardio. I went on the elliptical for half an hour. Sometimes I do the treadmill. I do a mile as fast as I can go. … I don't like to run too long because it can have an impact on my knees or joints. I'm more of a sprinter." Part of the motivation for eating healthy and exercising regularly is thinking ahead to "my longevity," she says. "I want to make sure I don't get sick. If I'm blessed to get older, I want to make sure I can maintain quality of life."

Staying active: Movement can be done all of the time, and it should be:
* Do butt squeezes while you're brushing your teeth.
* Do lunges while you're waiting for the coffee to brew.
* Do calf raises while you're waiting for the train.
* Run up the stairs. Run down the stairs.
* Stretch your calves on the stairs.
* Walk to the next bus stop. Or the next.
* Do sit-ups while dinner is in the oven.
* Stretch during the commercial breaks
[From USA Today, ABC News, and [From Entertainment Tonight]
I won't get into the popular misconception that running hurts your knees and joints because that argument is pointless. Some people will always believe it, and others … won't. Cameron's exercise tips are amusing though. She's doing a good job of appealing to people who don't have the time or desire for expensive fitness trainers who will insult you as "motivation." I wonder if she really squeezes her booty while brushing her teeth.
On the whole "Botox" issue, I think Cameron's glossing over the fact that she's had more permanent work done. Her face has changed over the years (and it's more than mere aging), but admitting it kind of goes against the happy-go-lucky theme of her book.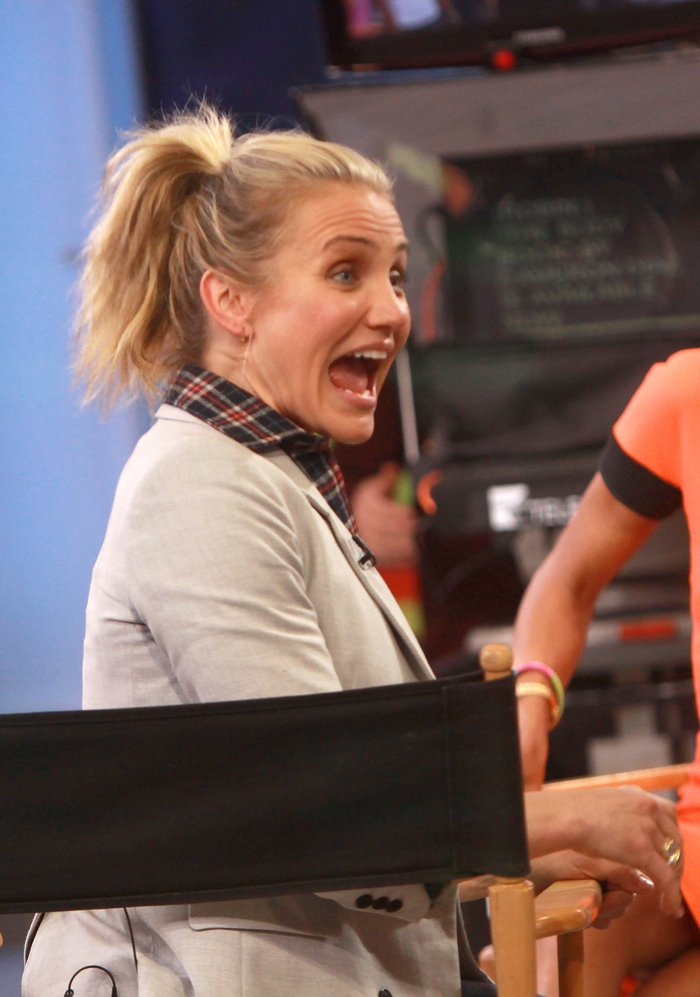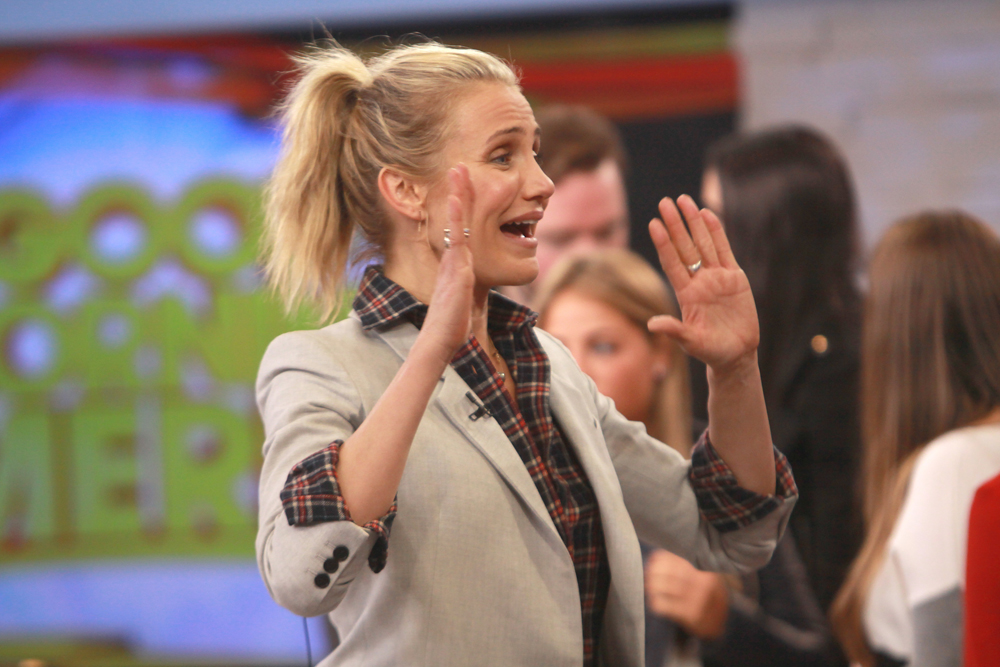 Photos courtesy of WENN