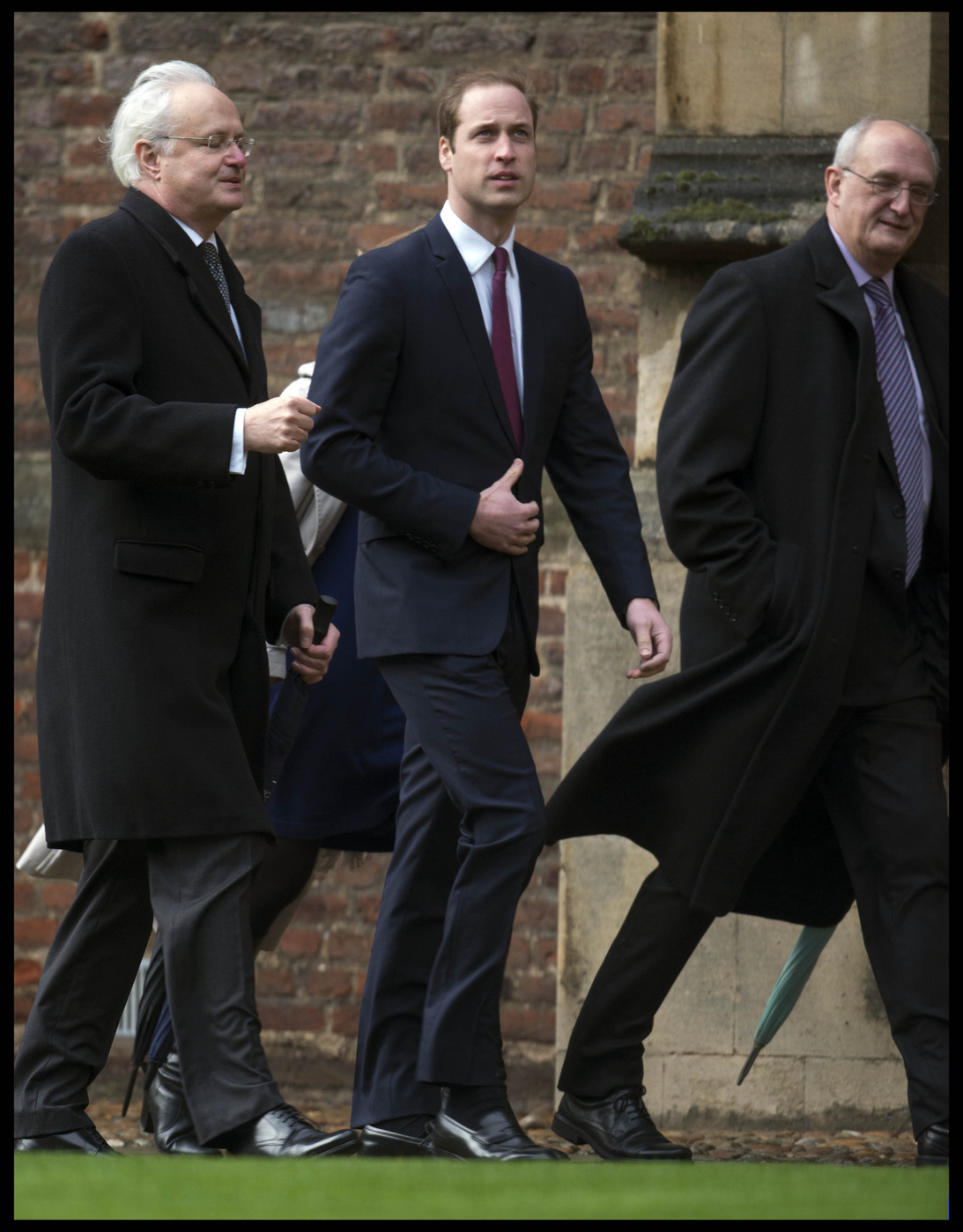 Lord, this was fast. These are some photos of Prince William arriving at Cambridge to begin his "bespoke program" in agriculture. Meaning that he's not going to get grades or a degree or anything, he's just going to be living in the fanciest campus housing and auditing classes, from what I can tell. Also, it seems that Duchess Kate and little Prince George are going to be staying full-time in London, in Kensington Palace, while William is doing the Cambridge thing. Which is… interesting. If he wasn't a prince, would we feel differently about a 31-year-old man spending 10 weeks in student housing with 19-year-old college girls? I feel like this premise will be used for a future Will Ferrell movie. Anyway, People Magazine had a lengthy write-up about William's new excuse to not work educational goals. It's so extensive, I think we can safely say the royal propogandists were working overtime to explain this mess:
The Duke of Cambridge has arrived at the University of Cambridge to check in for the start of his special farming course. William, 31, traveled up on Tuesday from his home at Kensington Palace in London to Cambridge, around 60 miles north of the capital. There, in a suit and tie, he was welcomed to King's College in the rain as he enrolled for the first day of a "bespoke" 10-week course in agricultural management.

The prince is to take one-on-one classes and join other lectures and tutorials with other students at the Cambridge Programme for Sustainability Leadership until mid-March. The CPSL devises tailor-made courses for business people and others. "There will be other students who attend modules of his course, but his course is unique to him," says a university spokesman.

Drawing on the strengths of academics across the university, William will spend 18-20 hours a week learning all aspects of areas including agricultural policy, countryside governance, farming, food management, rural policy and planning.

"The purpose is to give the Duke sufficient grounding in contemporary issues affecting agricultural business and rural communities in the U.K.," a palace source tells PEOPLE.

It will give him both a greater understanding of the countryside over which he will one day be king and stand him in good stead when he is head of the vast Duchy of Cornwall estate (which was set up in 1337 to provide heirs to the throne with an income). The portfolio of land, property and investments currently generates an annual income of about $47.5 million, and William will take it over when his father, Prince Charles, 65, becomes king.

William's move has been welcomed by academics elsewhere. Rita Walsh, senior lecturer at the Royal Agricultural University, believes his decision to study agricultural management "will no doubt further raise awareness" of agribusiness courses. She adds: "Clearly it demonstrates his desire to develop his knowledge and understanding of the complex land-based industry, which is essential to run any large-scale specialist business."

William has the concerns of the countryside in his blood. One of his favorite times during his "gap year" before he started university was when he quietly worked on a farm, friends say.

With Kate and baby George remaining at home in Kensington Palace, William will mostly commute to Cambridge, but he is likely to have some nights when he needs to stay over. Sorry, fellow students, he won't be in digs with you – he will live privately when he needs to bed down in the famous university city.

Still, they might catch a glimpse of him in a tractor or knee-deep in a muddy meadow. "There will be field trips," says a university spokesman.

One insider concedes the course is "not cheap," but the university will not go into cost details. William's fees are being paid for privately.

The world-renowned university prides itself on its farming courses, which are generally taken by the children of farming families, gentlemen farmers and others. "There is a strong tradition of teaching agriculture at the department of land economy," the university spokesman said.

Some students have complained that William's initial "A" level results that got him into St. Andrew's University in 2005 were not good enough to get him into Cambridge. His office will not comment on that, but an ally points out that it can't be judged in the same way in any case. "This is not an undergraduate course, but an executive education program," the source says.

Following the course, William, who left the Royal Air Force in September last year, will head to New Zealand and Australia on an official tour with and Kate and George. He is then expected to finalize other plans for further work in public service.
So, People's sources are now claiming that William will "commute" to Cambridge and that he's staying in private housing? That's in contradiction to what they were saying last week, which was that William would be staying on campus and wouldn't be commuting that much. Maybe someone in the press office realized how bad it sounded when they basically said that William was going to be surrounded day and night by nubile college girls. Also: "William's fees are being paid for privately"? Charles, I guess, is footing the bill.
Do you think Kate will do any solo events while William is away? I would shake my head and roll my eyes at the idea, but I remember when William was away on military exercises, and Kate did more work than usual. So I do think we'll see some solo appearances from her. Either that or she'll just go to her mom's house with the baby for the next ten weeks.
Photos courtesy of Pacific Coast News.