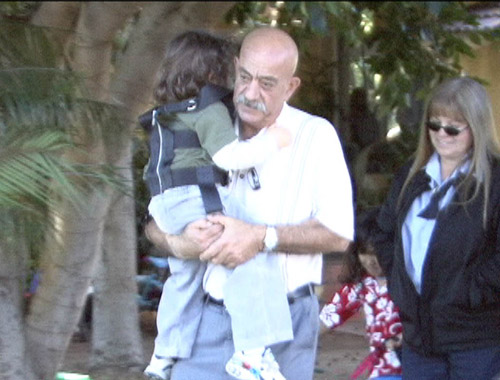 The grandfather of the octuplets takes some of his grandchildren to the schoolbus. Credit: Splash
The woman who just gave birth to octuplets, Nadya Suleman, 33, will have 14 children at home all under the age of 8. Suleman underwent IVF through an unnamed doctor to become pregnant with all of her children. They are thought to have the same father, a sperm donor who is said to be a friend of Suleman's but has no involvement with the children. She is a divorced graduate student without a partner, and has been living with her parents, who have supported her and helped care for her many children. Her parents had to declare bankruptcy 18 months ago and move into the home they bought her as the financial burden of caring for their daughter and her then six young children proved too great for them.
Suleman's mother has spoken negatively about her daughter's need to have so many children so quickly, and has said that her daughter was "obsessed" with having children from a young age. Suleman's mother doesn't plan to be a doting grandmother for long – she says that as soon as her daughter comes home from the hospital she's going to leave. Suleman's dad also plans to leave to go back to Iraq, where he works as a contractor.
Although it was first thought that Suleman would shy away from the media, she's planning to cash in for as much as possible. She's hired a public relations firm to handle all the requests she's had for interviews, and she wants $2 million each. Oprah and Diane Sawyer are said to have scored the first interviews:
The mother of octuplets born in California last week is seeking $2 million from media interviews and commercial endorsements to help pay the costs of raising the children, the Times of London reported.

Nadya Suleman, 33, plans a career as a television childcare expert. It was learned last week that she already had six children before giving birth to eight more. She now has 14 children younger than 8 years old.

Although still confined to a Los Angeles hospital bed, Suleman reportedly intends to talk to two influential television hosts this week — media mogul Oprah Winfrey and Diane Sawyer.

Her family has told agents she needs cash from media deals.

Suleman is being deluged with offers for book deals, TV shows and other business proposals, but according to her publicist she hasn't decided what she might do once she leaves the hospital.

On Friday she retained the Killeen Furtney Group public relations firm to handle what company President Joann Killeen says are hundreds of offers arriving daily. They include requests for paid interviews, TV show appearances, book deals and other opportunities.

Killeen says Suleman is "the most sought after mom in the world right now," but she hasn't decided what she'll do next, other than care for her children.

But Suleman's earning power could be diminished by the growing ethical and medical controversies surrounding her octuplets' birth. Experts believe that the unnamed fertility specialists who gave her in vitro fertilization (IVF) should not have implanted so many embryos, and in choosing to carry all eight to term, Suleman ignored guidelines, risking both the babies' health and her own.
[From FoxNews.com]
The doctor who implanted Suleman with eight embryos, which she chose to carry all to term, is still not known. She initially thought she was pregnant with just seven babies, and the eighth was a surprise, although that hardly lessens her responsibility in this case. Her mother claims that she was implanted with less than eight embryos, and that some of the fetuses kind of just generated, which I heard an expert on NPR call "highly improbable, if not impossible." Other fertility doctors quoted by the Associated Press say this is possible "since Nadya Suleman's system has likely been hyperstimulated for years with fertilization treatments and drugs."
Do you think this woman should get her own television show in which she's lauded as some kind of childcare expert? Should she be paid $2 million for a single interview? I know I would watch an interview with this mom because I want to know more about her, but it seems irresponsible to reward her for having so many babies so quickly.
Many people want to question Suleman's fertility doctor for helping her have eight babies at once, a risk to both her health and the babies' health. Her friend told the AP that Suleman "got paid" for getting IVF, which brings up all sorts of ethical questions. This story is far from over and we're sure to learn more details in this baby soap opera once Suleman starts talking to the press.