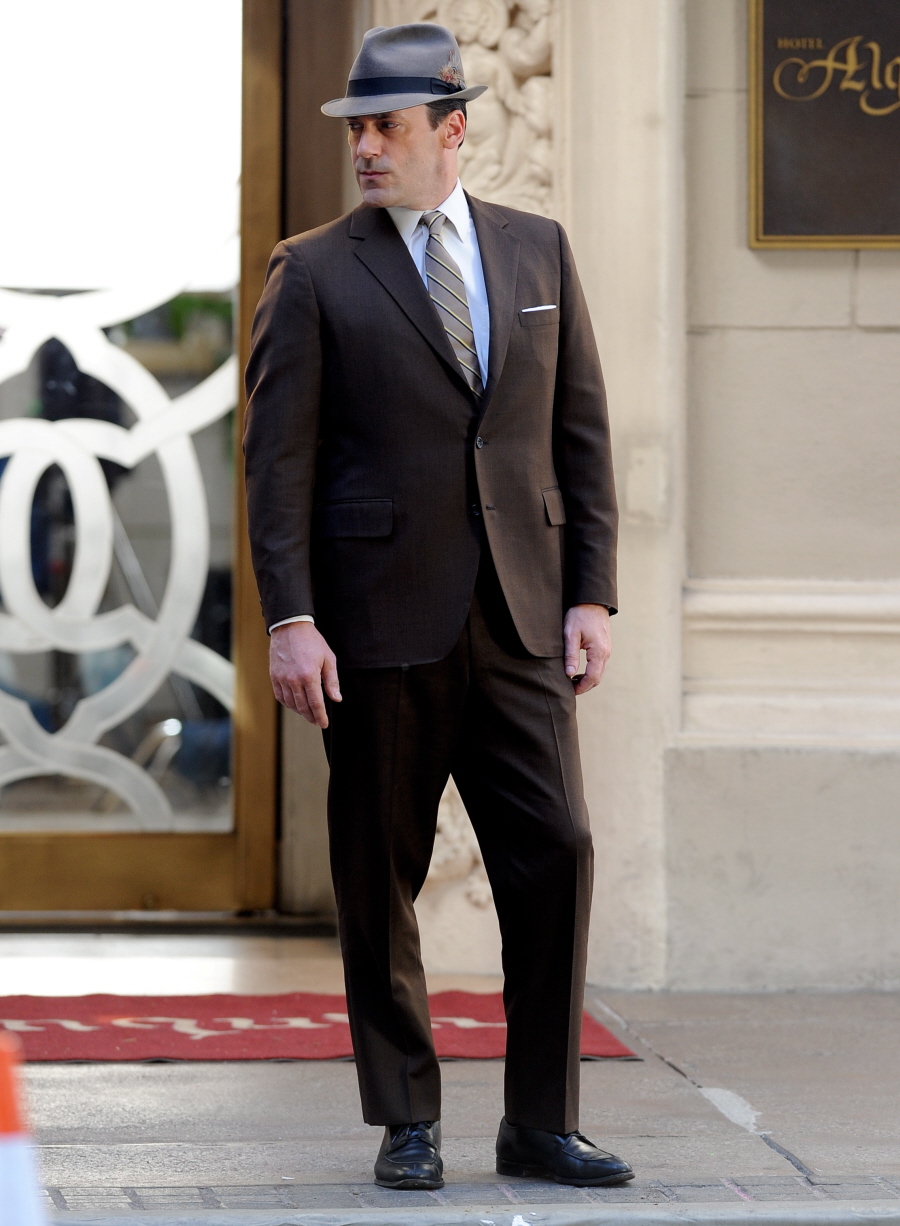 Here are some new photos of Jon Hamm in character as Don Draper, filming the seventh and final season of Mad Men in LA yesterday. AMC has decided to split up Season 7 into two chunks. The first chunk will premiere April 13th (a Sunday), which is one week (exactly) after the premiere date for Game of Thrones Season 4. So, if you are a Mad Men-aholic and a GoT-er, you will have to tape one of them I guess. You're screwed if you also watch The Good Wife and Masterpiece Theater on Sundays too.
Anyway, I find these photos fascinating. Per Mad Men's usual arrangement, I'm assuming the story will skip ahead six to 12 months, which means Season 7 will probably take place in 1969. Mad Men is such a 1960s show… Matthew Weiner wouldn't put Don in the 1970s, would he? No, I can't think Don will even live to see the 1970s. But think about 1969… a man landed on the moon. Richard Nixon came into office that January. Nixon had inherited the mess in Vietnam and thousands of young men had been killed or injured. Bobby Kennedy was dead, assassinated the year before, same as Martin Luther King. The Dream was deferred again and again…
… And here's Don Draper in a proper hat, looking like he still belongs in the Eisenhower era. In some ways, Don Draper is an incredibly modern character, but in his era, Draper would have been an old guy bitching about the way things used to be, when women stayed home and men wore hats. But, when you think about it, that was kind of "in vogue" in the Nixon era. Draper's giving me HR Haldeman vibes. I bet Haldeman wore a hat too.
I have to admit, I'm not even looking forward to Season 7. Seasons 5 & 6 – "The Megan Draper Era" – took their toll and I find it difficult to watch Don Draper succumb to his rampant alcoholism. I've been watching it the past two seasons for Peggy, Joanie and Roger (and Pete too, although he's more of a hate-watch), but I'm not sure how I'm going to feel about this last season. One thing's for sure – I'm ready to say goodbye to Don. And I'll shove Megan in front of a train myself. Just let Peggy and Joan survive and thrive, then I'll be happy.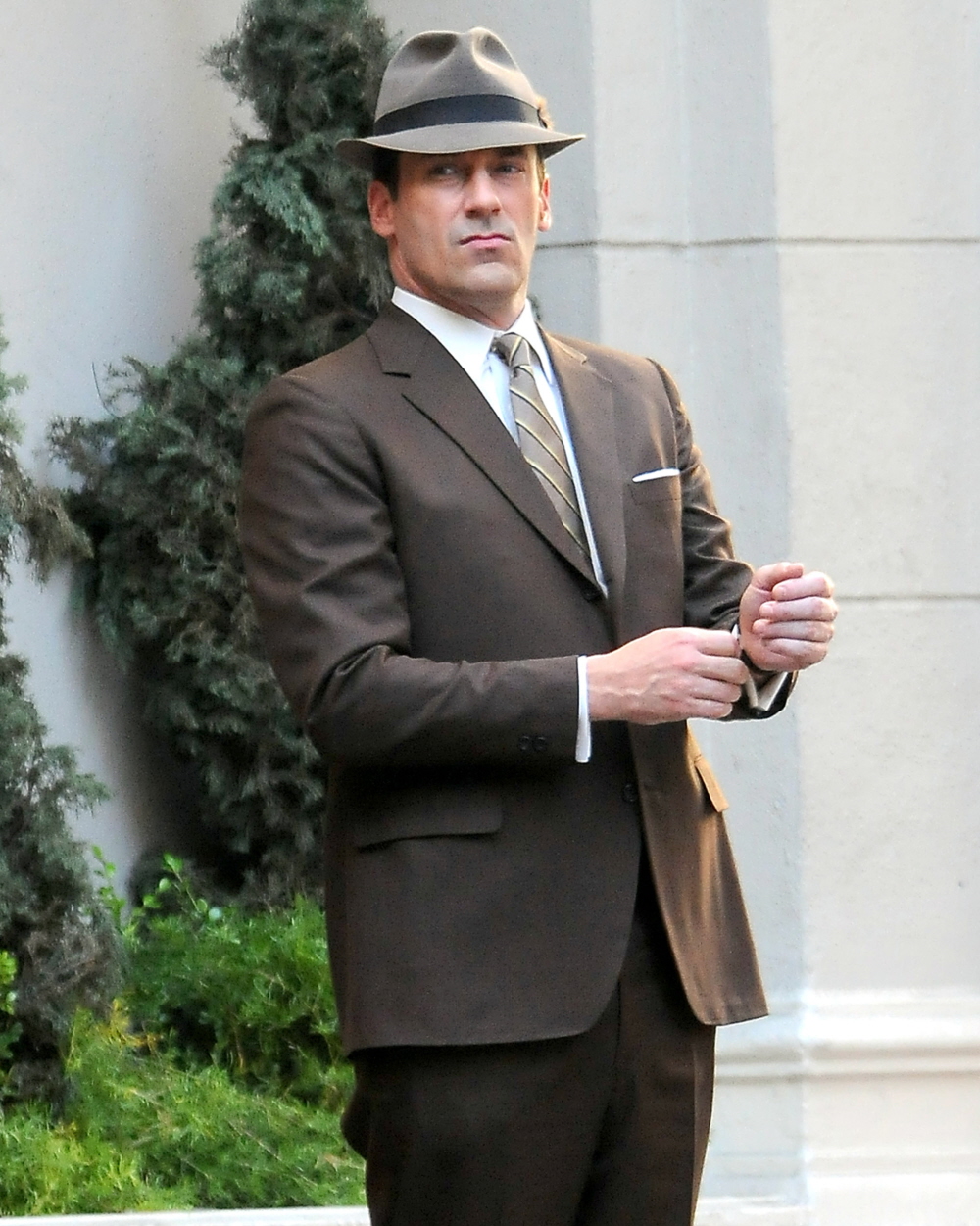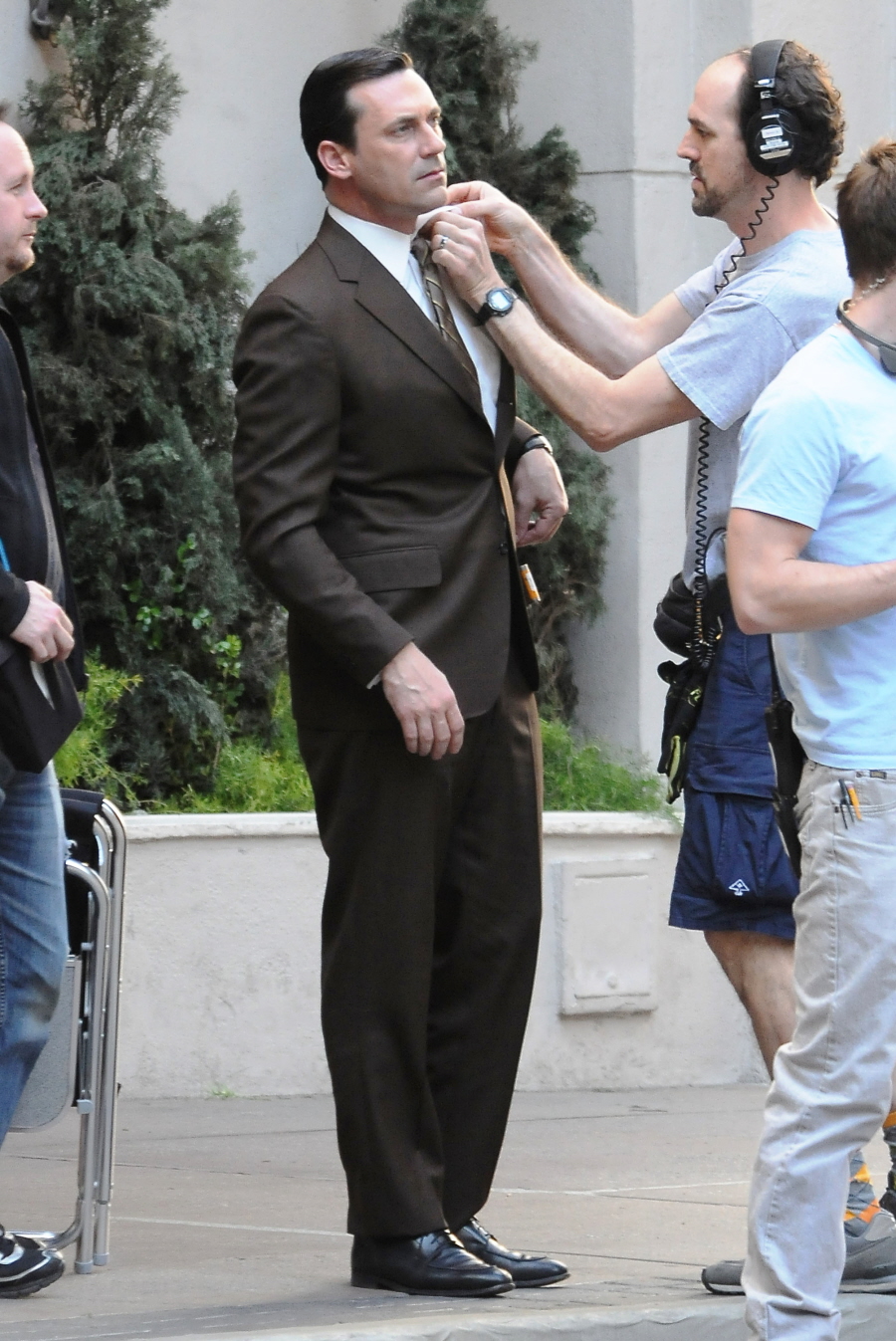 Photos courtesy of WENN, Fame/Flynet.