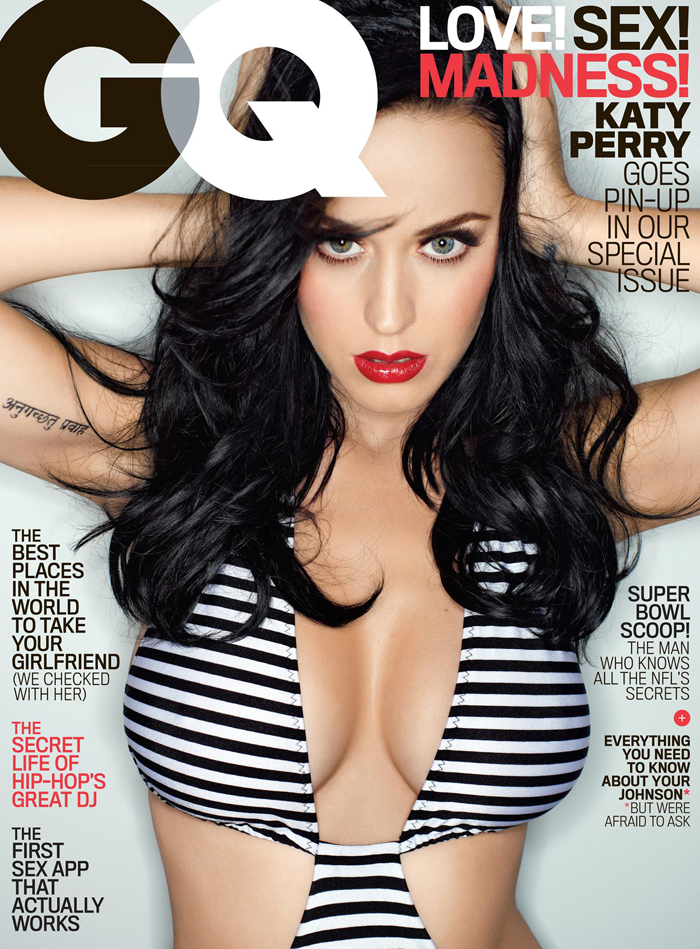 Katy Perry covers the February issue of GQ. Let's get this out of the way: Boobs. Katy's got them, and they are in abundant supply. Beyond the obvious, Katy looks better here than I can remember her looking in any other magazine shoot. Dark hair, pale skin, and red lips. She's pulling some slightly cheesecake poses, but this is a lad mag, and Katy's aura suits the GQ vibe well. I'd much rather see Katy in a shoot like this — where she seems truly at home — than to see her trying to be a sophisticated fashion girl and trashing Russell Brand for her Vogue cover. The GQ interview is all about the rack too. I feel like I've heard her talk about praying for boobs before, but her talk about virginity and helping Obama win is new:
She prayed for her rack to grow: "I lay on my back one night and looked down at my feet, and I prayed to God. I said, God, will you please let me have boobs so big that I can't see my feet when I'm lying down? God answered my prayers. I had no clue they would fall into my armpits eventually."

She's not into marijuana: "The weed – I'm not friends with it. I can't do that stuff. I'd be like in the corner: 'Are you trying to kill me?!'"

On getting with John Mayer: "I think that I needed to grow up. I'm just having a wonderful experience with a wonderful guy. There's no rush."

She lost her virginity at 16: "It happened at age 16 in the front seat of a Volvo sedan while listening to Jeff Buckley's album Grace. Love that record so much."

She hasn't had any work done: "I've never had any plastic surgery. Not a nose, not a chin, not a cheek, not a tit. So my messages of self-empowerment are truly coming from an au naturel product."

On believing in aliens & her relationship with President Obama: "I see everything through a spiritual lens. I believe in a lot of astrology. I believe in aliens. I look up into the stars and I imagine: How self-important are we to think that we are the only life-form? I mean, if my relationship with Obama gets any better, I'm going to ask him that question. It just hasn't been appropriate yet. I might have won Wisconsin for him. Actually, I didn't do too much, but he called on me a couple of times. Which was very nice."

Her geisha outfit at the AMAs: "I was thinking about unconditional love, and I was thinking: Geishas are basically, like, the masters of loving unconditionally. All I was trying to do is just give a very beautiful performance about a place that I have so much love for and find so much beauty in, and that was exactly where I was coming from, with no other thought besides it."
[From GQ]
Ha. I hope she's kidding about winning Wisconsin for Obama. She must be joking about that. Celebrities always think they're so persuasive when it comes to politics. Katy should realize her fanbase is so young that most of them can't vote anyway. Oh well.
Let's get real though. No one cares about an interview in GQ unless George Clooney is the one who's talking. This cover feature is all about Katy's assets. She looks fantastic, and yes, she is natural. Except for five layers of makeup.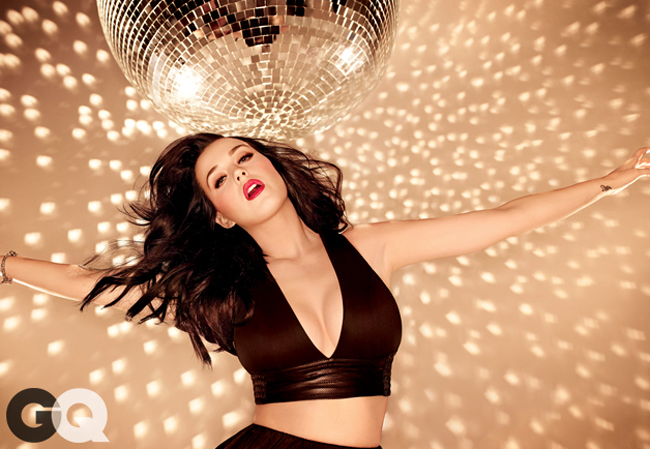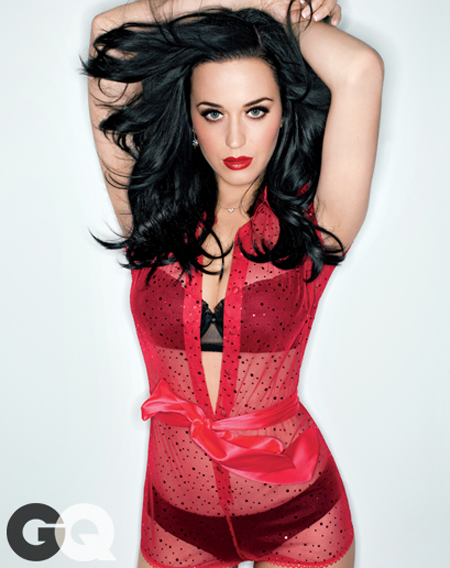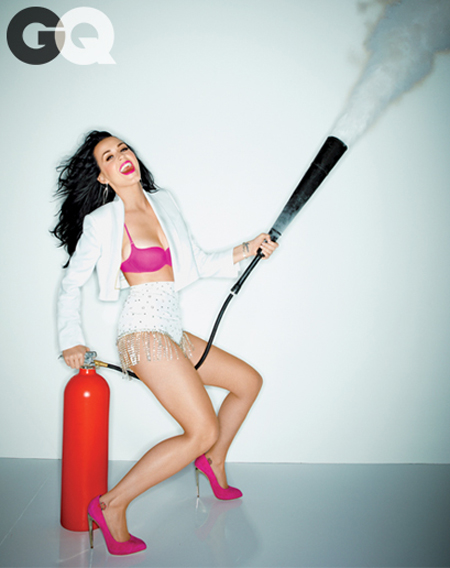 Photos courtesy of GQ