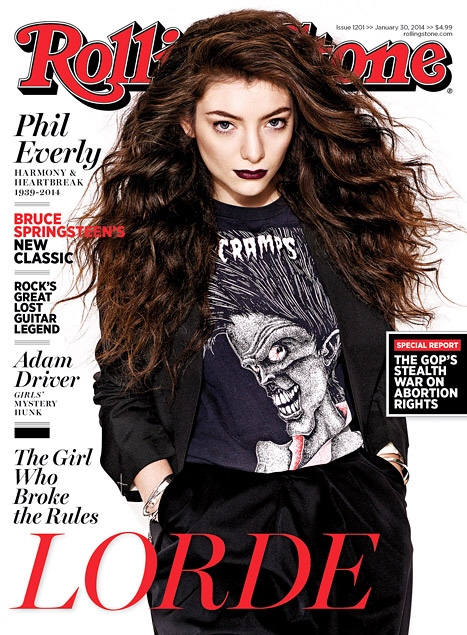 Lorde covers the new issue of Rolling Stone. I think this is her first cover, so it's somewhat overdue considering she's been big news in the music industry for a year. We like Lorde around these parts (even though we're accused of not liking her, for some reason), but while I think she's a breath of fresh air, she does have a sort of pretentious-teenager-vibe. Like, she READS. Which is excellent, and good for her. But are we really giving pats on the head to 17-year-olds because they picked up a book? Anyway, some highlights from the RS cover story:
Christmas gifts: She frets over what to buy as a Christmas gift for her manager. She's torn between a hand-shaped brass bowl and a "minimalist globe table lamp," so she texts photos of both to Taylor Swift to get her opinion. "Taylor's super-good at this stuff," the "Team" singer explains to Rolling Stone. "She's decorated her own houses for ages."

Lorde & Swifty became tight after Swifty sent her flowers: "I was floored," Lorde says. The gesture was especially surprising since it came after she had insulted the "Red" singer. "Taylor Swift is so flawless and so unattainable, and I don't think it's breeding anything good in young girls." Swift wasn't aware of the diss at the time, but she took it in stride when she found out. "She was like, 'It's fine. If all you've done is call someone perfect, it's not that bad,'" Lorde recalls.

Lorde thinks Swifty is one of the "real teenage voices": "There are very few of us. There's Tavi [Gevinson] and the Rookie [Mag] group, King Krule, and, to an extent, Jake Bugg. The other teenagers sing other people's songs, which is fine, but it's not an authentic teenage experience."

Criticizing Selena Gomez's "Come & Get It": "People around me, who I'm really close to, were like, 'Do you have to express your opinions all the time?' I knew I was right."

Social media trolling of Lorde's boyfriend, James Lowe: Intellectually, she says, she knows that the commenters are usually "the type of people who use the word 'f—-t as an insult." But that doesn't mean she's immune to their vitriol. "[I'm] not completely impervious to insult," she says. "I'm a human being."

She loves Drake: "I think what's so cool about an artist like Drake is it's rare for people to get to that level and still write about their day-to-day and how that makes them feel. There's something very unflinching about that, but also just so, so interesting."

Reacting to criticism: "I get paralyzingly nervous a lot of times, so I tried bravado. The way I dress and carry myself, a lot of people find it strange or intimidating. I think my whole career can be boiled down to the one word I always say in meetings: strength."

On what she's learned about the record biz: "I've learned how to interact with people in order to get what I want, but also…you can't just crush someone's vision, you have to make compromises. That wasn't something I was familiar with until quite recently. I was so kind of fixated on exactly what I wanted to do, but now I'm quite good at taking other peoples' opinions on board. But that being said, I've totally learned in this process that 99 percent of the time your gut is right, and you know what's right for you. I know exactly what's right for my career and for my art, and sometimes, even if the whole room is saying, "Don't do that, don't do that," you know that doing that is going to be good for you, in the long run. So, yeah, I guess it's a balance between listening to what other people say and not listening."

On five authors who inspire her: "Raymond Carver is definitely one. I have this thing with, like, words being in that perfect order, and you know exactly how they're trying to make you feel. And the order of the words…just, like, slapping you in the heart: "Oh my gosh, I totally get it." And I am really into how words sound out loud, so I was always the kid who would, like, read the page of the book to herself in her room over and over and over. And Raymond Carver is great for that. Tobias Wolff is an author who is really good for that as well. I've only read one collection from Claire Vaye Watkins, but it's one of the best collections of short fictions I've ever read. Sylvia Plath, I would say, as well. I don't read a ton of poetry, but hers is so good that you kind of can't not, I think. And then probably number five would be Kurt Vonnegut, I reckon. He's brilliant. I guess I like writers who have the kind of humor that I have, which is a sort of cynical, sardonic… black humor. He's just the don."
[From Us Weekly, Rolling Stone]
She also says some good stuff about young people getting into the music industry, how it's not at scary as they think it's going to be, but you have to know your own mind and you have to be committed to songwriting and staying with your vision. I can totally see how teenage girls would be really into the message Lorde is delivering, moreso than Taylor Swift. I'm not setting up a competition between them, actually. I'm just saying that if I was 15 years old, I'd be buying what Lorde is selling more than what Swifty is selling.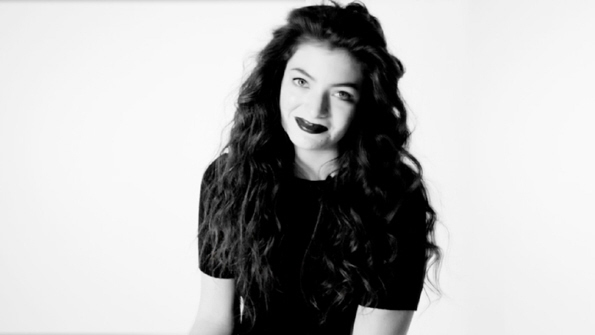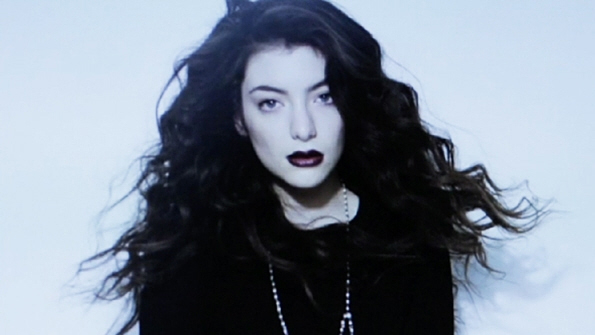 Photos courtesy of Rolling Stone.