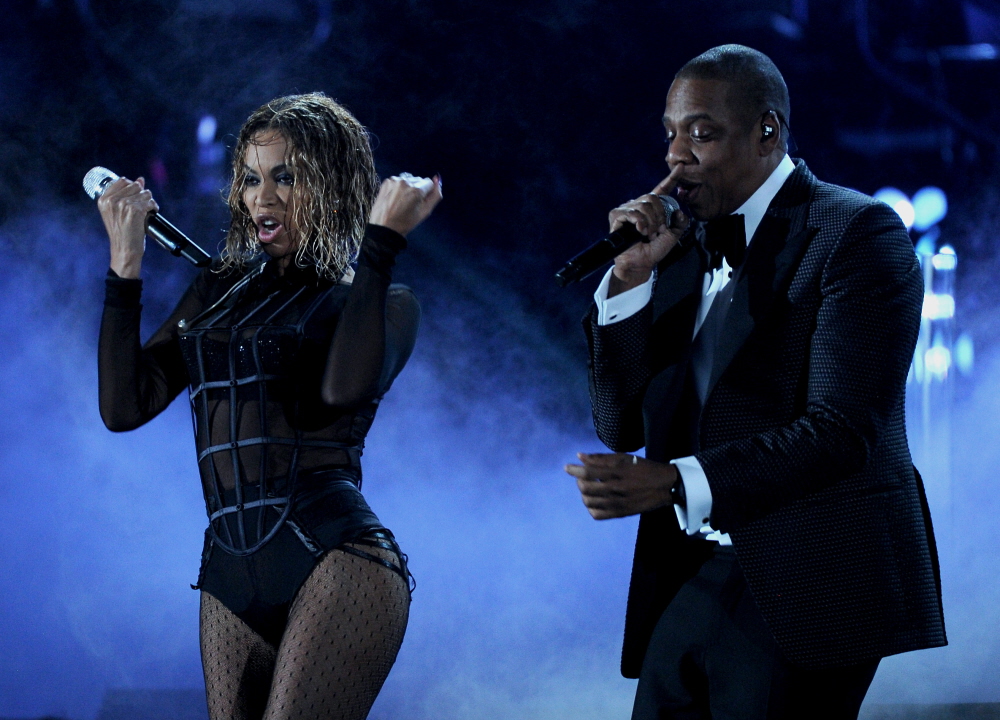 This is just a general Grammys post, we'll be talking about some of the bigger names and notable performances in individual posts, including a lot of fashion stuff. You can see the list of this year's Grammy winners here – there weren't that many awards handed out during the telecast, so you might have missed some of the major wins. Daft Punk, Lorde & Macklemore were the biggest winners of the night. Some highlights from the actual Grammys telecast (I'll add some videos where possible, but some of these videos might be pulled):
*Beyonce & Jay-Z were all over the Grammys. The Grammys were all about a celebration of Beyonce and Jay. As it should be, I suppose. Their performance of "Drunk In Love" began the night. I understood why the producers wanted Bey and Jay to go first, but that performance was not really appropriate for 8 pm. Beyonce's costume was extremely skimpy and I'm pretty sure we saw some mons pubis, at least one nip-slip and we saw a lot of the cake. Also: when Jay-Z won some award, his acceptance speech was AMAZEBALLS. Everything from "Gold sippy cup" to "I want to thank God a little bit" – it was a masterpiece of speechifying. Also: #surfboard
*Lorde's performance of "Royals" was an early disappointment. I really thought Lorde was going to blow us away with her vocal skills, but the beginning of the song was too "performance art" (very Franco), and then it just felt like Lorde didn't really deliver on her promise. It was a mediocre performance.
*Do you want me to care about Hunter Hayes? I do not. I do not wish him ill or anything, I'm just not feeling him.
*Katy performed "Dark Horse" which is actually my favorite song off Prism (it's my workout jam). The witchy staging was… very mid-1990s/The Craft. Live performances aren't really Katy's thing, and I actually giggled when her boobs were being burned at the stake. Classic.
*Robin Thicke & Chicago… I liked the Chicago retrospective, a lot. But imagine this: wouldn't it have been better with a vocalist like Michael Buble? Because Robin's voice sounded kind of weak.
*Gary Clarke Jr. & Keith Urban actually gave one of the nicest dual performances of the night, I thought. Maybe I just really love Gary Clarke Jr.
*Taylor Swift's performance was one the strongest of the night. Yes, I just said that. I'm serious too. Her voice was strong, the staging was pleasing and it was believably emotional. Plus, I just love when she sings about Jake Gyllenhaal.
*Pink's acrobatic performance was… I don't know, I'm kind of tired of it. I get that the dangling-over-the-stage thing is her shtick now, but it just felt kind of tired. Plus, there were like three different times where I thought she snapped her neck.
*The Kendrick Lamar/Imagine Dragons combo was a lot better than I was expecting. Seriously.
*Madonna sang "Open Your Heart" along with Macklemore's performance of "Same Love" while Queen Latifah married a bunch of couples in the aisles. It was a mess. It was a mess mostly because of Madonna's horrifying mask-face.
*So help me, I liked Metallica & the Chinese pianist Lang Lang.
*The Trent Reznor performance sounded disorganized. Like, it was just noise.
*Daft Punk + Pharrell Williams + Stevie Wonder = pretty awesome.
So, who gave your pick for best performance? I'm going to be controversial and say that while I enjoyed the Kendrick Lamar/Imagine Dragons thing and the Daft Punk/Stevie Wonder thing, I think Taylor Swift's performance might have been my favorite. Seriously.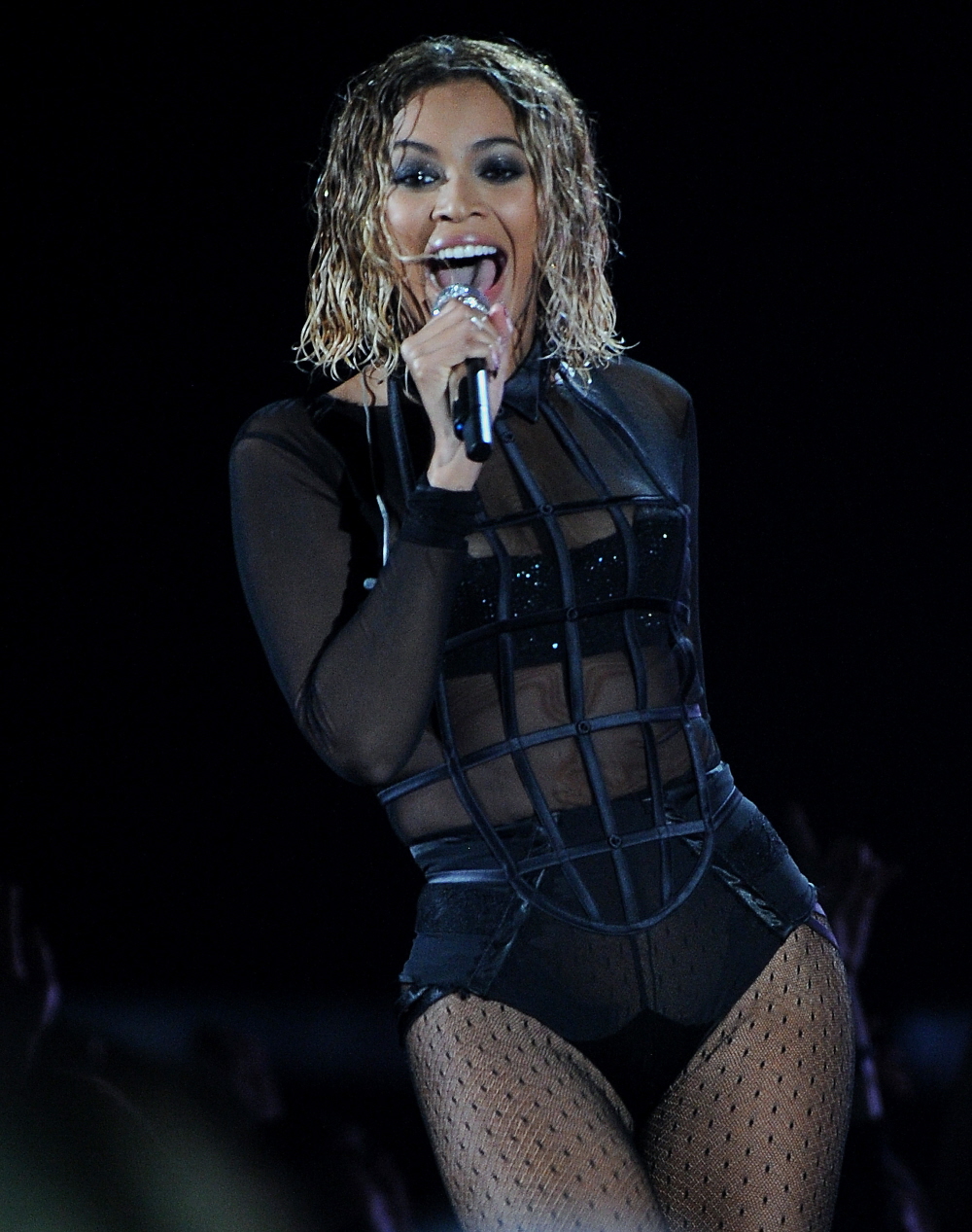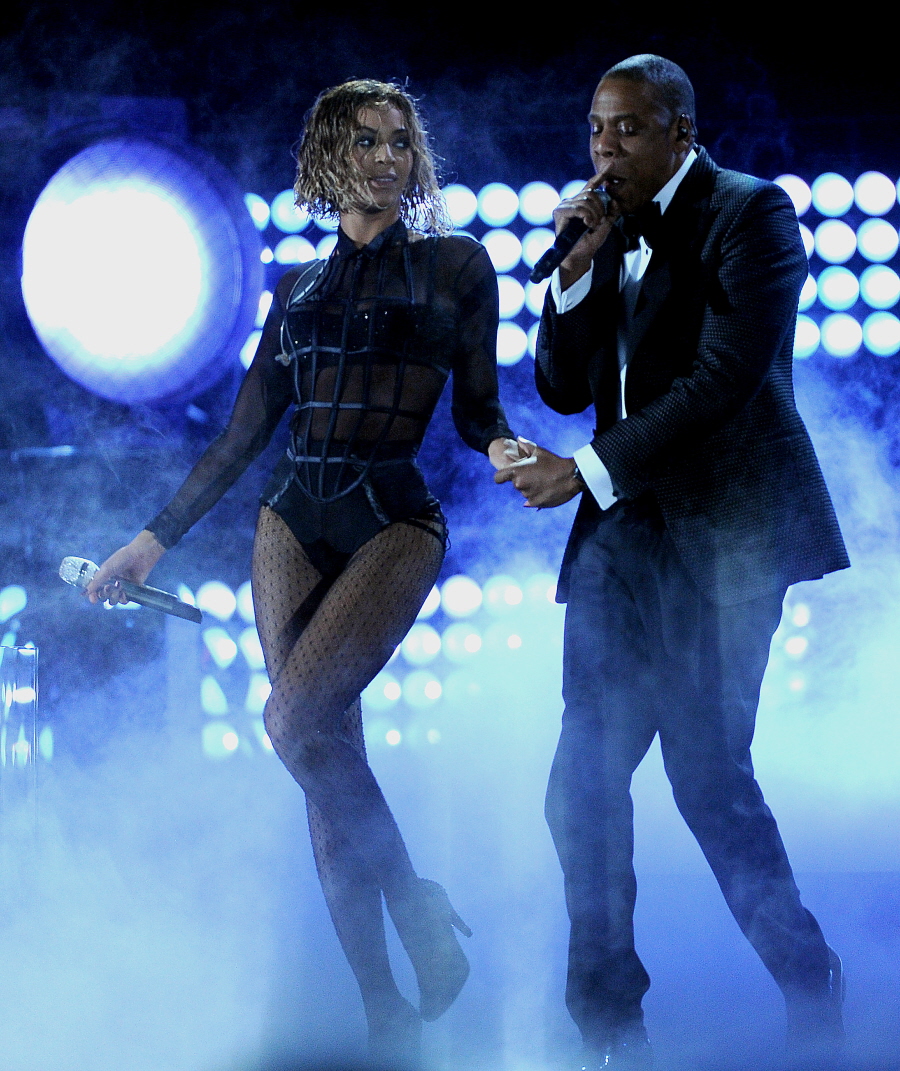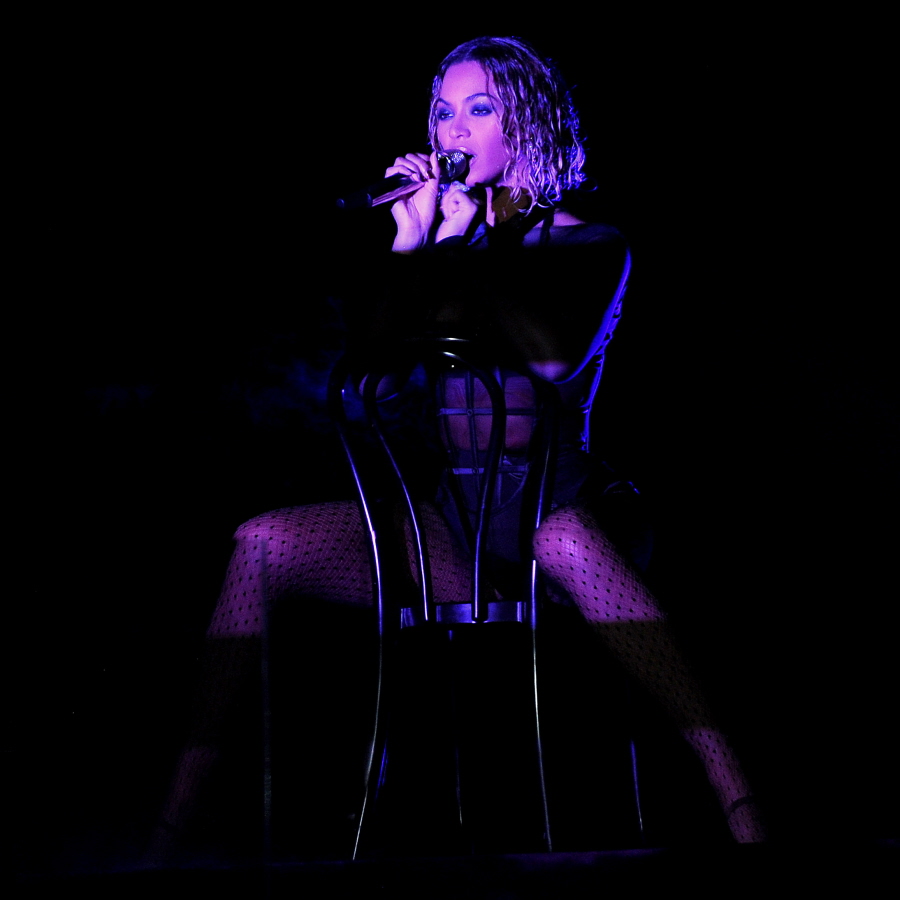 Photos courtesy of WENN.