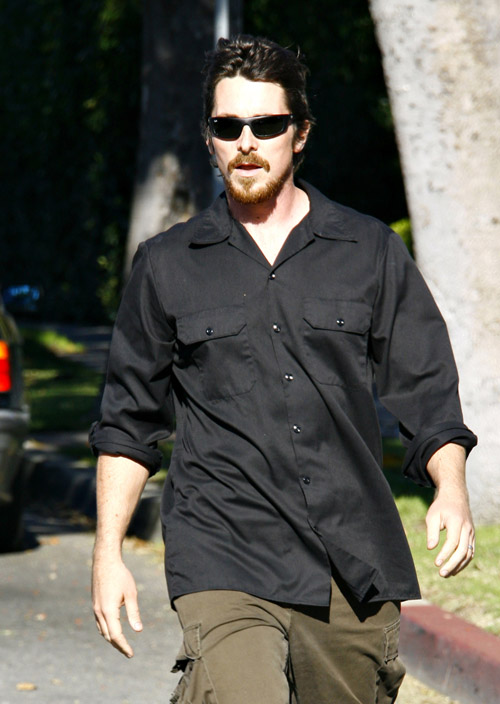 Over the weekend, an audio clip was leaked that featured Christian Bale laying into a cinematographer on the set of Terminator: Salvation last summer. The guy who drew Bale's ire had apparently interfered with a scene he was shooting. Bale dropped the F bomb 40 times in nearly four minutes. He was clearly angry, and he did threaten the guy once, saying "I'm going to kick your ass." Bale then tried to temper it by saying "you're a nice guy" and generally focused his ire on his scene being ruined, saying he had never worked with someone so unprofessional.
Now people close to Bale who knew the details of that moment are speaking out. They say that Bale was filming an incredibly intense scene, the most emotionally draining and powerful moment of the film, and that the cinematographer was screwing with the lights right when Bale was working. This is definitely unprofessional and the guy needed to be called on it. To take this moment out of context and air it repeatedly is not fair to Bale, according to some who were there:
Terminator producer: Bale got interrupted during the most intense scene in the film
Bruce Franklin, an assistant director and associate producer on the film, told E! News that Bale is a "consummate professional," adding, "If you are working in a very intense scene and someone takes you out of your groove … It was the most emotional scene in the movie and for him to get stopped in the middle of it … He is very intensely involved in his character. He didn't walk around like that all day long. It was just a moment and it passed.

"This was my second movie with Christian, and it has always been a good experience with him," Franklin, who also worked with the actor on "Shaft," added. "He is so dedicated to the craft. I think someone is begging to make some noise about this, but I don't think it's fair. The art of acting is not paint-by-numbers, it's an art form."

Franklin also spoke with TMZ, calling the blowup a "non-event" and saying, "Christian is a method actor and was completely immersed in his scene … his reaction was from the heat of the moment."

He also told the site that despite Bale's threats to have him fired from the film, Hurlbert was not fired and he said that Bale was under a lot of pressure due to his intense promotion schedule for "Dark Knight."
[From MTV, thanks Dizzy!]
Ain't it Cool News: The guy was messing with the lights during the hardest moment to film, Bale had warned him about this before (mild spoilers)
The scene in question, was a very emotional and tough scene between Christian Bale and Bryce Howard. A scene that required soul bearing and a deep level of immersive concentration. The sort of scene where everyone on set knows not to get in anyone's eye lines, and definitely not to move lights around while FILMING. You lock that shit down before the scene starts.

Bale had indeed warned the DP on multiple occasions about messing with lights while the cameras were rolling, and Bale was in the midst of a painful scene with Bryce, what was described to me as being the emotional center of the film and his character for the film.

Now, the reason I know all of this is because the person that was there, felt that it should be made perfectly clear that Christian Bale was the utmost gentleman and cool guy on set. And the DP really was doing something that professional DPs with experience just don't do. Not during a performance.

You don't need me to give you a link, it's all over the internet, I just felt that you should know what really went down – and that this particular outburst did indeed modify the DP's behavior – and for future DPs. F*ck with the lights before and after your actors are acting. Not during.
[From Ain't It Cool News]
When this clip first came out many people thought it might be the evidence that Bale was verbally abusive to his mother and sister. He was alleged to have lashed out at them verbally in late July in London, around the time of the blowup on set. It's hard to know what happened, or who was at fault, but the truth is often more nuanced than you can tell from a single audio clip. You wonder though, as Kaiser mentioned, if people would be so quick to forgive an actress for an angry tirade as they are an actor.
Christian Bale is shown out in Brentwood on 12/27/08. Credit: Fame