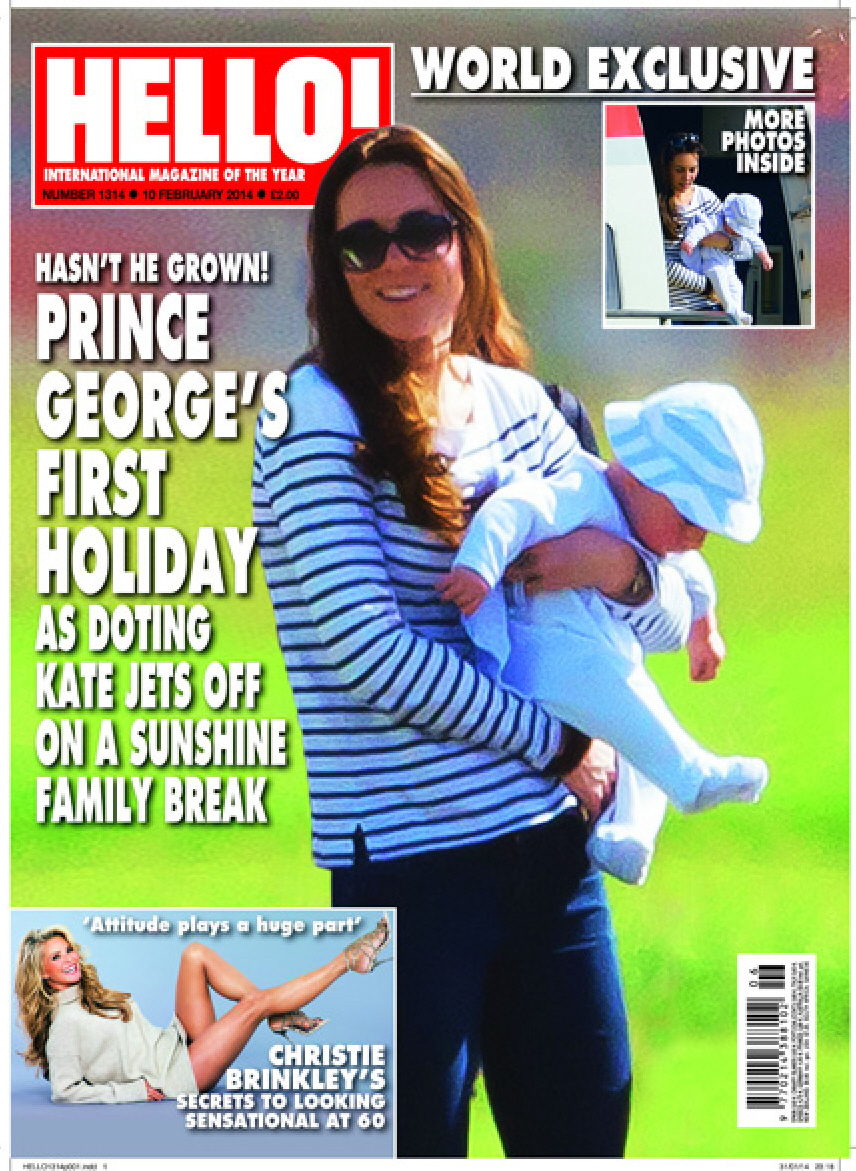 Duchess Kate is on vacation. Again. Forever. As I said a few days ago, I don't think this vacation is any big deal because at this point, I've grown accustomed to Kate's lackadaisical work schedule, and it doesn't even feel like her lack of work is even her choice these days. Prince Charles doesn't want anyone paying attention to her, Prince William is going back to school so he won't have to spend time with her and the baby, and so of course she went on vacation with her family. The January/February Mustique trip is an annual thing for the Middletons, and they usually fit in a ski holiday in March too.
So, Kate is vacationing with her family and she brought Prince George along, of course. And somehow, a paparazzo snapped some photos of Kate and George exiting the British Airways plane, and now those photos made it into Hello. And People Magazine bought them too, according to reports. And this – the publication of these photos – has set off a firestorm in the UK media. Do you want to know why? Because the royal family did not throw any tantrums about these photos. Prince William did not bitch out any editor or threaten to get people fired. The Queen's press secretary did not slam Hello. But… but… these are candid photos taken by a paparazzo?! So, now the UK media is all, "Okay, so what are the rules again?"
The Duke and Duchess of Cambridge have been warned by a legal expert not to "cherry pick" which privacy cases they pursue, after a paparazzi photo of Prince George was published in a magazine. The image showed Kate Middleton and her six-month-old son George leaving a British Airways plane thought to be on the Caribbean island of St Vincent, en route to their holiday in Mustique.

The long-lense photos featured on the cover and in eight pages of Hello! Magazine from late January, marks the first time his image has been seen publicly since he was christened in the autumn.

It has sparked questions as to why the couple has not tried to stop the photo being published, when they have previously expressed concern that allowing photos of Prince George to be published would breach his privacy.

In the past the palace has taken legal action against "off-duty" photography of the couple and appealed to photographers to follow their industry's code of practice. Last week, Kensington Palace had asked newspapers not to publish pictures of the Duke of Cambridge looking unhappy getting off a train in Cambridge.

Jeremy Clarke-Williams, a media lawyer with the firm Slater & Gordon, said: "It seems in this case the Royal Family or Kate and William have decided they can live with this particular unauthorised photo even though it shows their child's face."

He added that while he does not think the couple's message is "anything goes" and that "pictures will be viewed on a case by case basis," he said there is a danger they could be seen to be "cherry picking the cases they pursue".

"The courts might look dimly on that," he said.

It is thought their decision to not launch a case may be based on the fact that the photos are of a low quality, and do not show the baby's face in any great detail.

The couple previously sought redress through the French legal system after topless photos of the Duchess were published in French Closer magazine in 2009, when she was not married to Prince William. She later won £5,000 in damages and an apology from Rex Features for invasion of privacy.

Kensington Palace declined to comment on the photos published in Hello! But Royal sources told The Telegraph that it did not object to the pictures because they were taken "in a public place, without any harassment or pursuit".
I have a theory about this. My theory: the royal family knows they can't pitch a fit about these photos because they know Kate – or the Middleton family – arranged for these photos to happen. It's just like any other celebrity arranging to be pap'd when they have something to promote. Kate knew she would be away from William's iron grip, she knew that everyone loves baby photos, and so she arranged to have some taken from a distance. I mean, she's practically looking into the camera on the cover of Hello. She knew the guy was there. Plus, Hello is very much like People Magazine – they only run stories and photos that are pre-approved by the celebrity subjects. Bottom line: Kate approved of these photos at some point, before or after they were taken.
I also think it's past time for the UK media to grow a set about their coverage of the royal family. If the new "rule" is "you can take photos of the royal family whenever they're in a public space," that opens up a lot opportunities. Why NOT publish the daily photos of Kate shopping on High Street? Because then the public would be like, "God, all she does is shop." Why NOT publish the photos of William looking grumpy as he takes the train back to London? Because people will begin to ask questions about how often he really travels back to London and how often he stays at his little pied-à-terre in Cambridge?
(PS… I'm including some photos of Kate in London last October. I think she's wearing the same outfit as she was for her arrival in Mustique.)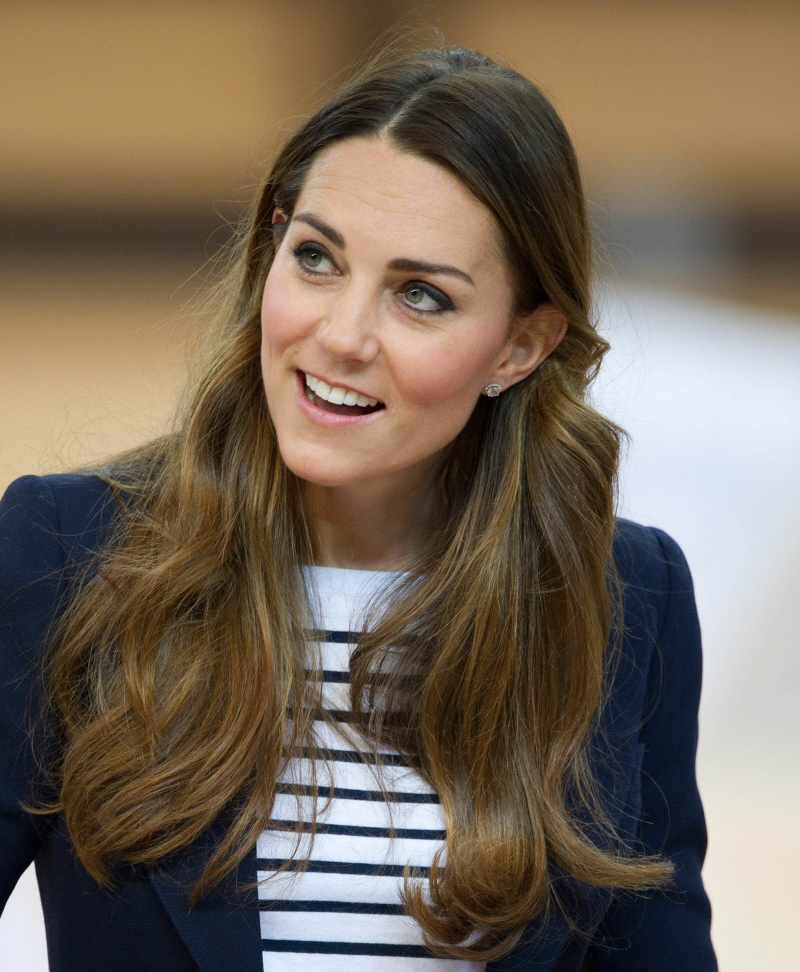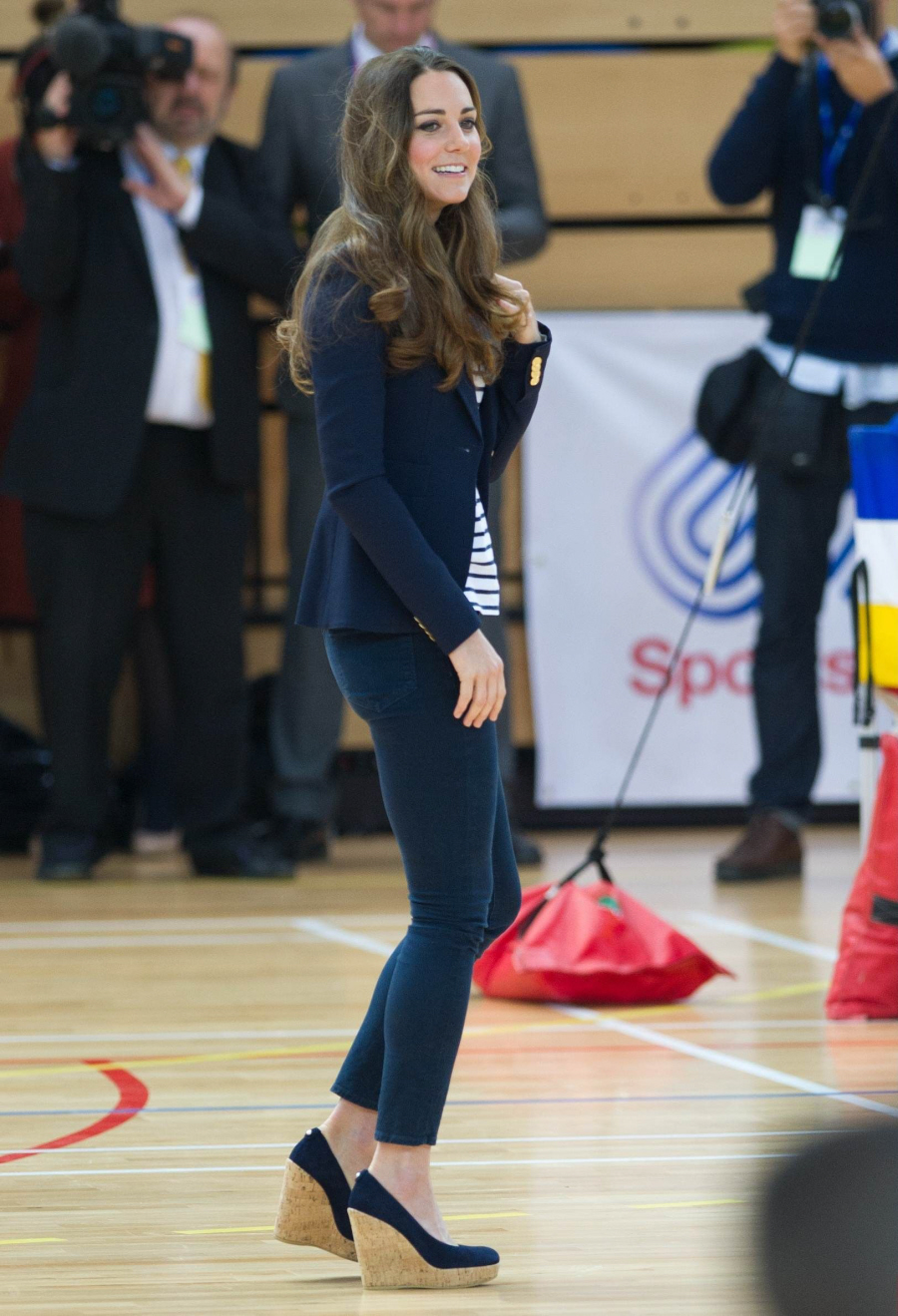 Photos courtesy of WENN.