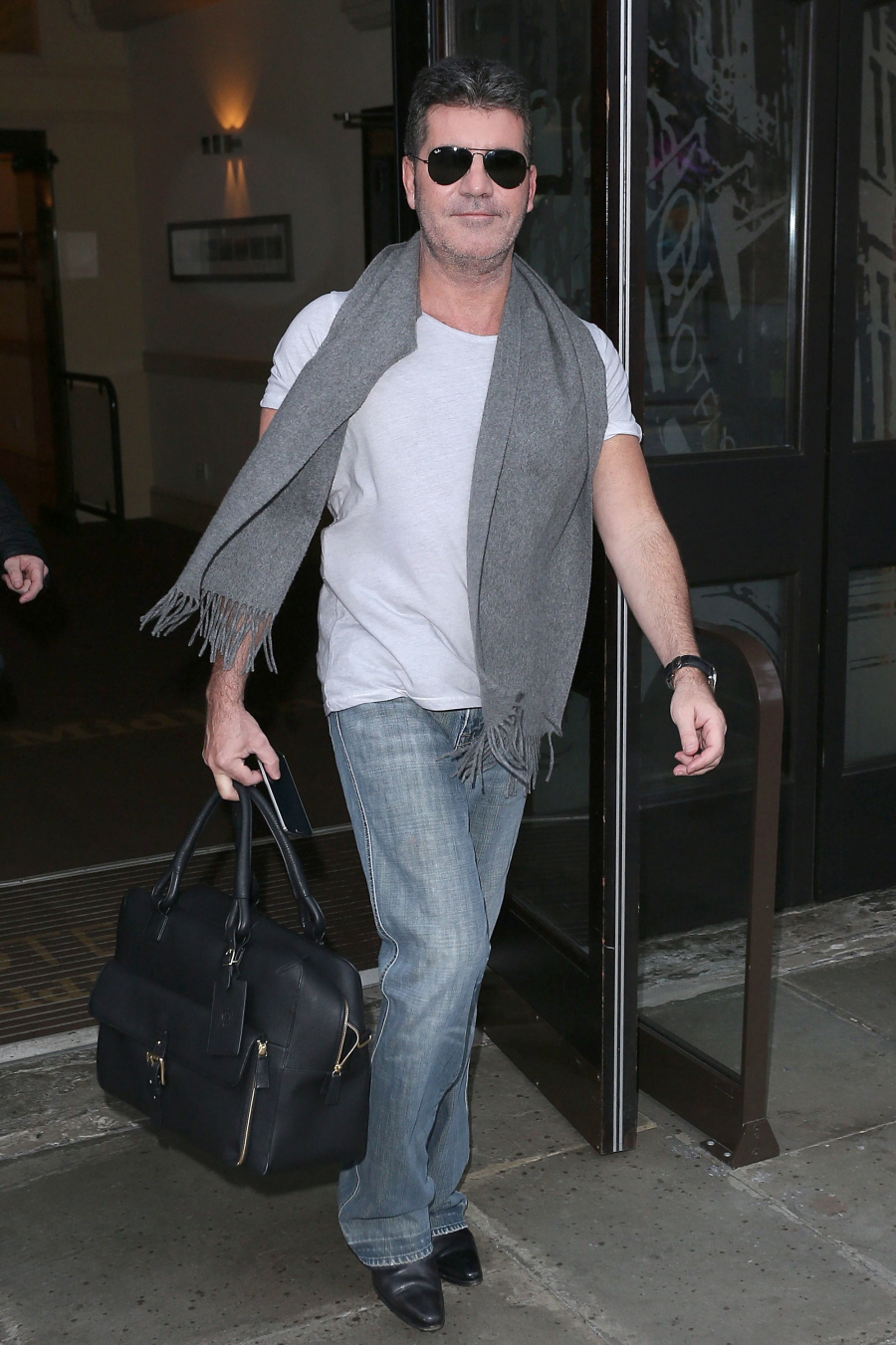 Here are some photos of Simon Cowell on Friday in England. Why does he look so happy? That's what I was asking myself. On Friday, Fox finally cancelled The X-Factor… well, the American version. The UK's X-Factor is still going strong and I believe it's one of the biggest hit shows in the UK. But Americans didn't care for our version of it, which also starred Simon Cowell (he executive produced and created it as well). Simon and Fox threw crazy money at the American version, trying to get it to work, trying to buy their way into an audience, but the ratings kept falling.
The X Factor has been crossed off Fox's schedule. The network is canceling the singing-competition series after three seasons of declining ratings. The news comes the same day judge and executive producer Simon Cowell announced he would return to the UK version of the show.

Cowell, Fox entertainment chairman Kevin Reilly and FremantleMedia North America president of entertainment Trish Kinane released statements pinning the decision on Cowell deciding to return to the UK series. But Fox had an option to renew X Factor and debated for months whether to bring it back. For a while, Fox considered renewing the series for a fourth round with fewer hours per week, mirroring a production-tightening move that ABC's Dancing with the Stars made this fall. The recent season of Factor averaged 7.1 million viewers and a mere 2.3 rating among adults 18-49 on Wednesday nights, including seven days of DVR playback.

"I've had a fantastic time over the last 12 years, both on The X Factor and American Idol," said Cowell in a statement. "And apart from being lucky enough to find some amazing talent on the shows, I have always had an incredible welcome from the American public (most of the time!). Last year, for a number of reasons, I had to make a decision to return to the U.K. version of The X Factor in 2014. So for now, I'm back to the U.K. and I want to thank Fox for being an incredible partner and I also want to thank everybody who has supported my shows. America, I'll see you soon!"

Reilly added: "To all of us at Fox, Simon is more than one of the most prolific TV personalities of our time –he's part of our family. A consummate showman and partner, there's no one more passionate or creative than Simon, and we feel so fortunate to have enjoyed such a wonderful, collaborative relationship with him over the past 12 years. Unfortunately, there is no X Factor without Simon Cowell, but we understand and support his decision to focus on the international formats and on the next phase of his personal life. We wish him the very best, and it's our sincere hope that we work together again soon."

From the start, X Factor struggled to make a positive impression on U.S. viewers compared to overseas editions. It came across as more cartoonish and manipulative than Idol, with a revolving door of celebrity judges that never seemed to truly connect with both each other and viewers. The show particularly suffered by comparison to NBC's rival start-up hit The Voice, which started airing a fall edition last season and charmed viewers with its warmly engaging panel of "coaches." Factor was also blamed by some observers — fair or not — for hastening Idol's ratings decline, since it added to the glut of singing competition shows.
My interpretation – and I'm saying this as someone who doesn't enjoy singing competitions – is that the audience never showed up for The X-Factor because the personalities weren't strong enough. I mean, Britney Spears was a big name and all, but she was robotic and not very comfortable with the format. Demi Lovato? Blah. The audience needed powerful personalities that they could either get behind or flat-out hate.
Also: so Simon is now spending most of his time in London? That's what it sounds like, right? What about Lauren Silverman and her plans to live with Simon full-time and all of that? I think Simon bought her an apartment in NYC and now she'll be his New York lady. But he has London ladies and LA ladies, and on and on.
Anyway, I keep forgetting that this is prime TV-show-cancelling season. I hope Fox doesn't cut The Mindy Project. Please, DO NOT.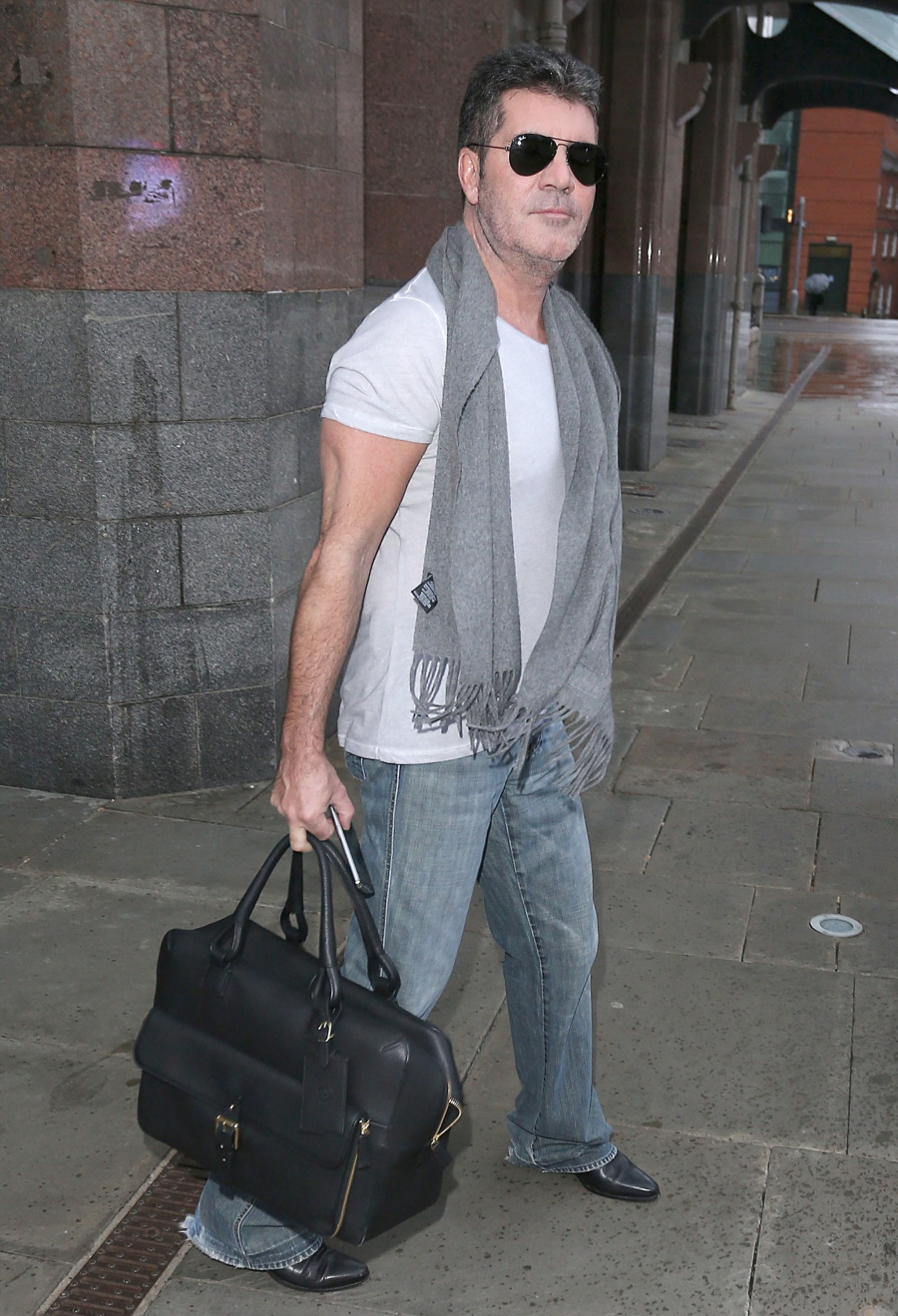 Photos courtesy of Fame/Flynet.