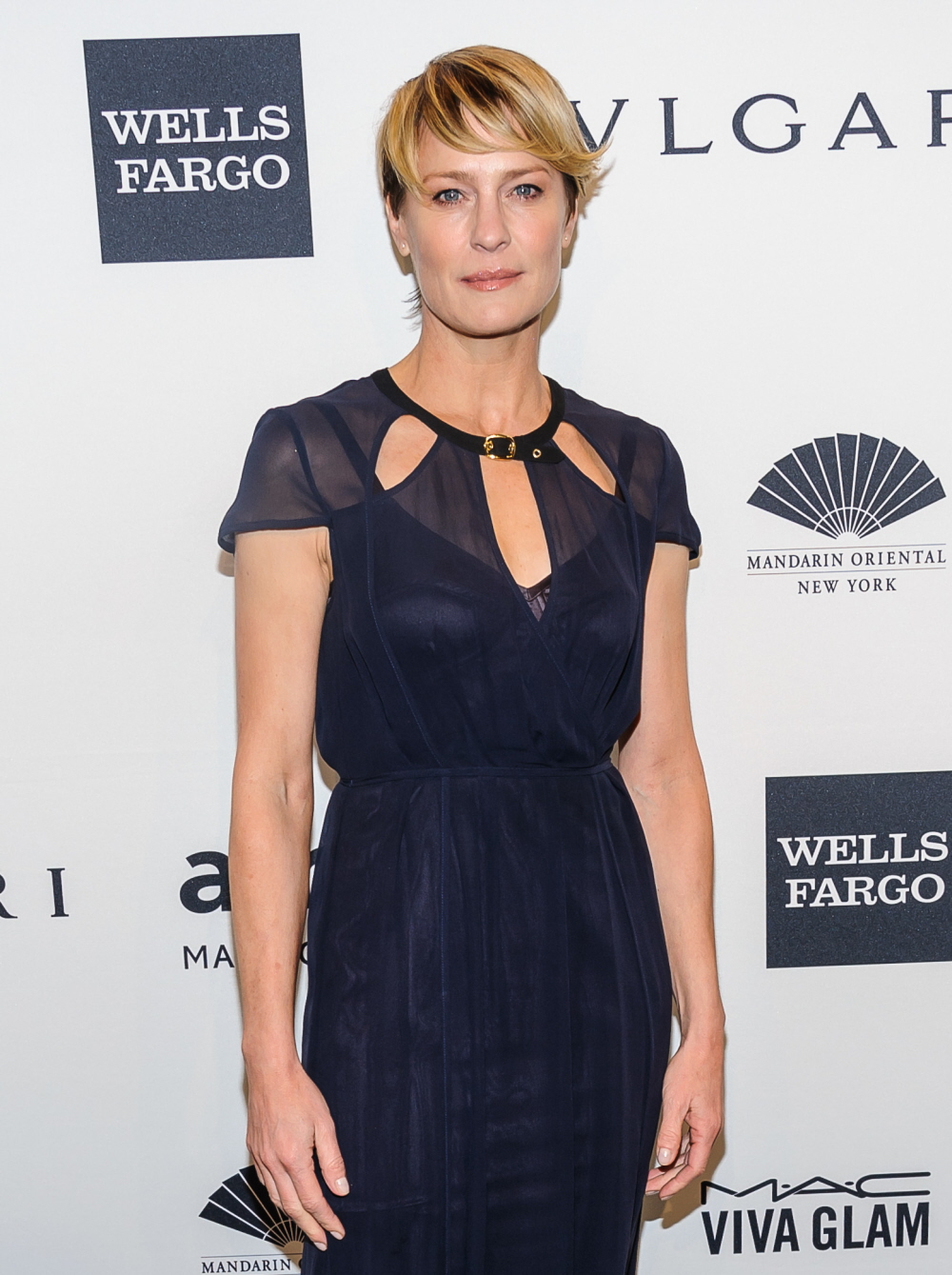 Robin Wright gave an enchanting interview to The Telegraph. I'm surprised. I don't necessarily think of Robin as a dour person, but she just never seemed like the type to gush about a new love or… like, have fun. She always seems so serious. But maybe that was Sean Penn's influence. Because nowadays, there's a whole new Robin and she's banging a hot young guy (Ben Foster) and she gushes about him in interviews and she just sounds really cool. You can read the whole Telegraph piece here – she talks about tattoos, love, dating, self-confidence and BOTOX. Some highlights:
Winning a Golden Globe: "I am still in shock. No, really. I didn't prepare a speech, because I truly thought, 'There's no f— way. There's no way I'm going to be up there.' Even when I heard my name, my first instinct was, 'They've got it wrong.'"

She has a "B" tattoo for Ben Foster: She removes a ring on the third finger of her left hand to reveal a small letter "B" tattooed beneath. "Ben has an 'R' tattoo in the same place," she explains, then laughs. "I've been so anti-tattoos my whole life. But doing this felt right because we're not that traditional."

Ben's proposal: It was "such a shock". She pauses, revelling in the memory. "But we felt married anyway. We've been together ever since the first date."

Her short hair: "I can't imagine going back to long hair. Cutting it was the greatest thing I ever did."

Radiating joy: "I think we manifest the very thing we put out. If you're putting out negativity, then you're going to retrieve that same sentiment. If you emanate joy, it comes back to you. I don't think there was much joy coming back to me before, because I wasn't putting much out."

Ben asked her out, their first date was at a poetry recital. "I'd never, ever been asked out on a date before. Never. I was frickin' married my whole life, and even before that I hadn't been asked out."

She once said she would never marry again: "Never say never," she laughs. "Ben and I have a connection between us that just feels right. I don't know any other word for it."

Doing House of Cards: "I started out doing daytime TV, and I didn't want to go back there. I also don't watch much TV. But television is not what it used to be. The material, most of the time, is better than a lot of film."

Ambition and self-confidence: "I think I grew up. I'm a late bloomer. I used to lie in wait and hope to see what roles would come in. But my new ambition is to go out and find what I want. I also want to direct more. I totally have the bug now."

Her divorce from Sean Penn: It was "devastating. Divorce in and of itself, and with children, is devastating. Worse than that. One of the reasons why we got back together and broke up so much was trying to keep the family together. If you've got kids, it's a family, and you try again, and you try again. We did that for a long time, and…" She stops, leaving a long silence hanging in the air. She doesn't want to say anymore, other than that they have found an accord. "Sean sees the kids. They see him. They see me. We've all got our own lives."

She loves Zumba: "Oh my God, Zumba is the greatest invention ever for women. I like to exercise, though I do nothing consistently because I get bored and impatient. With Zumba, you're dancing, you're moving your hips. So much fun."

She maintains her appearance with "sprinkles": "You bet. Everybody f— does it. I suppose I can't say 'everybody' because I don't know for sure, but come on… It's just the tiniest sprinkle of Botox twice a year. I think most women do 10 units, but that freezes the face and you can't move it. This is just one unit, and it's just sprinkled here and there to take the edge off." She hesitates. "Perhaps it's not wise to put that in a magazine? But I ain't hiding anything."
See what I mean? She just seems so much lighter, happier and more fun these days. I guess Ben Foster is great for her. Which is weird, because he always seems like such a Grumpy Gus too. Maybe the sex is just fantastic? Or maybe this is like the lady's version of the mid-life crisis. Johnny Depp got Amber Heard and a closet full of scarves and Robin Wright got Ben Foster, a Golden Globe, Botox and laughter.
Also: I suspect Robin is getting some fillers in addition to her "sprinkles" of Botox, but I have to give her some credit – she's not overdoing it.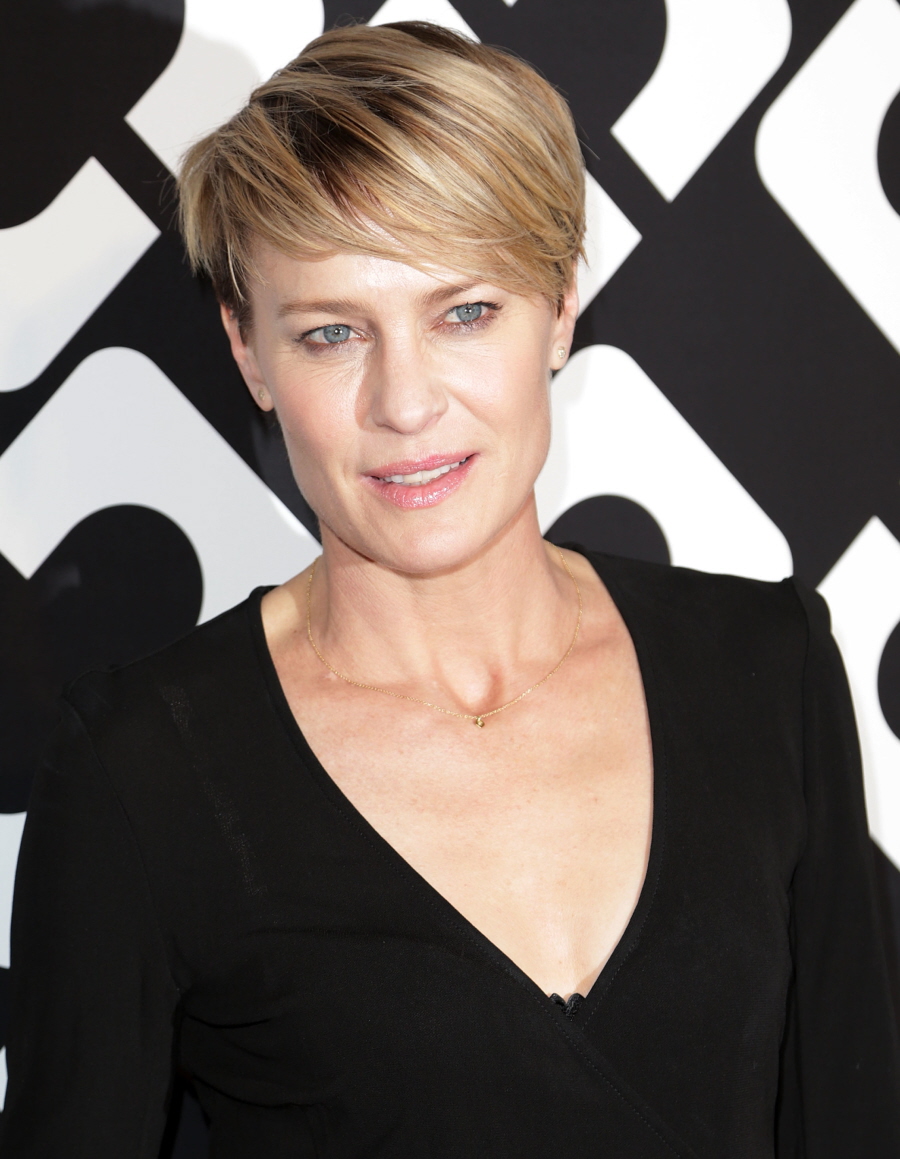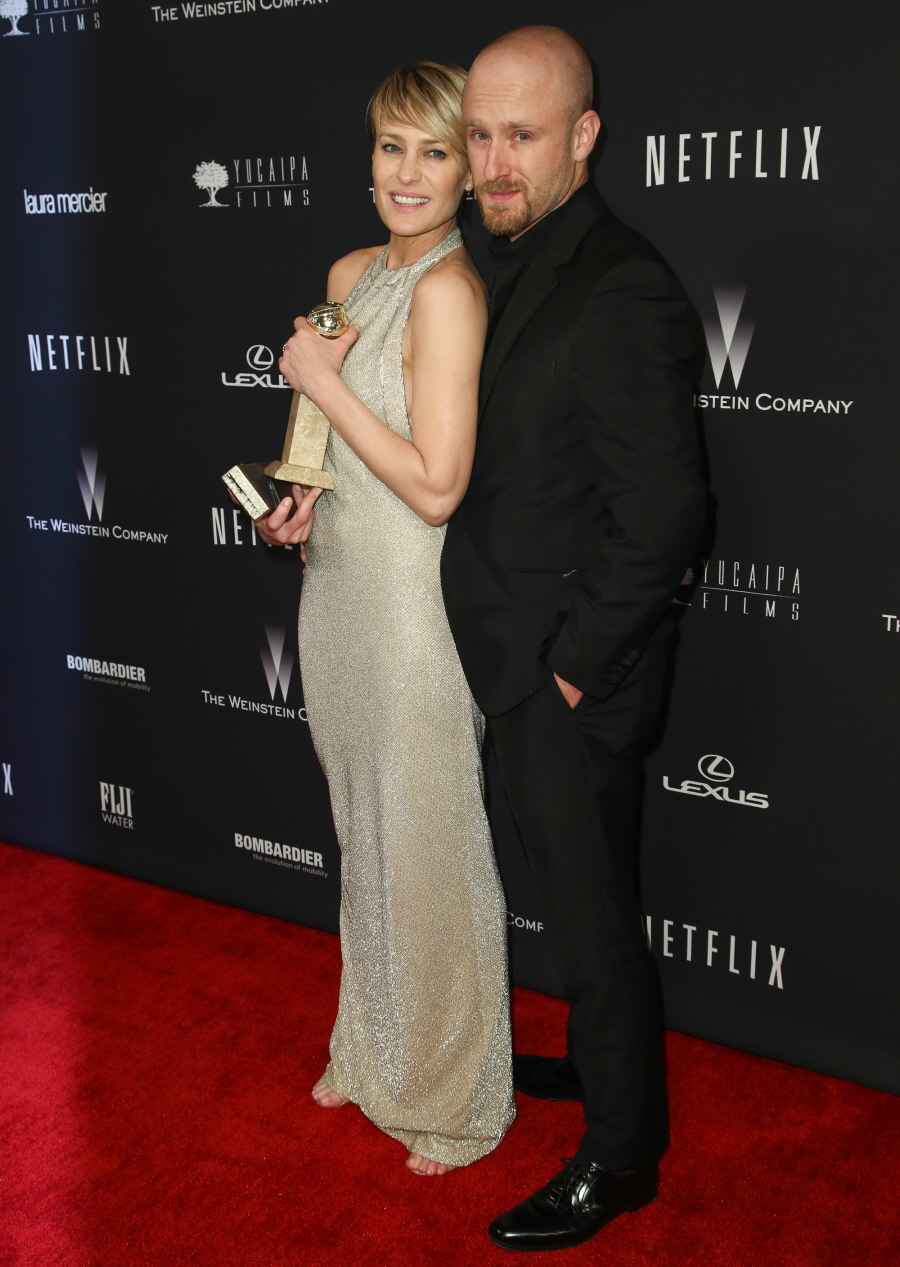 Photos courtesy of WENN.