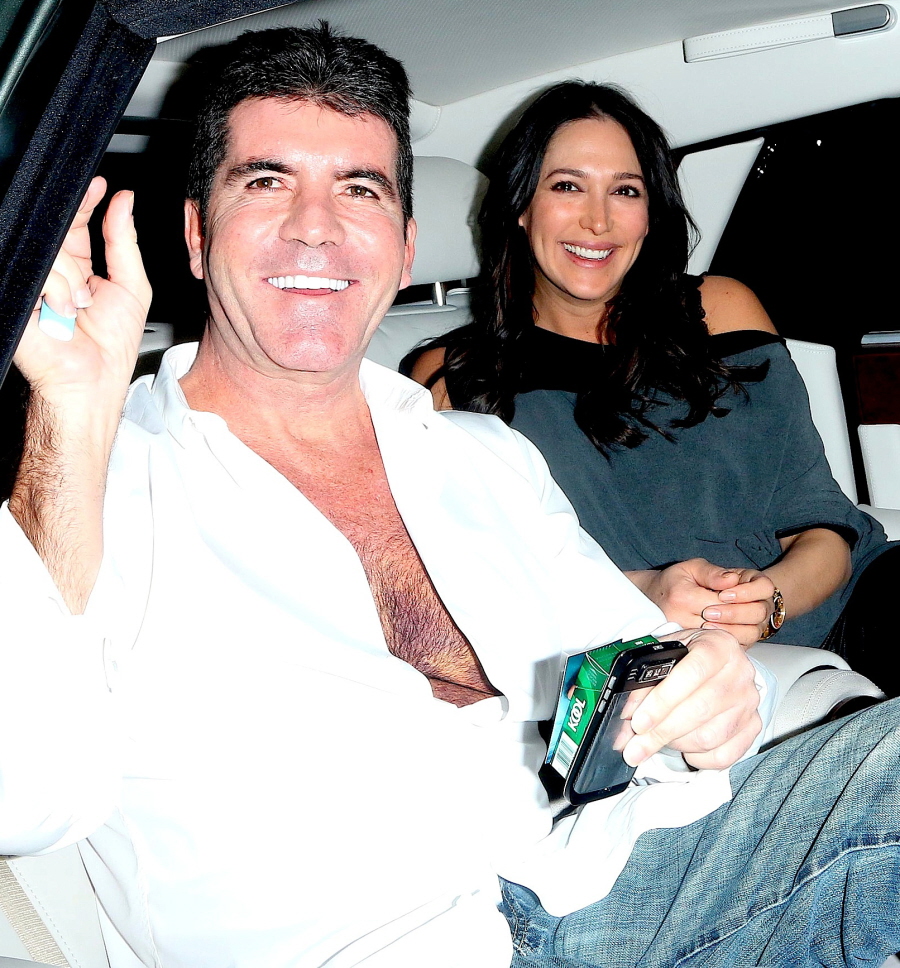 Simon Cowell's furry cleavage gives me life. MOOB REALNESS.
Anyway, Simon Cowell is finally somebody's father. Simon's newly divorced girlfriend Lauren Silverman gave birth to the Cowell heir, a boy (quite right), on Valentine's Day. Simon and Lauren did not name their boy "Simon Junior" as widely reported on V-Day. They named him Eric, after Simon's late father (Simon's father Eric passed away in 1999).
What a happy Valentine's day! Simon Cowell and girlfriend Lauren Silverman welcomed their first child together, a baby boy named Eric, on Feb. 14 in New York City, Us Weekly can confirm. His rep tells Us the baby was born at 5:45 p.m. EST and weighed in at 6 pounds, 7 ounces. A source close says the couple named the child Eric, after Cowell's father. The little bundle of joy is the British X Factor judge's first, and Silverman's second. She and ex-husband Andrew Silverman — whom she divorced in August 2013 — have a 7-year-old son, Adam.

Us exclusively broke the news of the New York City socialite's pregnancy back in July. She and Cowell were initially reluctant to talk about their baby joy in public, as Silverman was still married at the time — to Cowell's friend, no less — but he opened up a few weeks later, telling Us he was "happy and excited" to become a father.

Later, in an October interview with Parade magazine, he spoke more about what he was looking forward to as a dad-to-be. "I'm not brilliant with babies," the acerbic TV personality confessed.

"I never know what to do. But [once he's older] I think I'll be a good dad in terms of advice. And then I'll get to do all the things I want to do, like go to Disneyland or Universal Studios, teach him how to drive — I love all that."

His approach to parenting, he said in a different interview with Extra's Terri Seymour (his ex-girlfriend), would be something like his father's. "Be cool about it. You know, don't worry about things too much," he explained. "The way me and my brother were brought up, I mean, it was kind of relaxed. There were no self-help books or any of that crazy stuff."

"I want to teach him how to do my job as quickly as possible," joked Cowell, whose production company, Syco, launched The X Factor and America's Got Talent, among other shows. "I want to pass the reins over. I really would like the idea of teaching him how to run the business."
My feeling – with regards to Simon and Lauren's relationship – is that Simon is already over it. Lauren had grand plans (some would say "designs") to become Mrs. Simon Cowell and travel the world with him, keeping his wandering dong on lockdown and shutting down his "harem" of current and ex-girlfriends. My feeling is that Simon would be fine with just adding Lauren to his existing harem, but since more eyes are on his peculiar relationship patterns these days, he had to put some effort into making this thing look like a genuine love affair, like he and Lauren were really together and that they had some future together. When in reality, Simon has already bought her a nice apartment in NYC and he's already moved back to London and he'll come to visit sometimes and that will nice. Ten bucks says that's how the relationship will play out – Lauren will be his NYC girl and he'll visit but she will never be Mrs. Cowell. PS… Simon just announced that Eric's middle name is Philip.
Here are some photos of Simon (in mom jeans) on Saturday, visiting Lauren and baby Eric at the hospital.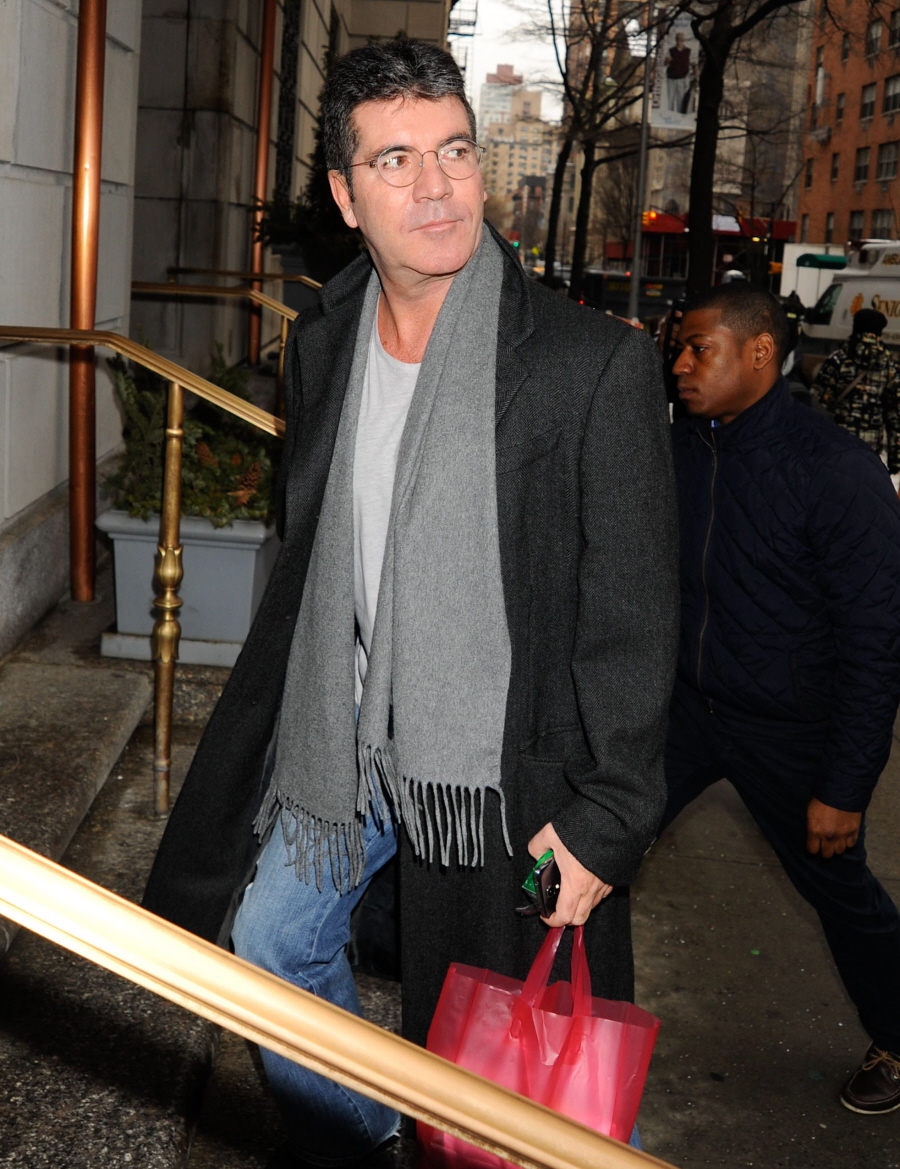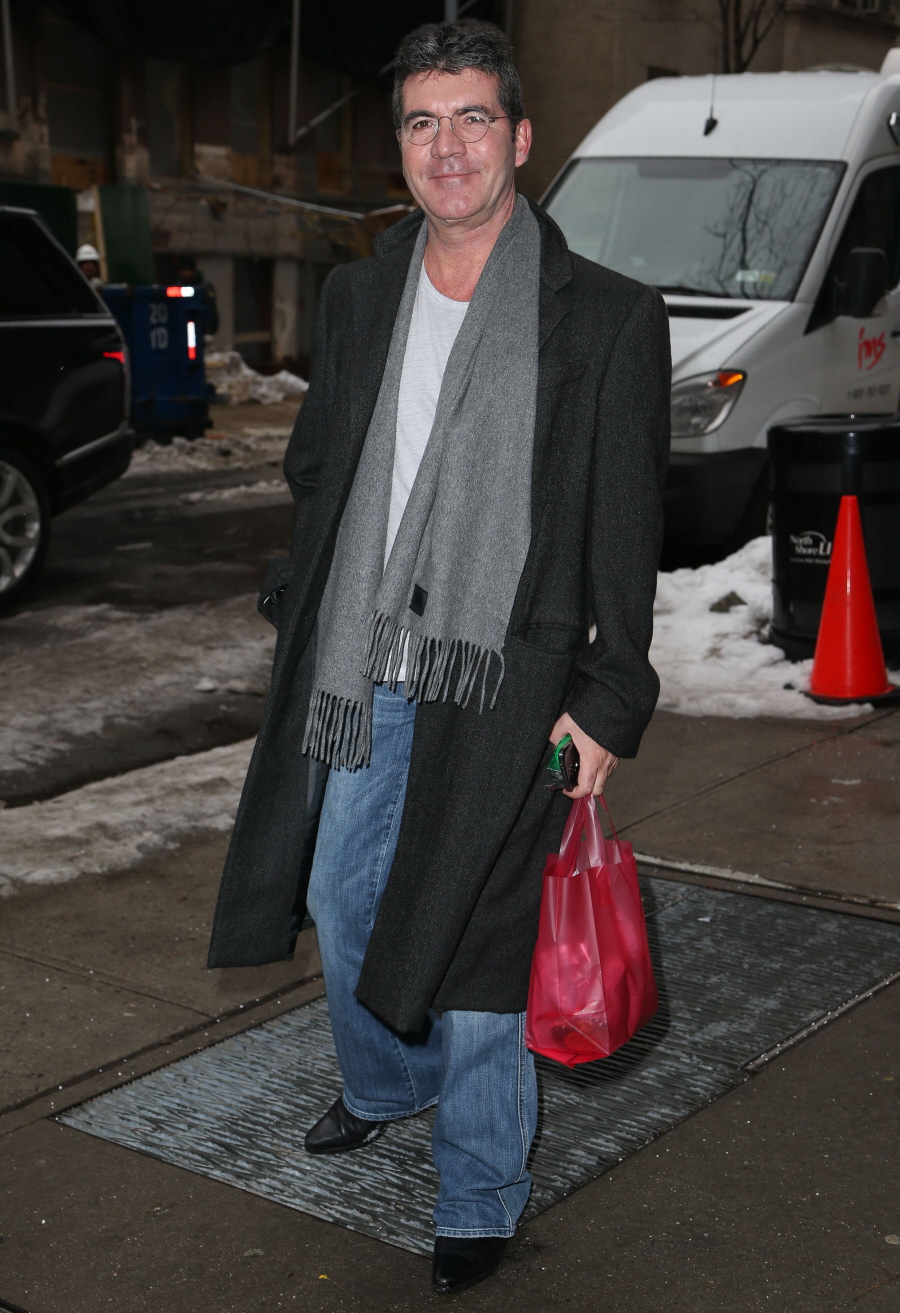 Photos courtesy of WENN, Fame/Flyet.