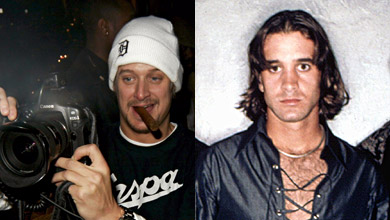 Kid Rock and former Creed frontman Scott Stapp made a sex tape with a bunch of groupies on their tour bus together seven years ago. A preview of the tape was released by the would-be distributors about a year ago, and is shown below (NSFW). It seems to show Kid Rock getting some uh, butt play while Scott Stapp enjoys a BJ and says "it's good to be the king." Stapp tried to make the claim that there was no sexual intercourse on the tape, saying that it was edited deceptively, but his definition of sex was probably Clintonian.
Stapp claimed that the tape was released by someone who wanted to ruin his solo career while Kid Rock said the release of the tape was Stapp's fault but that the publicity would only benefit his new album coming out at the time.
One of the female participants sued Stapp, saying she suffered emotional distress when the tape came out and sought to block its release.
Last year Stapp won a temporary court order to prevent it from getting out, and it looks like that order is now permanent and we'll never be subjected to it.
Stapp has been award undisclosed damages for the tape, and it will never be distributed as the company did not have rights to the tape:
On Friday, Stapp, 33, settled his invasion of privacy suit against WW Red Light District, who has agreed to withhold the tape from distribution.

The firm also admitted they did not hold the rights to the recording.

Stapp's lawyer William Sayegh refused to disclose the terms of the agreement, but said it was "in Scott Stapp's favor".
That's a good thing considering how nasty the preview clip is. I think that's about all I want to see of these two getting it on.
This clip is NSFW or under-18, and if you were checking out the gossip last year you've probably already seen it:

Header picture from TV24.se.