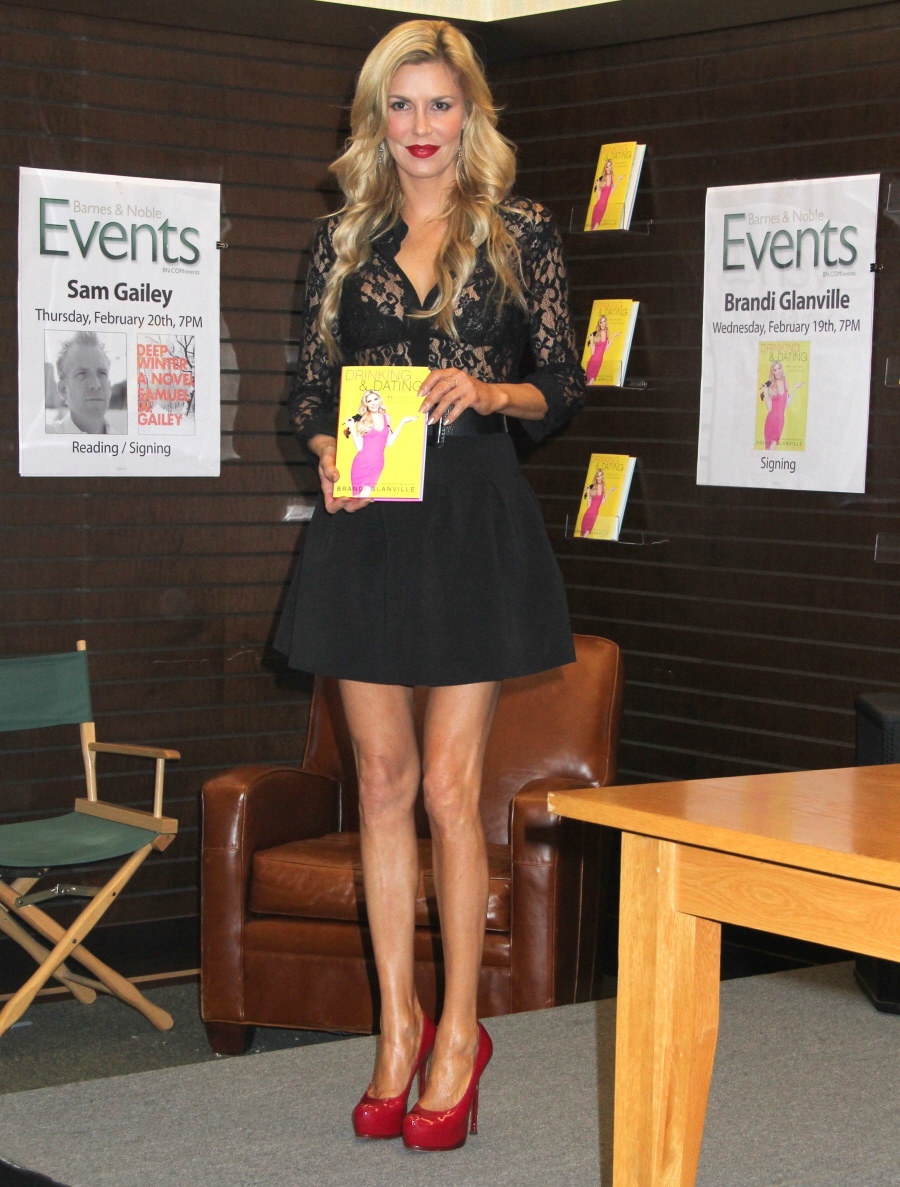 Here are some photos of Brandi Glanville at two events on Wednesday – the white blouse/beige skirt combo was for an appearance on Extra, then the black outfit was for a book signing at a Barnes & Noble. I don't really care for either outfit, mostly because I think those twirly miniskirts are for girls in their teens or early 20s. Anyway, another day, another leak from Brandi's new book. This time we're hearing about Brandi's dating rules, one of which is that she never kisses her hookups on the mouth. How Pretty Woman of her.
Brandi Glanville's never one to blanch at a little spicy talk, and the hot-bodied housewife didn't let us down in a new Q&A with our friends at OK!, where she dishes about her favorite topics: suitors, social media and sex! The outspoken reality star who was famously married to Eddie Cibrian (and once hooked up with Gerard Butler) says she's sworn off any men who make their living on a stage, court or field.

"It doesn't ever seem to end well for me, and it's usually more about them and their ego," she said. "There's a lot of ego stroking and other stroking that you have to do … it's really hard to see the person you love on TV making out with another person. So no more actors for me and no more athletes, because there are just too many options for them. They could have any girl that they want — and they have them all."

The 41-year-old mother-of-two said she's looking for maturity and stability in her next mate, preferring a man who's "five to eight years older," and "has a dog or a plant that's not fake, or something else that shows some level of commitment."

One obstacle the outspoken Bravolebrity says she might have in her look for love is her penchant for controversial tweets, as she herself says that social media's "ruining romance. Social media is making us incredibly unsocial, little by little," she explained, noting that "no one wants weird pictures of themselves out on social media so it's keeping us from being social and being able to interact without worrying … it's ruining our trust in people."

If she can't find Mr. Right and has to settle for Mr. Right Now, at least she's got the proper ground rules for the occasional booty call.

She explained, "There are three rules for a booty call: One is you don't kiss. Two is you never stay the night. And three is, you have to choose wisely, because if you pick someone you're emotionally invested in it can reopen bad feelings."

Brandi's new book Drinking & Dating: P.S. Social Media Is Ruining Romance is available now.
Beyond the "no kissing" thing, her rules make sense to me. No actors (too self-absorbed), no staying the night (too awkward) and no emotional investment if all you're trying to get is sex. If we really want to get at this the right way, I say we go all out and say "no talking unless it's dirty" (to weed out the Hiddlestons of the world), bring your own ball gag (BYOBG) and leave the money on the bedside table. Even if the guy isn't a hooker, it's always classy to make your hookup feel cheap. "Here, baby, buy yourself some groceries and a new ball gag."
Oh, and Brandi also did a radio interview yesterday where she said "once a cheater, always a cheater" and so obviously she believes Eddie is cheating or will cheat on LeAnn.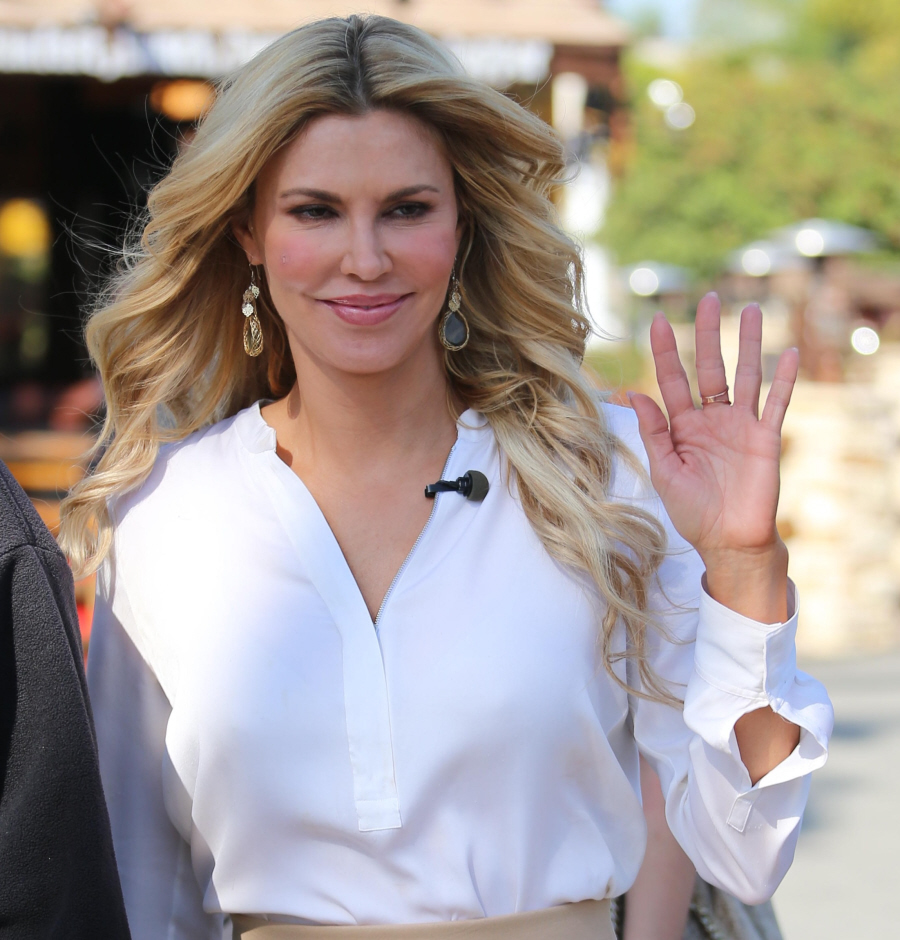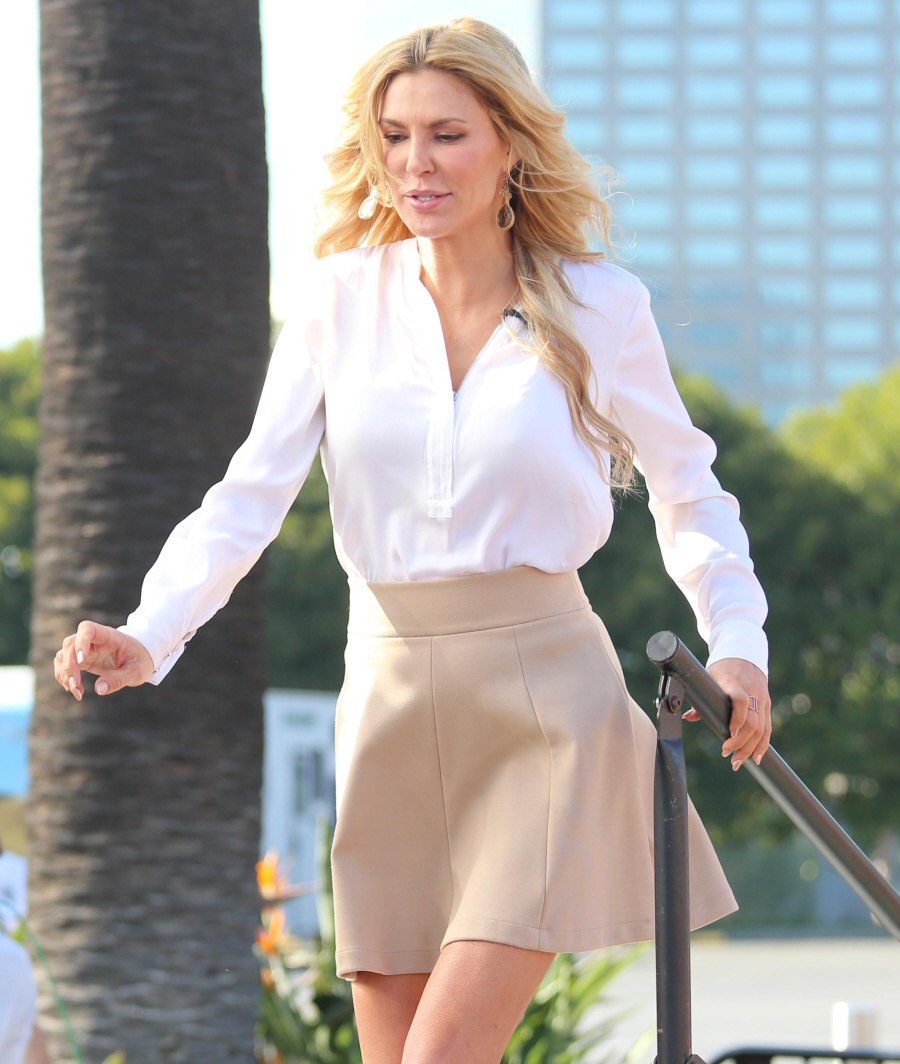 Photos courtesy of WENN, Fame/Flynet.