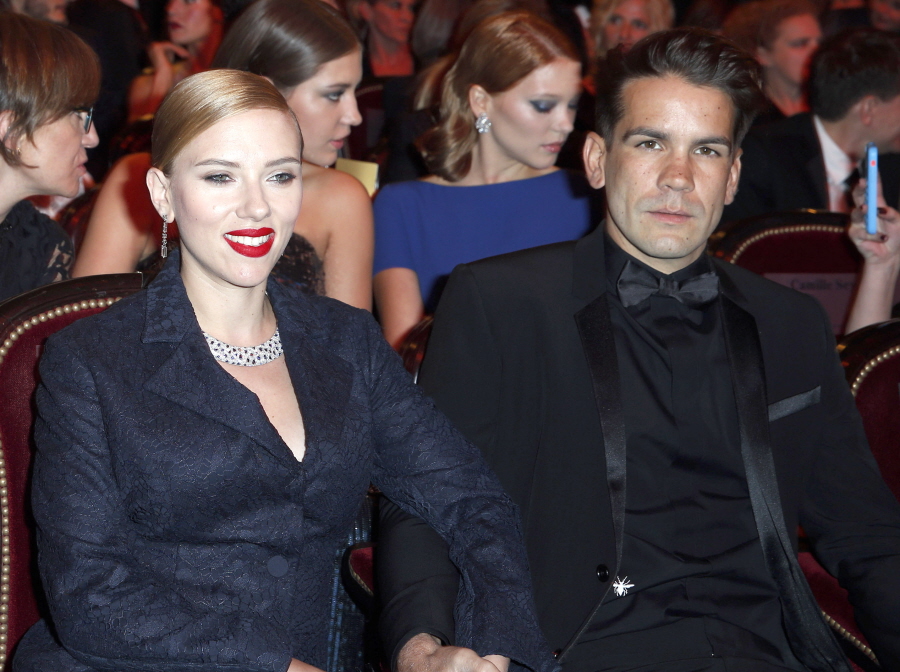 I don't really care for the way some sites are throwing Scarlett Johansson's old interviews in her face. She said in 2012, "I'm not having kids anytime soon, I'm in a nice relationship, I'm working a lot, and, like I said, it's not important to me." OMG, burn her! I mean… that was then. Situations change. It's not even like Scarlett has an Aniston-like history of baby-baiting her fanbase. Scarlett has never gushed over how she couldn't wait to have babies or babies were going to happen sometime soon and babies babies babies. She never had to sell that side of herself, even though she's gotten just as many questions about babies as any other female celebrity. Is it so hard to believe that Scarlett just fell in love and got pregnant? I'm not a ScarJo apologist or anything, but I don't get why people are branding her a liar for this.
Now, what does concern me a little bit is that Scarlett's bump might singlehandedly derail filming on The Avengers: Age of Ultron. Us Weekly has already said that ScarJo is five months along… which I personally don't believe. The photos in this post are from this past weekend, and she is NOT five months along. I know every woman carries differently, etc. But she's not five months along. She's probably – at most – just out of her first trimester. So what will happen with Black Widow's catsuit? Will they have to put in some stretchy maternity panels? Will Black Widow's special power be "sitting down with her feet up as Tony Stark brings her some tea"?
E! News exclusively revealed that Scarlett Johansson is expecting her first child with fiancé Romain Dauriac, and while we're ecstatic for the actress and her soon-to-be hubby, we couldn't help but wonder what this means for her future projects.

The pregnant star, who E! News has learned is due in August, is currently gearing up for her promotional tour for Captain America: The Winter Soldier, and once that's done, Scarlett is scheduled to begin shooting Avengers 2.

And, well, it'll be pretty hard to hide a growing baby bump under that tight, black catsuit. So what's going to happen?

A source tells E! News that shooting for the superhero sequel will need a bit of rearranging.

"They're going to fast-track her scenes," the insider tells us.

Johansson is scheduled to begin shooting Avengers 2 overseas on April 5, after her promotional tour for Captain America is complete. The studio wouldn't comment about her having to reschedule filming.

The pregnancy news comes just six months after it was announced that the Oscar-nominated actress is planning to tie the knot with her French journalist beau. E! News confirmed the couple was engaged in September after ScarJo flashed her vintage Art Deco ring on that finger at the Venice Film Festival, with her rep adding that the lovebirds are "very happy."

The expectant couple went public with their relationship in November 2012, not long after Johansson ended a roughly year-long romance with Nate Naylor.
It would be funny and sad if producers were like, "Eh, just recast it," like they did when Terrence Howard wanted more money. No, I'm just kidding, they won't do that. They'll make her a special catsuit with stretchy panels and in lieu of filming her entire body, there will be lots of closeups of Scarlett from the boobs up. Her boobs really are going to look great, so maybe producers are like, "Hey, this isn't ALL bad news." And when all else fails, they'll just use CGI, Photoshop and all of the geeks in the land to make Scarlett's waist look like this.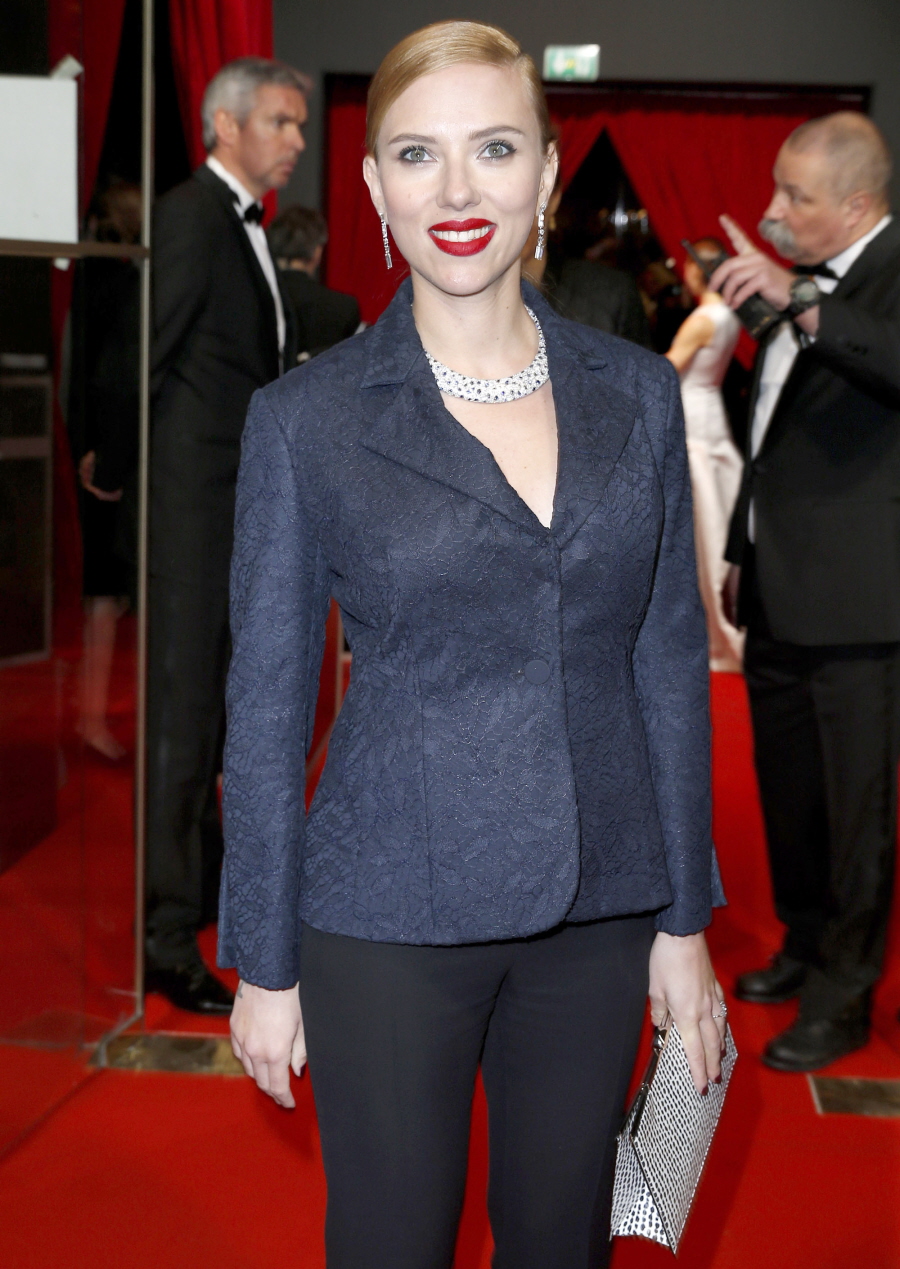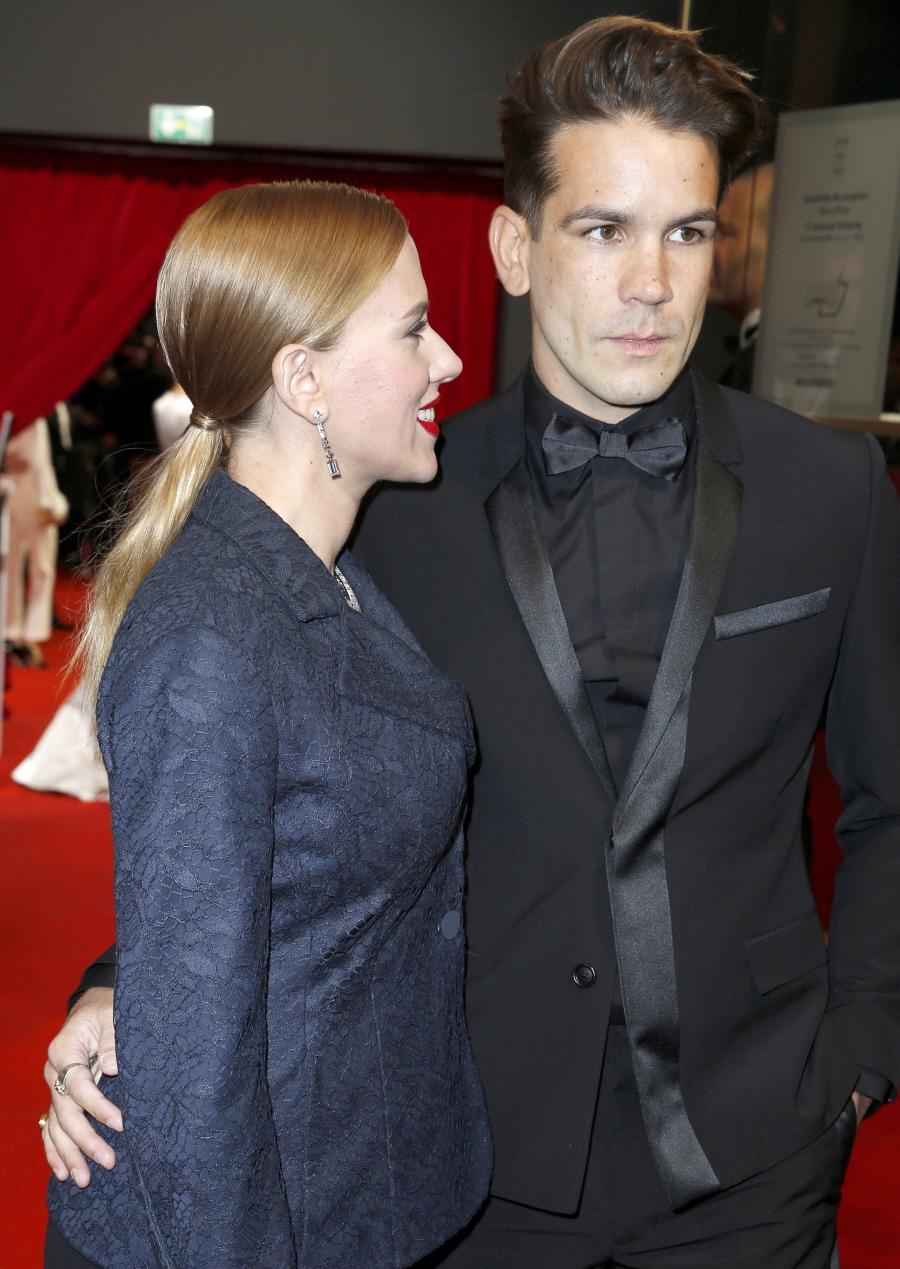 Photos courtesy of Fame/Flynet.