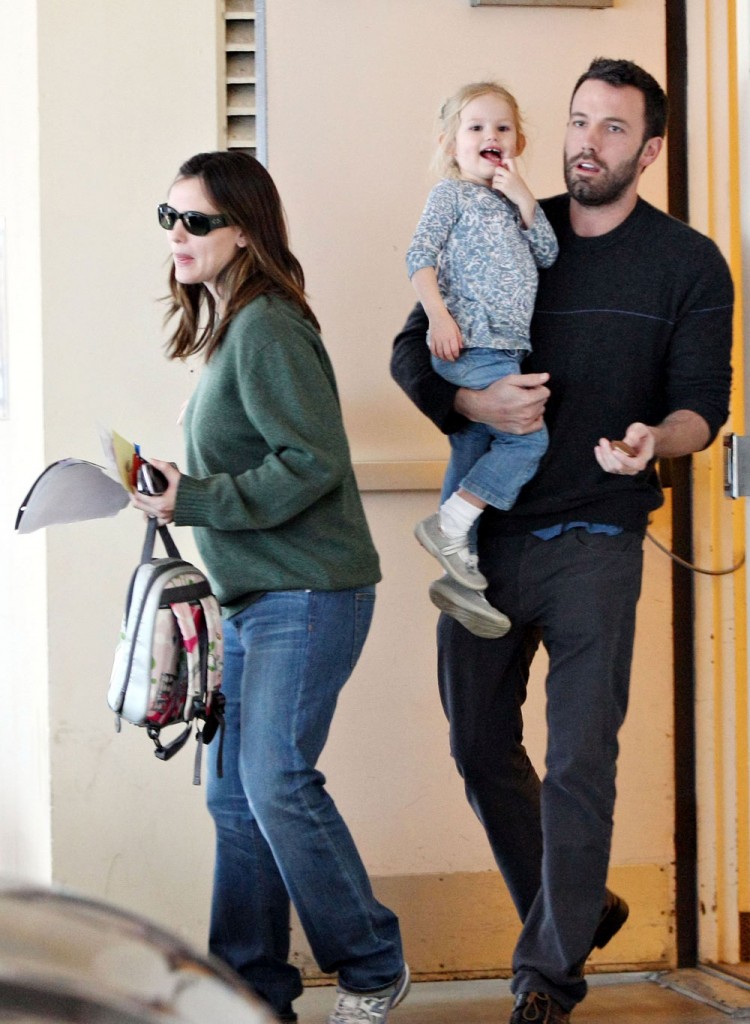 After welcoming their second baby girl, Seraphina Rose, in January, Ben Affleck is trying to convince his wife Jennifer Garner to get pregnant again – this time with a boy. The couple welcomed their first child, Violet, in 2005. Although he's thrilled with his two lovely girls, Affleck is said to be desperate for a son. This is all according to a "source" close to Affleck, willing to talk to OK! Magazine. Apparently, it all involves some elaborate scheme involving baby-sized Red Sox gear.
Jen Garner has told Ben and her friends that she's "done". I guess she feels that she provided him with the royal heir and a spare, both girls, and her work is over. But Jen is a big softie when it comes to her husband's wishes – so perhaps Victor Garbor will be announcing another pregnancy sometime soon.
Daddy Ben Affleck is thrilled that his new baby girl, Seraphina Rose, born Jan. 6, has joined daughter Violet, 3, in his growing brood. But a friend of the He's Just Not That Into You star says he's already lobbying wife Jennifer Garner to get pregnant again–and this time, with a boy!

"Ben's happy to keep going until he gets his boy," says a friend, who notes the star's fanatical love for the Boston Red Sox. "He has visions of dressing a little guy in Red Sox gear, tossing a baseball around and cheering in the stands together."

Jen, however, has other plans! "She's told friends that she's done," a friend of the couple, both 36, tells OK!. "She jokes with Ben, 'If you want more babies, you'll have to find a way to produce them yourself!'"

But Ben is convinced he'll change Jen's mind–eventually. And he may be right!

"Jen is a big softie when it comes to giving Ben what he wants," says the friend. And if Ben remains the lone male in the Affleck household? "He'll have those little girls dressed head-to-toe in Red Sox gear!"
From OK! Magazine
Yeah, a plea for somebody to gear up in Red Sox stuff is not exactly a declaration of "please have another one of my babies". And what's so wrong about putting Violet and Seraphina in Red Sox gear? True, it's a bit gaudy, but they won't grow rebellious for years. So will Jen Garner give in and have another baby? And what if it's another girl? Will Ben be "disappointed"? He's a douche if he doesn't appreciate what he has – two healthy girls and a loving wife.
Ben Affleck, Jennifer Garner and Violet are shown out on 2/3/09. Jennifer Garner, Violet, and Jen's mom Pat are also shown on 2/8/09. Credit: Fame