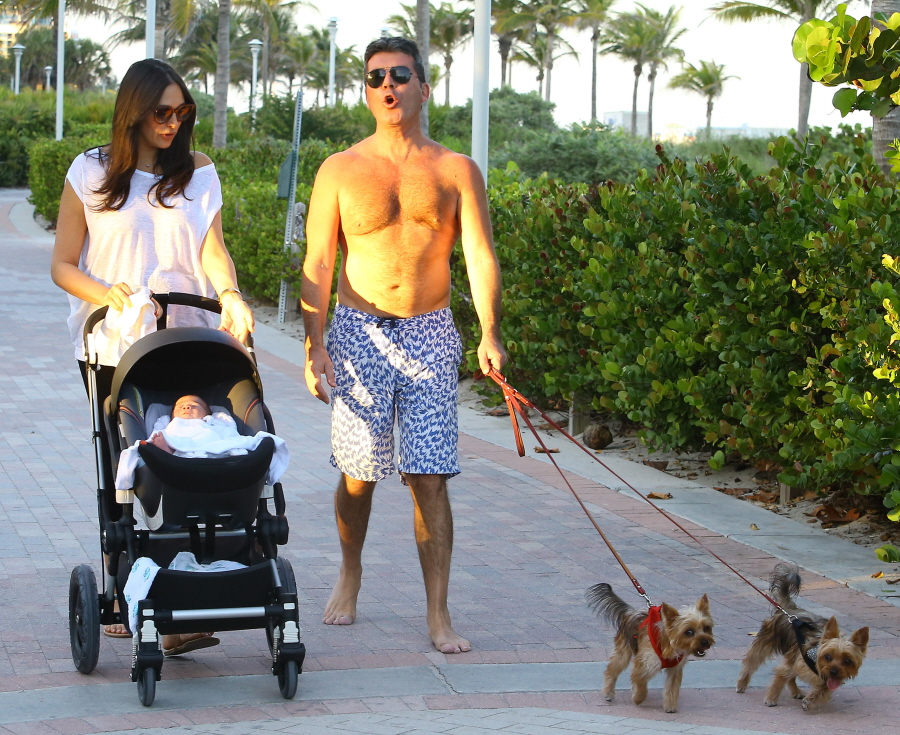 Look at how the sun glistens on Simon Cowell's furry moobs. The setting sun's rays embrace the fur, pours over the moobs, making them transcend and god-like. SIMON MAKE BABY. SIMON VIRILE. SIMON GLISTEN. SIMON HAPPY. SIMON SUCK IN GUT FOR PAPS.
So, obviously, Simon Cowell, Lauren Silverman and baby Eric are still in Miami. Simon is still posing for pap photos every other day. Simon refuses to wear a shirt, because he's super-virile and furry and people need to see that. I'm thankful that these photos at least make some sense sartorially – we've previously discussed photos of Simon shirtless and wearing his mom jeans. On the beach. So, at least he's wearing proper shorts here.
Incidentally, Simon covers the new issue of the UK magazine Radio Times. He was promoting the new X-Factor musical (????) and he ended up talking about his love of ciggies and 1 am drinking:
Simon Cowell has told how he drinks alcohol to enter a 'calm place' and come up with his TV ideas. The X Factor and Britain's Got Talent boss, 54, said that 'one or two in the morning' helped spark his creativity. In an interview to promote X Factor musical I Can't Sing!, written by comic Harry Hill, Cowell said that he could not quit smoking.

'Harry trained as a doctor, he doesn't like my theory that although I smoke and drink I take supplements, so I'll be all right,' he told the Radio Times. 'If I tried to cut out cigarettes completely, I would have a real problem: too boring. It's the same with drinking.' But the new father added: 'I'm pretty good at cutting back when I need to.'

He added: 'I have this expression, 'You never eat Indian food for breakfast'. I always think there is a time in your day when you can be creative. For me, [at] one or two in the morning, couple of vodka and limes, couple of cigarettes, I'm in a calm place: I can think. I always say, 'One good idea a year can pay for your next ten years.' And that's all you need to do.'

Cowell, who was recently pictured topless while strolling alongside girlfriend Lauren Silverman and their baby boy, Eric, said that he was in good shape.

'Yeah, not too shabby, eh?' he told the magazine.
He goes on to discuss his nerves and the high-wire act of putting on a successful musical and a successful show, and it made me wonder if Simon has had any blow-back in the UK after the American version of The X-Factor bombed so badly? Like, are British people mad at him for trying to bring the show to America? Or are they just happy that the British X-Factor is still happening? In any case, I really thought Simon was going to be spending the next year in London, so I guess I don't really know what's going on in that furry brain. He and Lauren seem like they've decamped to Miami indefinitely.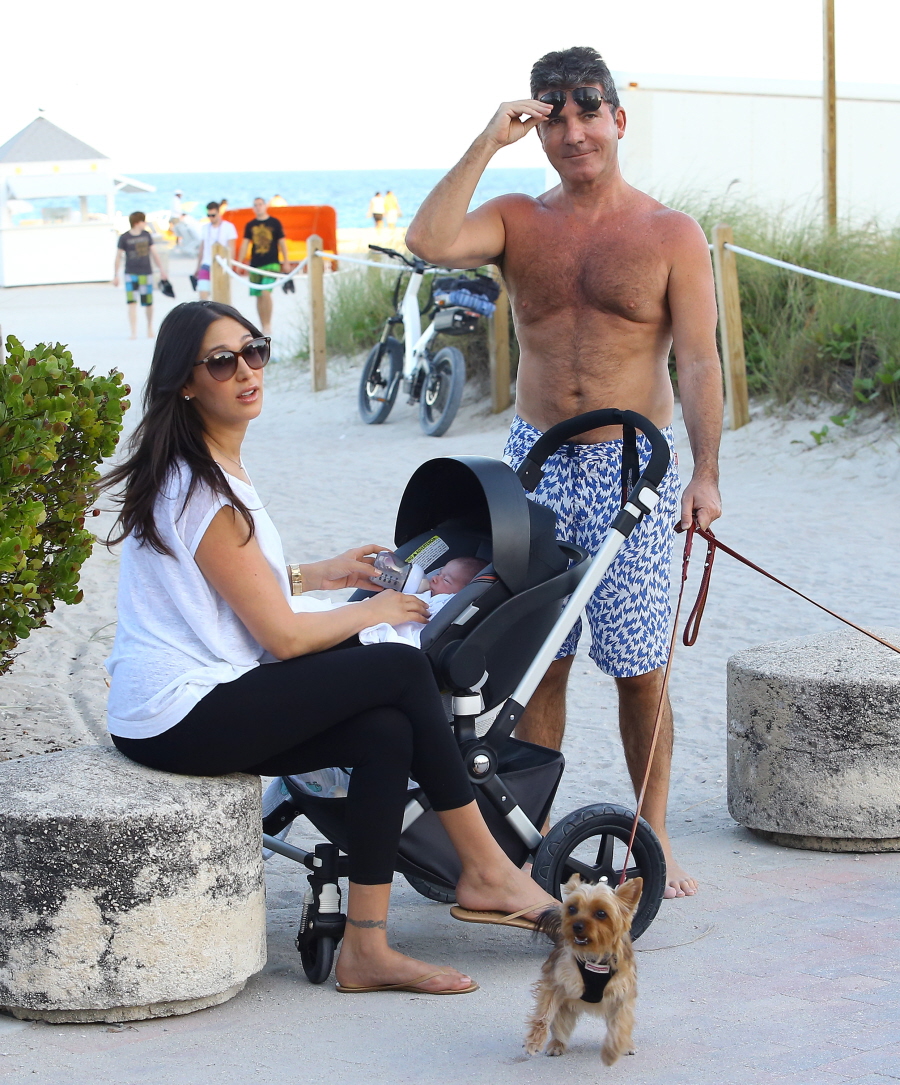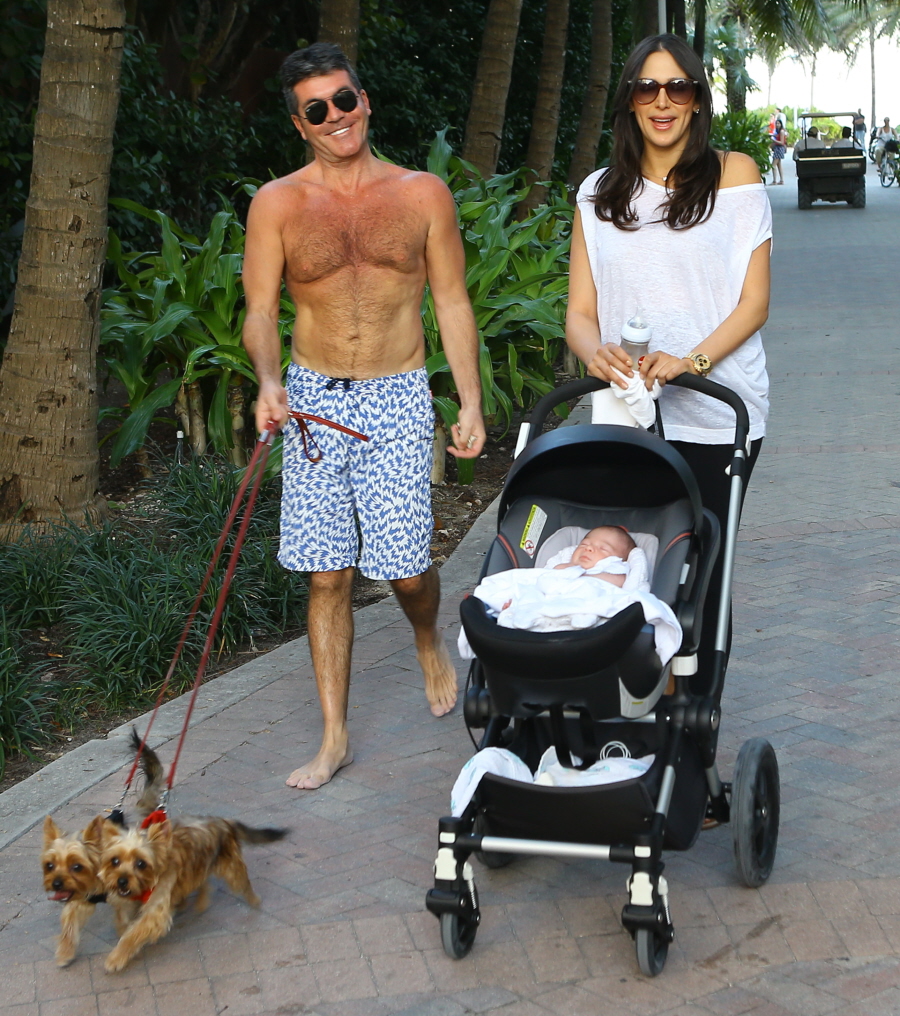 Photos courtesy of Fame/Flynet.