These are some photos of Mary-Kate Olsen attending the Louis Vuitton show as part of Paris fashion week. I talked about the 27-year-old's surprise engagement to 44-year-old Olivier Sarkozy over the weekend. Most of you agreed that this couple isn't that strange at all because both parties are monied, and neither seemed to be using the other. Some of you mentioned that MK looks younger than her age while Olivier does (regretfully) look older than 44. I can see that, but I still think this is a good match.
Mary-Kate's been flashing her new ring for the paps. We don't have the photos, but you can see the ring here. MK must like the design, but it is a bit gaudy, no? Some people like gaudy. This week's issue of Us Weekly says Olivier has been begging Mary-Kate to marry him for a year, and she finally said yes. Now she wants to get pregnant really fast. Hmm:
She took her time! Mark-Kate Olsen made sure fiance Olivier Sarkozy was the one before saying "yes" to an engagement. An insider reveals exclusively in the new issue of Us Weekly that Sarkozy first proposed months ago, but the fashion designer turned him down at the time.

"He tried about a year ago, and she wasn't ready," an insider tells Us in the March 17 issue's Hot Stuff. "She didn't need to be wined and dined. She wanted to make sure he would be good to her."

Olsen, 27, and the French banker, 44, first went public with their relationship in 2012, and are also "talking about trying to get pregnant," the source says.

Us exclusively broke news on Feb. 28 that Olsen and her older beau are engaged. "Mary-Kate's family thinks Olivier is the best thing to happen to her," an insider told Us of the former Full House star. "They love him."

Olsen won't have a hard time adjusting to motherhood, either. She's already close to Sarkozy's two children Julien, 12, and Margo, 10, from his previous marriage to Charlotte Bernard.

"Mary-Kate has made him a better father. She remembers all the kids' special events," a source added to Us. "She thinks he's a great dad."

Olsen has yet to confirm the engagement news herself, but has already shown off her new rock. The actress stepped out wearing her huge gold engagement ring in NYC on March 3.
[From Us Weekly]
This sounds like a done deal if Mary-Kate's family adores him too. She dated some real doozies in the past, and I'm glad she's no longer taking Paris Hilton's castoffs. Plus — if these two are going to have children, they might as well start soon. Olivier's not getting any younger. Just the other day, I finally broke it to my daughter that (since momma is now 39) she wouldn't ever be getting the little sister she's always wanted. She nodded and then said, "Yeah, because it wouldn't go to college until you were 60." Thanks, kid.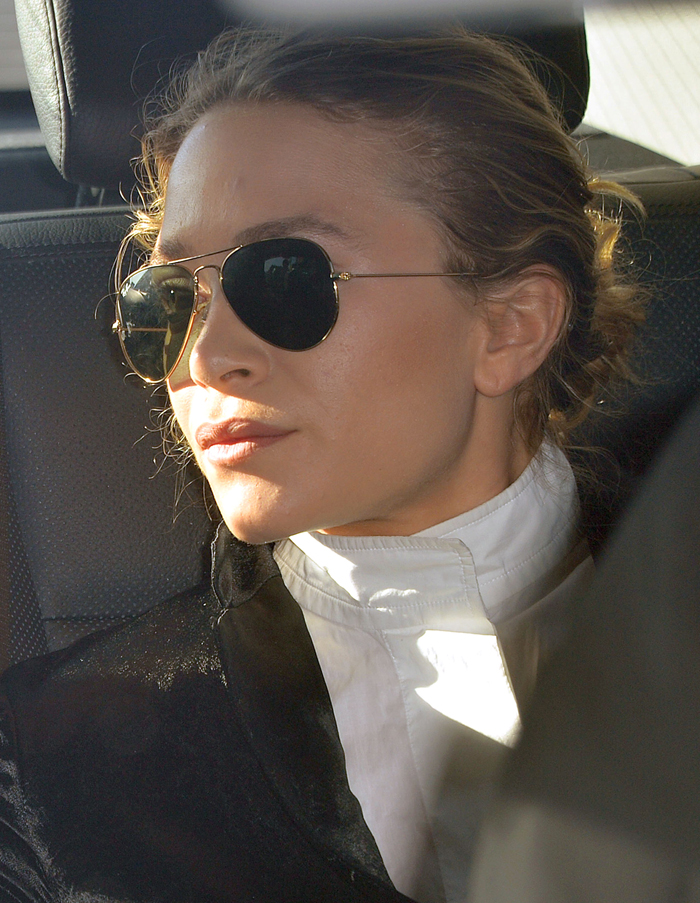 Photos courtesy of Fame/Flynet