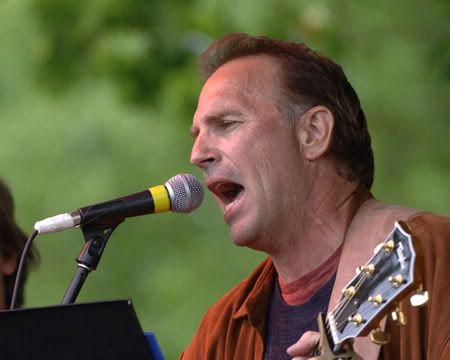 I thought it was a bad idea when Russell Crowe was allowed to have one…
Kevin's Music LLC, the company Costner owns which represents The Kevin Costner Band (ego trip, anyone?), filed a breach of contract suit Tuesday against Mahee Worldwide Ventures, Inc. for failing to promote his band.
Here's the summary from E! News Online:
Despite their "numerous promises regarding their capability to promote Mr. Costner's music," Mahee Worldwide "ultimately disappeared, refusing to cooperate or even to communicate with KML and its representatives," court documents, filed in Los Angeles Superior Court, state.

KML alleges in the suit that Mahee Worldwide approached Costner in December 2006 and offered "millions of dollars in guaranteed fees" if the promoters could capitalize on the Oscar winner's celebrity to set up a multifaceted promotional campaign for his musically oriented side project—a campaign that both parties were ostensibly supposed to cash in on.

Per the complaint, the two sides inked a two-year deal on Jan. 25, 2007, calling for Mahee Worldwide to plug the group through various Websites and mobile content, create a site specifically for the Kevin Costner Band, and organize up to five concerts per year featuring the actor and his mates.

Citing Lindsay Lohan as a previously satisfied customer, Mahee Worldwide promised KML 85 percent of revenues from the proposed "Costner Music Website"; 50 percent of the dough gleaned from cobranding sites; $160,000 per concert and several other guaranteed lump sums, the lawsuit states.
Costner's company is asking for $8.5 million in damages and unapid fees. Costner is credited for singing that unknown hit "You Didn't Have To Be So Nice" off his (Razzie) award winning film, The Postman.
Judging from what I have seen of this YouTube clip, Mahee Worldwide did the world a favor. The clip is of Costner performing his song called "Porch Song", performed at The Field of Dreams site (man, this guy loves himself) and he dedicated to all the "mommies out there, and the girls who are going to be mommies".
I'm a "mommie"–I would die if this song were ever dedicated to me.