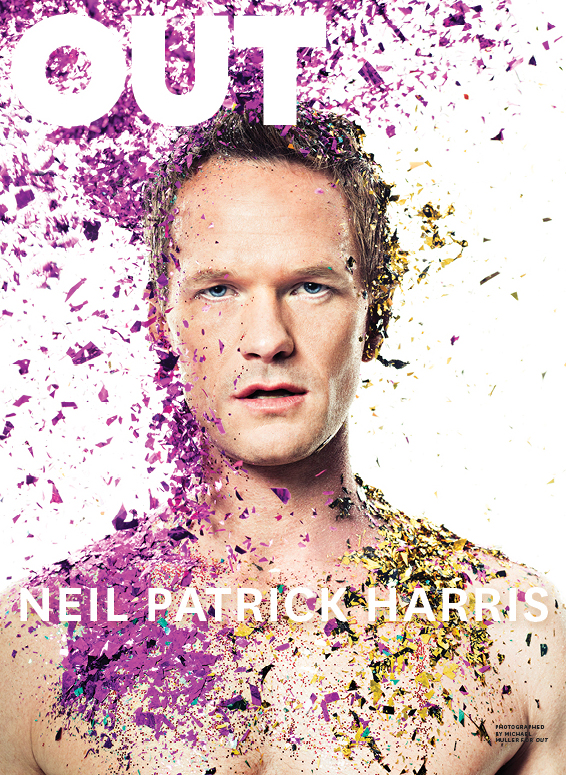 This should be how we see Neil Patrick Harris at all times: covered in confetti. I thought this was glitter at first, but I guess THAT would be a gay stereotype! Anyway, NPH covers the new issue of Out Magazine to promote his new Broadway role in Hedwig and the Angry Inch. He ends up talking a lot about doing Broadway (again, he's done Broadway several times before) and most significantly to me, he talks about his supporting role in Gone Girl. You can read the full Q&A here, and here are some highlights:
He sees himself in his son Gideon. "He asks 'Why?' now, for everything. We're very similar. It seems he wants to break things down and figure them out. We both have kind of the furrowed brow — we want to get to the core of things."

Not so subtle shade: "It always amazes me when Oscar-nominated actors go on award shows and read the teleprompter as if they have never seen it before. And I know they've already vetted it, that their publicist or manager has already agreed to it, and yet, there they are, standing there, with that kind of 'Who wrote this s–t?' attitude while monotonically reading off these words. Then again, I've gotten to do theater and know what it feels like to stand in front of live people, and a lot of movie people don't do that ever."

On the insecurities playing Hedwig brought up inside himself: "Hedwig is bringing up a lot of super insecure things within me. I have never thought drag was intoxicating, I've never had a fun drunken Halloween in drag, never been in heels, really. I've lived my whole life being attracted by masculinity – it's why I like guys. I'm not a super effete person, and I have to turn into that, and in doing so it brings up a lot of homophobic insecurities within myself."

Filming a sex scene with Rosamund Pike in the thriller Gone Girl: "We had to rehearse the sex scene with David [Fincher], like every inch of it – 'Then you put your mouth on his d–k here, and then this number of thrusts, and then you ejaculate.' It was weird because we're technically breaking down the sex scene. He wanted it to be almost robotic, that we know exactly where we are, position-wise, where everything goes. And yet, through all of that, the whole 'I'm gay' element was never even thought about.

How women view him since his coming out: "I've found that a lot of girls have no issue with me being gay. They still want to marry me. And I love that."

Saying goodbye to How I Met Your Mother: "I won't ever be able to play someone like Barney again because he's so unique, but we had over 200 episodes. And my exclusivity deal is done with Fox." He waits another beat, and smiles. "So finally I'll be able to do more p0rn."
I really, really like NPH's honesty about doing full-on drag for Hedwig and the issues it has raised for him. "I've lived my whole life being attracted by masculinity – it's why I like guys." I like the way he talks about his sexuality because… it's non-event, and yet you can tell he's still learning about his own preconceived notions about sexuality.
Oh, and for Gone Girl. He's going to be amazing as that creepy character. If you know the book, you know the character and I don't think anyone else could have really been cast in that role. Rosamund Pike was inspired casting as well. If only the Nick character had been cast with such brilliance. Ben Affleck is going to be the weakest link, I think.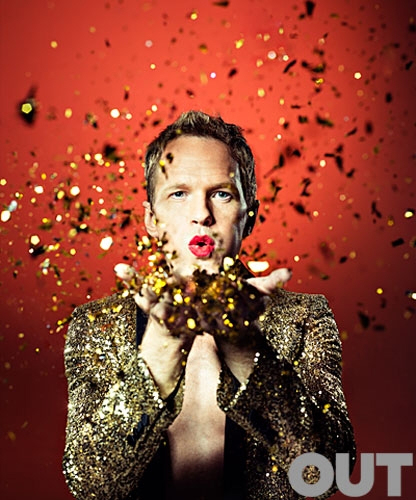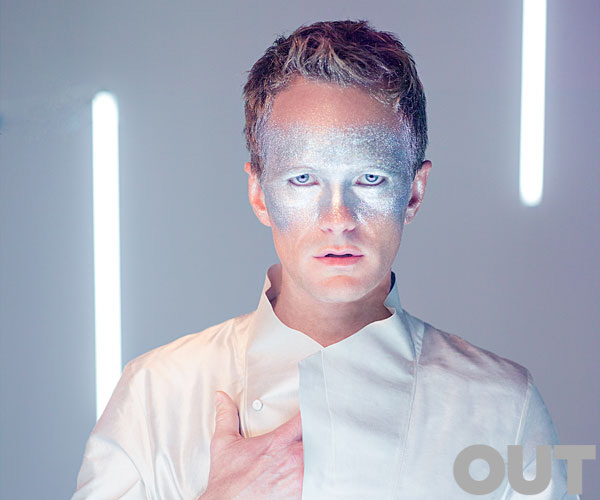 Photos courtesy of Michael Muller/Out Magazine.