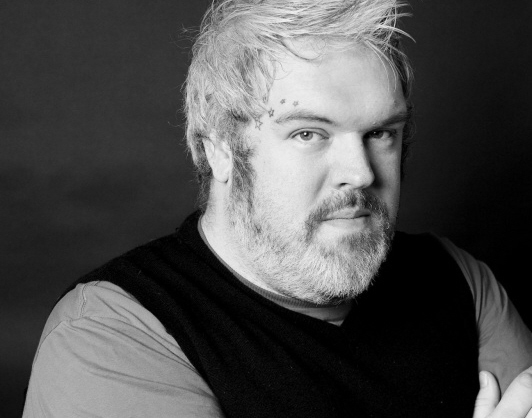 As all of us Game of Thrones-fans were geeking out on yesterday's Vanity Fair cover, I think most of us completely forgot about the Bran storyline. You know Bran Stark, the paraplegic Stark child who has visions and can see the future or the present or something? Yeah, that storyline sort of got away from me last season. I mean, I like Bran, but I just wasn't paying that much attention to that story. Anyway, it's become something of a meme because Bran has spent the past two seasons being carried around by Hodor, the gentle giant who can basically only say "Hodor." The actor playing Hodor is named Kristian Nairn. And he just came out as gay – except he says he's always been out and he's only confirming it now publicly. The confirmation came in the midst of a totally geeky interview with Winter Is Coming, and I'm just pulling the questions about his sexuality:
Winter Is Coming: I have some friends in the gay community, "bears" as they're wont to call themselves, who hold you on a pretty high pedestal. One good friend of mine (I've known since we were in the 5th grade together) says your bear following is "extensive." Is this something you're aware of?

Kristian: Well, in all honesty, when you talk about "the gay community," you are talking about MY community, haha. I AM aware of it yeah, and I think it's really lovely. There's not a day that I don't get a few messages, but 99% or more are super sweet and nothing smutty at all! Again, it's a privilege, and I really mean that. I've never hidden my sexuality from anyone, my whole life in fact, and I've been waiting for someone to ask about it in an interview, cos it's not something you just blurt out. I've tried to lead the questions a few times, to no avail!

WIC: Seeing as how some people might react negatively to it, did most of the cast and crew have an understanding of it? Or was it just never really brought up?

Kristian: I had an upbringing to respect other people's privacy, and their right to be and choose what they want, and I expect, no, demand no less for myself. It's a very small part of who I am on the whole, but nonetheless, in this day and age, it's important to stand up and be counted. I have and always will stand my ground. So, yeah, people have been great, on the show, but I don't see why it would be an issue.

WIC: I ask because I know there is a certain percentage of parents who might say, "Oh, well, I don't want my child acting with a gay man."

Kristian: I would love to see the children in question on the show react to [someone telling them] that. That's so not even been an issue. The families and kids on the show are so switched on to reality, to "old ways" aren't an issue.
Basically, I'm not writing about this because I think the 20th GoT supporting player's sexuality is big news, I'm writing this because of the way he comes out and the follow-up questions from the Winter Is Coming blog. Because when I saw other coverage of this story, they just ran the quotes about him saying the gay community was his community. It didn't even cross my mind that some people (a—holes, that's who) might take issue with a gay man acting opposite child actors. Was that anyone else's first thought? I mean, I'm sure there are some people "concerned" – those people who want to conflate homosexuality with pedophilia, I guess. But it bothered me that the blog went to that line of questioning immediately. HODOR.
Photos courtesy of Getty, HBO/GoT.