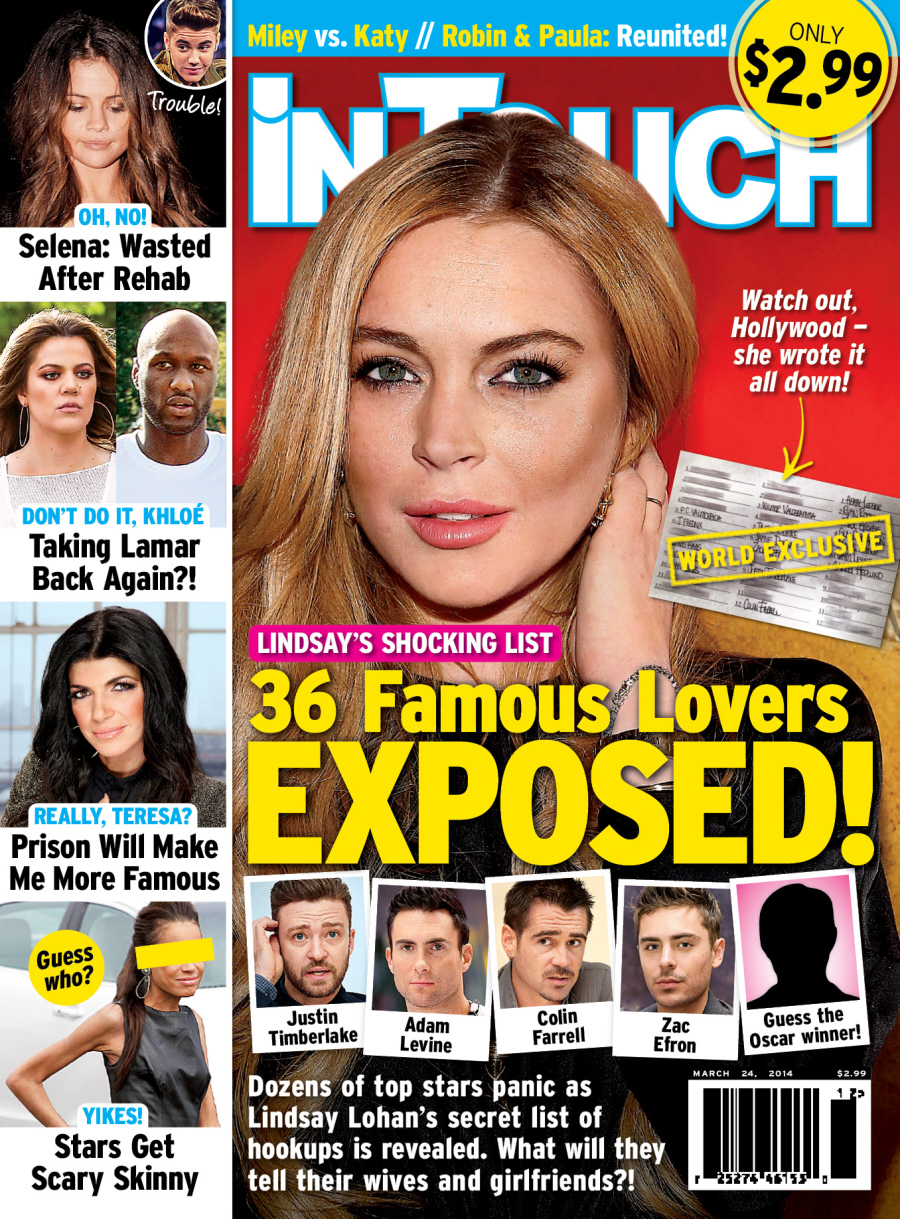 In Touch Weekly has a world exclusive about Lindsay Lohan and her former lovers. Or as some would call them, johns. According to ITW, Lindsay was hanging out with friends in January and they were gossiping about all of the people they had slept with. So Lindsay decided to make an actual list of all the famous people she's banged over the years.
The future of Hollywood's biggest couples could be at stake! In Touch has exclusively obtained a shocking list, penned in Lindsay Lohan's handwriting, exposing 36 of her famous lovers. Among the dozens of superstars named are Adam Levine, Zac Efron, Justin Timberlake and Joaquin Phoenix.

"They were giggling and talking s— about people in the industry," a source, who watched as Lindsay jotted down name after name at the Beverly Hills Hotel on Jan. 30, 2013, tells In Touch.

"It was her personal conquest list," the source says. "She was trying to impress her friends with the list and then tossed it aside."

The source also shares with In Touch that Lindsay would pause to think at times "as if she had to remind herself of who they were."

Also named on the list are Colin Farrell, Evan Peters and Wilmer Valderrama. Many of them never imagined Lindsay would kiss and tell, but she apparently did!

"The list has some pretty big names on it, and they're not all single guys," an industry insider tells In Touch. "This getting out now could rock several Hollywood relationships to the core."
Some of these names are not surprising. We all knew that Lindsay banged Wilmer and back in the day, Colin Farrell would have sex with just about anyone. As for Heath Ledger… for years, Lindsay has been claiming that she and Heath had a real love affair. I tend to think that they banged a few times and Lindsay tried to connect herself even further to him after he passed away. I'm somewhat surprised by Justin Timberlake and… Zac Efron? RUN ZAC RUN. Here's the In Touch exclusive image of Lindsay's hand-written note: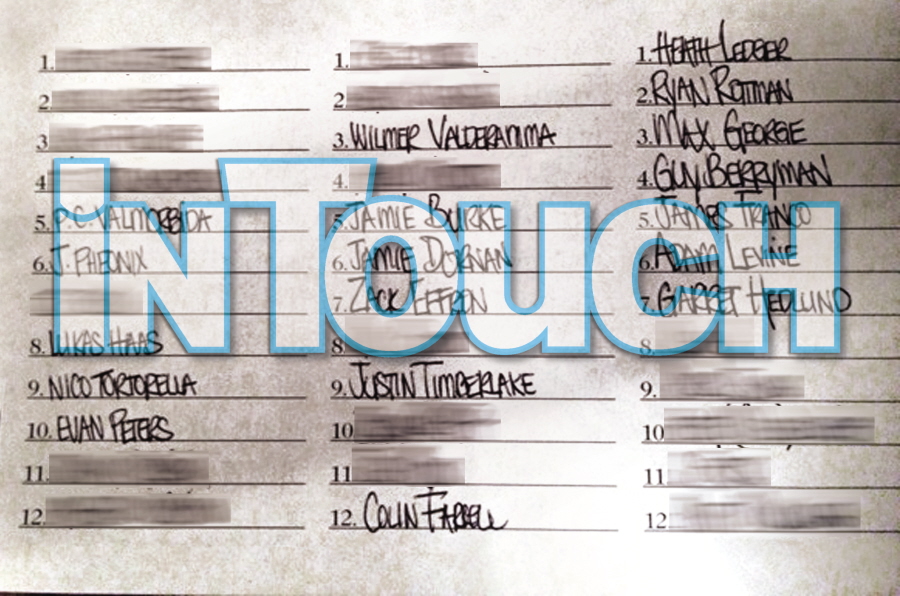 Lukas Haas?! Joaquin Phoenix?! Jamie Dornan?! Garrett Hedlund?! JAMES FRANCO?!!?! You know what surprises me? Leonardo DiCaprio is not on the list. How is he NOT on the list? I don't really believe that she slept with Garrett Hedlund, and surprisingly enough, I don't believe she slept with Justin Timberlake either. But I'll buy Joaquin, Franco and Levine. Gross, gross, gross.
By the way, I didn't do any coverage of Lindsay's OWN series premiere or interview because I didn't think many of you would care at this point. I've only watched a few clips here and there, and it sounded like she was just spouting off the same crack lies as always. There was this interesting story over the weekend though: according to Page Six, Lindsay is "about to sign a $1 million contract with HarperCollins" for her memoir. Apparently, she was trying to get $5 million for it, but no one would pay her that much (especially since they'll probably have to pay for the ghostwriter to do the heavy lifting, I would think). Now I kind of wonder about this In Touch Weekly "exclusive" – is it possible that this is a tease for the Cracken's memoir? That she's basically telling HarperCollins that she'll tell all about her famous lovers? Crackspiracy!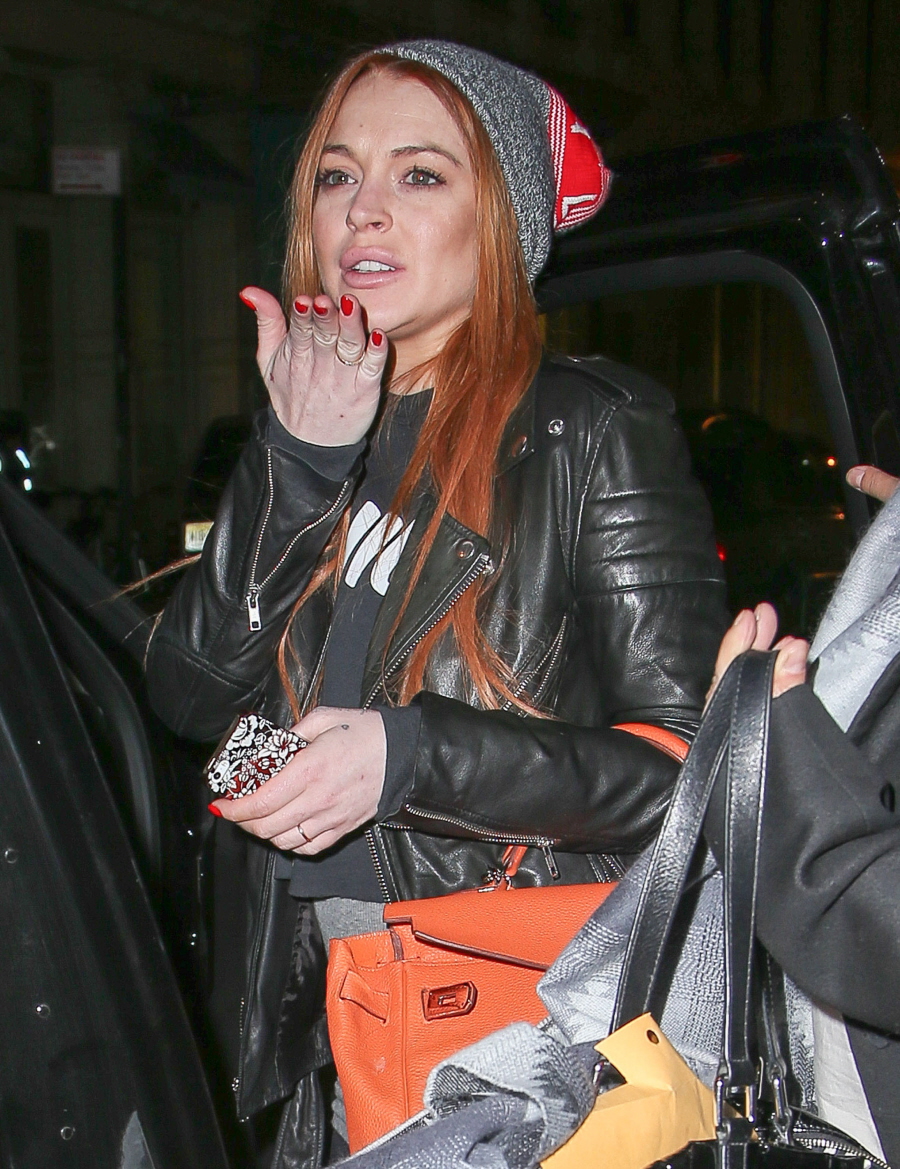 Photos courtesy of In Touch Weekly, Fame/Flynet.