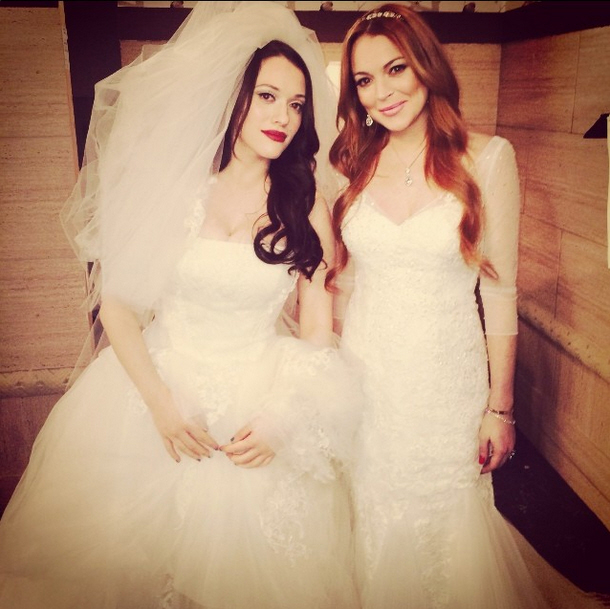 Several days ago, it was announced that Lindsay Lohan had gotten a "job." She was going to guest star on the "hit" CBS show 2 Broke Girls, which… I don't know if you've ever chanced upon the show, but it's awful. It's so bad that I feel waves of pity for Kat Dennings and Beth Behrs. So, it's not like Lindsay got a guest spot on some critically acclaimed show (I would think The Walking Dead would want her though, just because she wouldn't need much makeup). Basically, I kind of think Lindsay scored the right guest spot on the right TV show, except that I don't see how anyone would want to hire her at this point. People lining up to work with the Cracken get what they deserve: a cracked-out wreck who can't remember her lines or bother to be professional whatsoever.
I came upon this CDAN story, which it looks like ENTY wrote himself. He was at the taping of this episode of 2 Broke Girls, and he wrote a lengthy post about all of the crap that went down. Some highlights:
How Lohan looked: "Red hair. Lips so plumped out she couldn't really get them open because of her botox which also caused her to have trouble pronouncing certain words. Of course she won't be able to pronounce anything if she keeps smoking because her voice is rapidly disappearing into some type of screaming smoking raspy hell hole. You know when you go to some type of event that requires a lot of yelling or screaming and you can barely speak. Combine that with a three pack a day habit and botox and see how well you do. There was a scene later on in the show that required Lindsay to say the words Hawaii and Bahamas in succession. She couldn't move her botoxed muscles enough to get that combination down without pausing between each. It sounded like someone who had injected with Novocaine an hour earlier."

Lohan kept screwing up the simplest of lines: "This first initial half of a full scene had about five lines from Lindsay. It took about 45 minutes to shoot because she never could get through without screwing up. She would get one line and screw up another. There was some combination that she always managed to find that she had not done previously."

After screwing up her lines & 30 minutes of re-writes, "two scenes were shot with the entire regular cast and they took about twenty minutes to go through two scenes. All flawless. Once again it was time for Lindsay, but off camera. All she had to do was read one line of script. READ it. It took her three times to get it right."

Lindsay's final scene: "So, there was one big scene left with Lindsay. She is in a wedding dress and has cold feet about the wedding. She has six or seven lines. 45 minutes later when the audience can see the finish line of this scene a cell phone starts ringing. Loudly. 'I'm sorry, that's mine. Hello. I have to call you back.' Yes, it was Lindsay's phone. One more time through the last part of the scene. Ten more minutes gone from my life."

Last impressions: Over five hours of shooting for 18 minutes (4 minutes pre-recorded). Three of those hours were for the few scenes Lindsay had. When the final product airs next month people will see the editing and Lindsay's best from those scenes and think to themselves that she isn't that bad. The lines were well written and with as many shots as she had at each one she was bound to get something that can be used. People will tune into watch. The 200 people that sat through that taping though will know that Lindsay didn't deserve to be on the show. They will know that every single person who had lines on the show was at least ten times better than Lindsay and in many cases a hundred times better. Kate Dennings and Beth Behrs had hundreds of lines each. Because of Lindsay they had to repeat them for hours. No matter what though they always got laughs from their lines. Lindsay didn't. People were tired of her. They wanted it to end. What I saw in Kat and Beth were two people who respected the fact they have jobs that pay very well and may never be given a second chance to make this kind of money or be on this kind of show. They knew every line and where to be and what to say and how to act and they were professional. Lindsay looked like someone who took her script with her while she partied for a week straight and could show up and work it out while filming the show. That attitude is why she doesn't work. She didn't take it seriously. It was a paycheck. I hope she doesn't get many more."
Radar is running a story based on ENTY's post, and I imagine other sites will too. Good. I hope they do. I feel the same way about Lohan as I do with Lady Gaga: they're not worth the energy at this point. Yes, it's fun to watch a train wreck for a while and yes, I think many of us are curious to see the names which got blurred out by In Touch Weekly, but let's not pretend that Lindsay is an interesting or compelling person or that she'll ever change or "get better." She's had enough chances. Enough.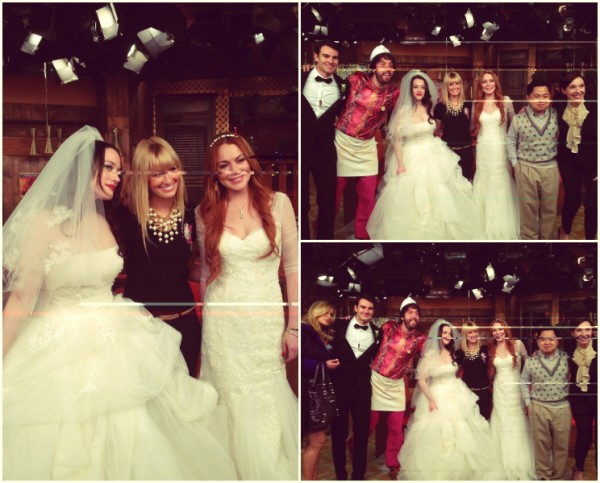 Photos courtesy of Fame/Flynet, LL's blog and Instagram.