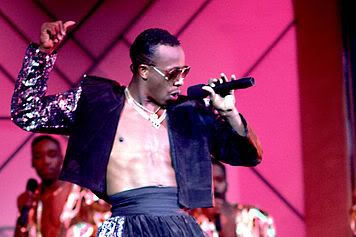 Among the once mega-rich celebrities, musicians and sports stars who have filed for bankruptcy are Kim Basinger, Burt Reynolds, Toni Braxton, TLC, and Mike Tyson. While some musicians file bankruptcy in an attempt to get out of terrible music contracts, a lavish lifestyle and overspending are more often to blame. Everyone knows about MC Hammer's flash-in-the-pan wealth, which was soon squandered and replaced by a love of God, family, and a likeable appearance on VH1's Surreal Life.
Other amazing examples of nouveau rags to riches to rags and ridiculous lifestyles include both current and past celebrities like Mark Twain, Mozart, and Michael Jackson. Authors of this piece on overspending warn that people need to learn to manage their wealth and not blow it like a kid in a candy store:
Michael Jackson may earn a lot of money, but he spends a lot too! "He purchased ten artificial intelligence Sony AIBO dog robots at $5,000 each, and it takes over $200,000 a month just to maintain and run his home. The King of Pop dazzled the American populace when he shopped away $6 million within a matter of hours on the TV documentary Living with Michael Jackson."
Actress Kim Basinger paid $20 million to buy the town of Braselton, Georgia in 1989. When Basinger filed for bankruptcy just four years later, she was forced to sell the town.
Wolfgang Amadeus Mozart was deep in debt when he died at 35. He was buried in an unmarked pauper's grave.
Boxer Mike Tyson earned over $300 million in his professional career. He lost it all, spending the money on cars, jewels, and more. He eventually filed for bankruptcy. (More here.)
Actor Burt Reynolds filed for bankruptcy in 1996 with more than $8 million in debt.
Author Mark Twain "made a substantial amount of money through his writing, but he squandered much of it in bad investments, mostly in new inventions. These included a bed clamp for infants, a new type of steam engine, and the kaolatype (or collotype: a machine designed to engrave printing plates)." Twain was a sucker for get rich quick schemes.
Even the rich need to save for the future. "Over a 20-month period between 1996 and 1997 Elton John spent $205,774 on flowers alone — and that's just a smidgen of his spending. In 1999, the BBC reported that John asked a merchant bank to help him borrow $40 million to pay off his debts. A year later he admitted running up debts more than $2 million a month. His spending sprees were reported to include purchases of classic cars, clothing and jewelry… 'I'm not a nest-egg person,' said John when defense lawyers questioned his spending habits. 'I'm a single man. I like spending my money.'"
Soccer star George Best went bankrupt in 1982. How'd he lose his money? "I spent a lot of money on booze, birds, and fast cars. The rest I just squandered."

When people make a lot of money, they're able to spend a lot of money. The problem isn't a single extravagant purchase, but a lavish lifestyle in which they spend more than they earn. Even the rich are subject to the fundamental law of wealth. Real wealth isn't about earning money — it's about keeping money.

There are also countless stories of average people who make it big through the lottery (or other windfall), and then squander their wealth in years or months. These people often come from backgrounds that provide no training for handling large fortunes. (Last fall, I wrote about tips for managing a windfall successfully.)
It's easy to fantasize about Christian Louboutin pumps, a walk-in closet full of designer clothing, an infinity pool, and a mansion with views of the ocean. Enormous wealth may make life easier, more spacious and better accessorized, but it can also be fleeting when people don't plan for the future. And I thought that winning the lottery would solve all my problems.
Thanks to Digg members for helping me find this story.