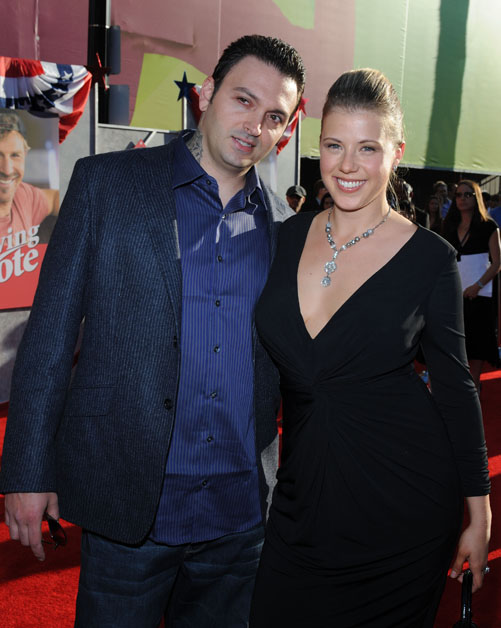 Jodie Sweetin and her soon-to-be ex-husband, Cody Herpin, have made one important step forward in the custody case of their baby daughter. Both of them have tested completely clean for drugs. This is actually a bit of a surprise to me, since Us Weekly's print issue just had a fairly convincing interview with Herpin where he detailed all of Jodie's drug problems. But for now it looks like she's doing better in that regard.
Jodie Sweetin has tested clear of drugs, her attorney Wilma Presley tells PEOPLE. The drug test had been ordered by an Orange County, Calif., court for both the Full House star and her estranged husband Cody Herpin. "Her test is good, it's clear," Presley said.

Herpin also tested clear of drugs, his attorney Robert Benevente said. "Cody voluntarily took a hair follicle test and tested clean." Both Sweetin, 27, and Herpin, 31, accompanied by their lawyers, arrived in court for a custody hearing Monday. The judge asked that the attorneys for both sides briefly meet in private before resuming the hearing.

After the hearing resumed, Sweetin's lawyer argued that the court should be sealed for Zoie's privacy. The judge postponed that issue to a Feb. 25 hearing. Presley said that by mutual agreement with Herpin, Sweetin is changing her legal separation filing to a full divorce.

Herpin has made repeated allegations in media interviews that Sweetin, a recovering meth addict and alcoholic, has abused drugs before and after their marriage and may still be a risk to their daughter Zoie, 10 months. Sweetin told PEOPLE last month that she was "100 percent sober."
[From People]
According to Herpin, he and Jodie had a very soap opera-esq love affair. He admits to the magazine that he smoked weed with her when they first met, but that she was into a lot of hard drugs, which he initially shrugged off as just being part of Hollywood. He detailed lots of Jodie's drug issues for Us Weekly.
Driving drunk with their baby in the car:
Herpin claims in court papers the harrowing incident occured in May 2008, "when Zoie was only 1 month old."

Had a drink and smoked while pregnant:
The night they found out she was expecting, he caught her with a cigarette and a Jack Daniels and Coke. Twice.

Rampant drugs:
Sweetin often used Ecstasy, cocaine and crack premarriage, and Ecstacy after, says Herpin.

She once nearly died:
"She just wouldn't breath," he says of a June 2007 overdose.

She hid vodka in Coke cans:
Seeing her with a can in summer 2007, "I realized, wait, she doesn't drink soda. I took a sip. It was vodka."
[From Us Weekly, Feb. 16 2009, print ed.]
Herpin also says Jodie can't be alone and has to surround herself with people all the time. He also caught her doing cocaine off a toilet seat in a restaurant bathroom. After most of the incidents he threatened to leave her but she always begged him to take her back. He also told her he'd ask her to marry him after she was sober for two whole weeks. When that date came the pair eloped. And then quickly headed off to a bar to get drunk.
If his story is true Jodie has had a problem more recently that she's admitted. And it sounds like it's as bad as ever. It doesn't sound like she makes good decisions, but frankly it doesn't sound like Cody does either. He's a borderline enabler. He made a lot of empty threats that he never followed up on, and he always took Jodie back because he felt badly for her when she'd talk down about herself. He said that he regrets their marriage but not their daughter Zoie. Hopefully the court will make continued drug tests a requirement for both Sweetin and Herpin, for their daughter's safety – and their own.
Here's Jodie and Cody at the premiere of "Swing Vote" in Hollywood on July 24, 2008. Images thanks to Bauer-Griffin.