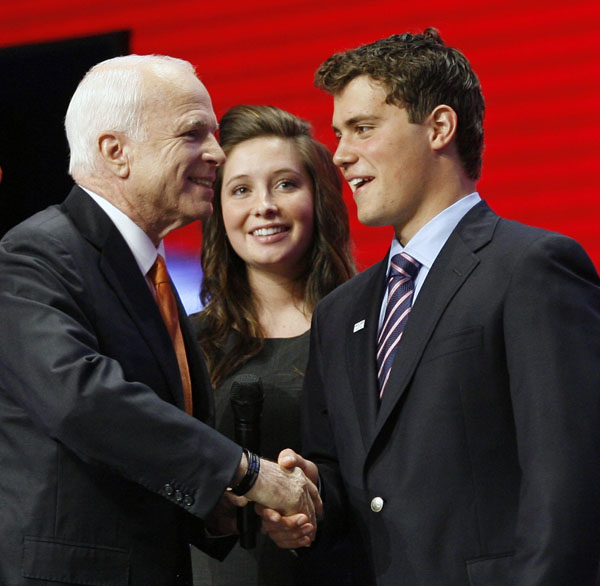 Former Vice Presidential candidate and current Alaskan governor Sarah Palin is involved in a bitter feud with the family of her daughter's fiance and is actively blocking them from seeing her six week old grandson, Tripp. Sarah's daughter Bristol, 18, is engaged to 18 year-old Levi Johnston. Levi's mother Sherry was arrested in Wasilla, Alaska in December on multiple felony drug counts involving illegally selling the prescription drug Oxycontin. Sherry Johnston claims that the public has the wrong impression of her and told People Magazine that she had a hysterectomy eight years ago and seven subsequent surgeries and that she uses the drug to deal with the constant pain. She didn't quite explain how she was caught dealing, though.
Sarah Palin is said to be adamant that Levi's family stay away from her daughter and new grandson, Tripp. She hasn't let Sherry or her daughter Mercede, Levi's sister, meet the new baby:
Bristol Palin, 18, gave birth to Tripp on Dec. 27, but neither Sherry nor her daughter Mercede has been allowed to see the baby, say sources.

A furious Mercede, called Sadie by friends, has complained on the Internet that the governor is snubbing the family.

"We aren't Palins so therefore we are white trash," she wrote on a Web site.

Sadie told a pal: "Sarah Palin is breaking our hearts. She won't let us see the baby.

"Bristol doesn't want us around either, and Levi's too weak to stand up against them.

"Mom's arrest was just was Sarah was looking for to freeze out our family. They've always looked down on us and went into shot when Levi got Bristol pregnant."

A family friend confirmed to The Enquirer that since Sherry's arrest, Palin has shut out the Johnston family.
[From The National Enquirer, print edition, February 16, 2009]
In October, Sarah and her husband Todd told People Magazine that they wanted Bristol to marry Levi soon. All those plans went out the window when his mom got busted, and according to the source quoted in the Enquirer "[Sarah] definitely doesn't want to see Bristol marry him at this point," although she's said to be "accepting of Levi."
Sherry kind of made her own bed by dealing drugs out of her house and although it must be heartbreaking for her not to be able to see her grandson I can kind of see why Sarah is being so adamant about it. An hour supervised visit doesn't seem like it would hurt, but maybe Sarah doesn't want to open that door and would rather her daughter have nothing to do with the family. It's kind of too late now that she had a baby with their son, though.
Levi Johnston is shown meeting John McCain at the RNC Convention in September. Sarah Palin is shown holding her son, Trig (not Tripp) and kissing a then-pregnant Bristol, also at the RNC. Credit: UPI/Newscom