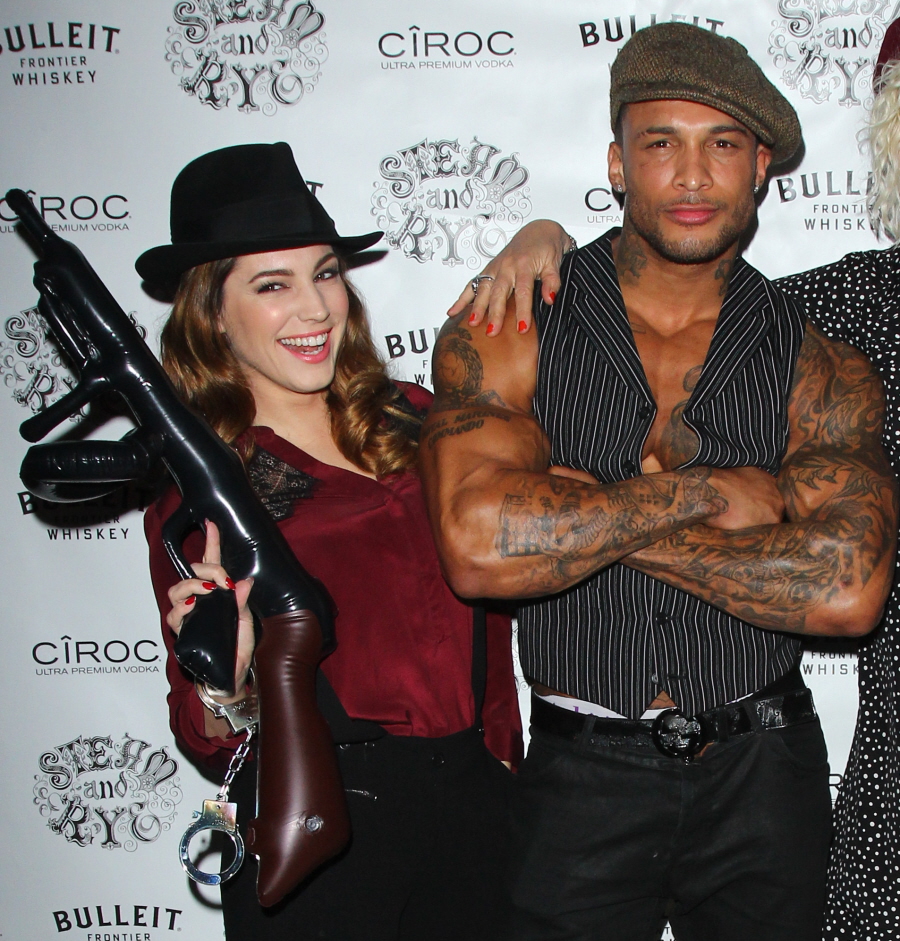 Kelly Brook used to be able to pull some decent-ish men. She was with Billy Zane for years (although I hear he's a freak). She was also with Jason Statham for a while. But for the past few years, Kelly has been dating loser after loser after loser. She even dated one of Katie Price's exes (and that dude cheated on her A LOT). And now Kelly is David McIntosh, who is some kind of semi-famous "Gladiator" type who I believe is barely a C-list celebrity in England and a total nobody in America.
David and Kelly met on New Year's Eve and they instantly fell in love/lust. They paraded endlessly for the paps in London and in California, where they ended up getting pap'd every single day for about two weeks solid. At the six-week mark of their relationship, Kelly broke it off. Sources claimed she only just realized that David was a famewhore who called the paps, trying to drum up work for himself. But then Kelly took him back… and now they're engaged.
Model Kelly Brook is engaged to former Gladiators star David McIntosh. According to The Sun the 34-year-old was left 'dumbstruck' by his proposal but took just three seconds to agree.

Kelly has been dating David, who is also known as Tornado, for just 11 weeks and the pair even split briefly during that time. A friend of the model, told the paper: 'It's still a closely guarded secret and came to Kelly as a massive shock. But she is at that time in her life now where she wants to make a commitment and she has fallen head over heels for David.'

It's thought that the former Royal Marine popped the question while the couple were planning a romantic trip to Dubai. Kelly appeared to allude to the proposal when she tweeted on Thursday: 'International Day of Happiness – it certainly is.'

However it was business as usual for Kelly on Friday who attended a shoot for her upcoming autobiography – which she will need to update now. The news will no doubt come as a surprise to many as the pair have only just reunite after Kelly dumped him for being 'fame hungry'.

At the time a source said: 'Kelly thinks David has been using her. She felt hurt and humiliated when she realised he was more interested in fame than he was in her. He was desperate to be in the papers and she kicked him out as soon as she realised he was alerting the photographers to their whereabouts.'

However, David then denied the claims that he had been dating Kelly for a profile boost, explaining: 'Media attention isn't a new thing. I've been doing a lot of modelling work in America myself, people know me out there.'

Kelly and David had started dating soon after getting together at a New Year's Eve party at Steam & Rye. It is not the first time that Kelly has reportedly been set to tie the knot – first there was Jason Statham. She was set then due to marry the Titanic star Billy Zane, but backed out following the death of her father. More recently she was thought to be planning on marrying Danny Cirpriani until their relationship came to an end after he cheated on her.
I remember when Kelly was featured on a daily basis on all of the sites written by men – she used to be one of the dream girls, the British girl-next-door with the magnificent rack. Pretty much every dude wanted a chance with her. I can't help but think that she could simply walk out into the street, yell "Does anyone want to be my boyfriend?" and start dating the first dude who walks up, and that would all be a better dating strategy than this mess. If the choice is between some famewhore "Gladiator" douchenozzle and just a regular guy who doesn't have the paps on speed-dial… why not try the normal guy? Anyway… this engagement will end in tragedy, because this girl has absolutely no douche-radar.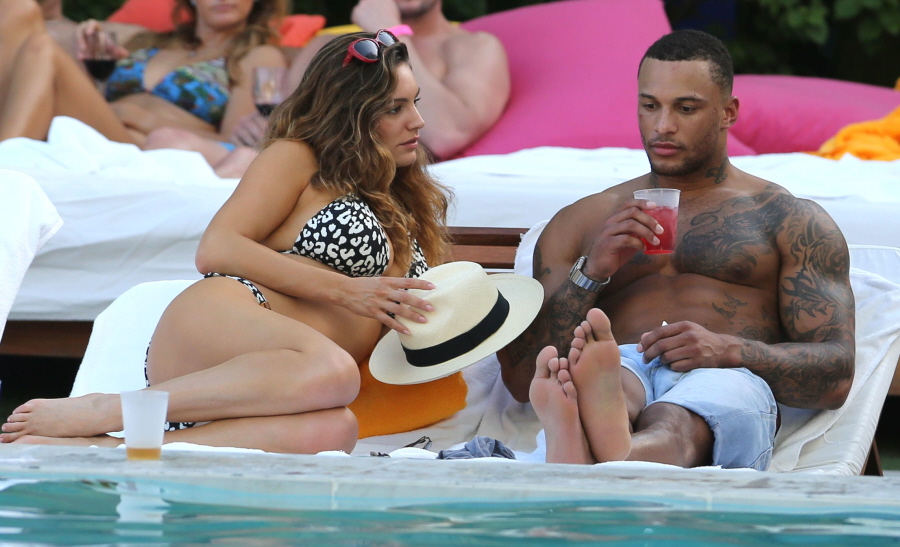 Photos courtesy of WENN, Fame/Flynet.