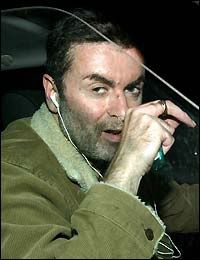 British tabloid News of the World has pictures of a wasted George Michael at the wheel of his car. They were taken just after the troubled singer had to be woken up after blocking traffic for several minutes at a light. When he did get going again, he weaved all over the road and drove over the median:
On Thursday night the gay star went cruising near his home and dozed off at traffic lights in Highgate, north London.

They changed FOUR TIMES before he was woken with a start by a driver tapping on the window.

"He was sweating heavily and had his iPod on," said the driver. "That's probably why he didn't hear all the angry tooting behind him. He got going again—but was weaving all over the place. Then he hit a bollard. I doubt he even noticed it. He looked wasted. He just drove on."
This is the third time Michael has had car trouble. He was arrested at the end of February after being found passed out in his car. He was charged with possession of marjuana at the time and got off with a police caution. About a month ago, Michael was caught trying to leave the scene after hitting three parked cars.
It's too bad he was let off with a caution for his February arrest, because he should have been sent to rehab. Maybe this latest incident will be a wakeup call for Michael.