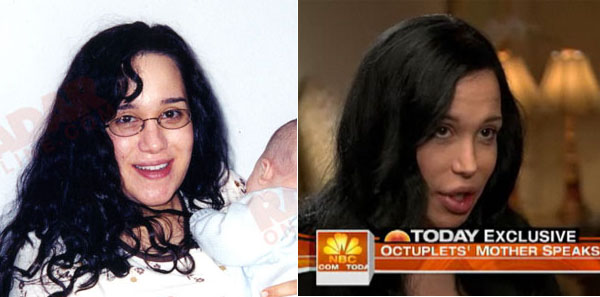 Radar Magazine has photos taken of octuplet mom Nadya Suleman back when she was pregnant with one of her other many children, and she has a normal size nose and regular non-painful looking lips. Suleman had people assuming she'd had extensive work done after she sat down with Ann Curry for her first interview on the day she was released from the hospital last Thursday. Her lips curled up in an obvious-looking trout pout and her nose was so thin it looked comical. Suleman cuddled with her babies in the neonatal unit in footage aired on The Today Show yesterday. She had on filled nail tips that looked entirely out of place on a new mother, even one in the media spotlight.
Many outlets are noting Suleman's facial and coloring similarities to Angelina Jolie. The comparison is not a diss to the actress as she seems to be having children she can take care of, and is more of an observation about Suleman's assumed obsession with Jolie. It's interesting that Suleman's first interview was with Ann Curry, who is one of Angelina's favorites.
If Suleman had it right she'd adopt some children and work hard so she could take care of them, not foist them off to her parents and try to have as many as she could at once. This is a woman who is primarily concerned with herself, and seems to see children as an extension of her own needs despite all of her self-righteous statements to the contrary. Many people are wondering how she could afford such obvious and expensive plastic surgery procedures when she was living on disability and never helped her mother with any of the household bills.
Suleman receives food stamps and child disability payments for three of her children, her publicist has confirmed. She told Ann Curry "I'm not receiving help from the government. I'm not trying to expect anything from anybody," and added that money was "superfluous" and "paper."
Although it was previously reported that Suleman did not get paid for her NBC interview, Jossip has a source that claims she received at least $300,000. I wonder if her mother, who has been caring for her other six children for years and had to declare bankruptcy after supporting Nadya, will see a dime of that money.
Thanks to Radar for the before pictures.