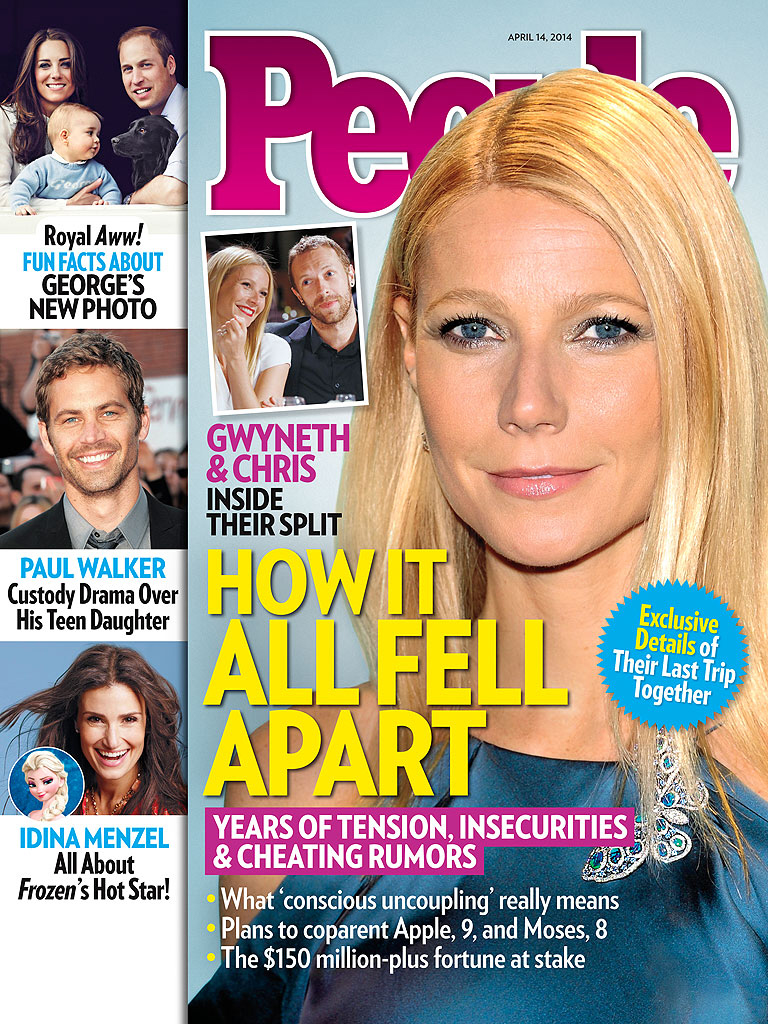 Ah, of course. I would imagine Gwyneth Paltrow's publicist was in high-level negotiations with People Magazine all of last week. As you might remember, Gwyneth posted her "Consciously Uncoupled" announcement on Goop late Tuesday (EST) last week, which meant that none of the weekly magazines could change their covers in time. But Goop got this week's People cover, and I would imagine she'll get a few more too. But People is the one that counts. Because it's pretty much like Gwyneth's publicist wrote this. Right? Remember I said yesterday: who will custody of the publicists? Goop got custody. For now.
Long before they announced their split and introduced the world to the term "conscious uncoupling", Gwyneth Paltrow and Chris Martin were struggling to stay a couple. In this week's cover story, several friends tell PEOPLE that the pair, who were married for 10 years, at times had an "open" relationship.

"They were physically separated and emotionally," says a Paltrow insider. Adds a close friend of the 41-year-old actress: "They have been on and off for many years. The marriage was falling apart."

Personality conflicts and distance proved challenging for the couple, who are parents to daughter Apple, 9½, and son Moses, who turns 8 next week.

The Coldplay rocker, 37, "is the kind of person who is always in a T-shirt," says another friend. "She's much more glam."

With two busy careers to sustain, "they seemed to have a pretty mature handle on that crazy rotation of being superstars and parents," says a source who knows them both. "But that balance, given the time they had to spend apart, clearly couldn't sustain itself."
I tend to think this is a preemptive strike against the weeks and months of reporting to come about Gwyneth and Chris's multiple partners outside of marriage and this is Goop's way of just making a blanket excuse: it was an open marriage. They were separated on and off. Etc. But I do have to wonder – if we're being told NOW that the marriage was hanging by a thread for years, why did Gwyneth feel the need to condescend to peasants all that time about how she had figured out how to make marriages work and what every woman should do, and all of that? Meanwhile, earlier this week People Mag ran a story with more insider-y quotes about how Gwyneth and Chris are NOT PEASANTS for the love the God and they are super-busy:
"Gwyneth is very focused on GOOP and building a business, and Chris is a serious person about his music," a source who knows the couple tells PEOPLE. "They are conscious of the fact that they have to work for all they have, even if from the outside they have a lot."

Both the actress, 41, and singer, 37, have projects in the works. Martin joins The Voice this week as an adviser for all four judges' teams. In addition to that, the Coldplay frontman is gearing up for the May 19 release of Ghost Stories, the band's sixth album (and its first since 2011). The rockers are expected to take their highly anticipated new tunes on the road. While a new tour hasn't been announced yet, Coldplay's last (in 2012 for Mylo Xyloto) raked in a reported $170 million.

"He tours a lot. To support the band and make money, you have to tour. It's not a negative thing, but just sort of this way of talking about it – that artists have to work all the time," the source says. "They are both very hardworking people."

Paltrow will be keeping busy, as well. Aside from her lifestyle site GOOP, the actress is set to appear alongside Johnny Depp and Ewan McGregor in Mortdecai, a globe-trotting adventure about the hunt for a valuable painting. It is due to be released this year.

While the exes have a lot on their plate, another source says their children – Apple, 9½, and Moses, 7½ – are still their top priority.

"They made an effort to be there for their kids at their activities," the source says, "even though they had killer schedules."
Yeah, while I think Chris's touring schedule is a legitimate excuse for why he and Gwyneth have lived separate lives for a while, I think that Gwyneth's "I'm super-busy too, y'all" is mostly just make-work. I mean, she films one movie a year (and it is more exhausting than some peasanty 9-5 office job, let me tell you) and then she just GOOPS the rest of the time. And have you read her Goop-letters lately? She's mostly just cutting-and-pasting. Sniff. You have no idea how hard it is.
Photos courtesy of Getty, cover courtesy of People.