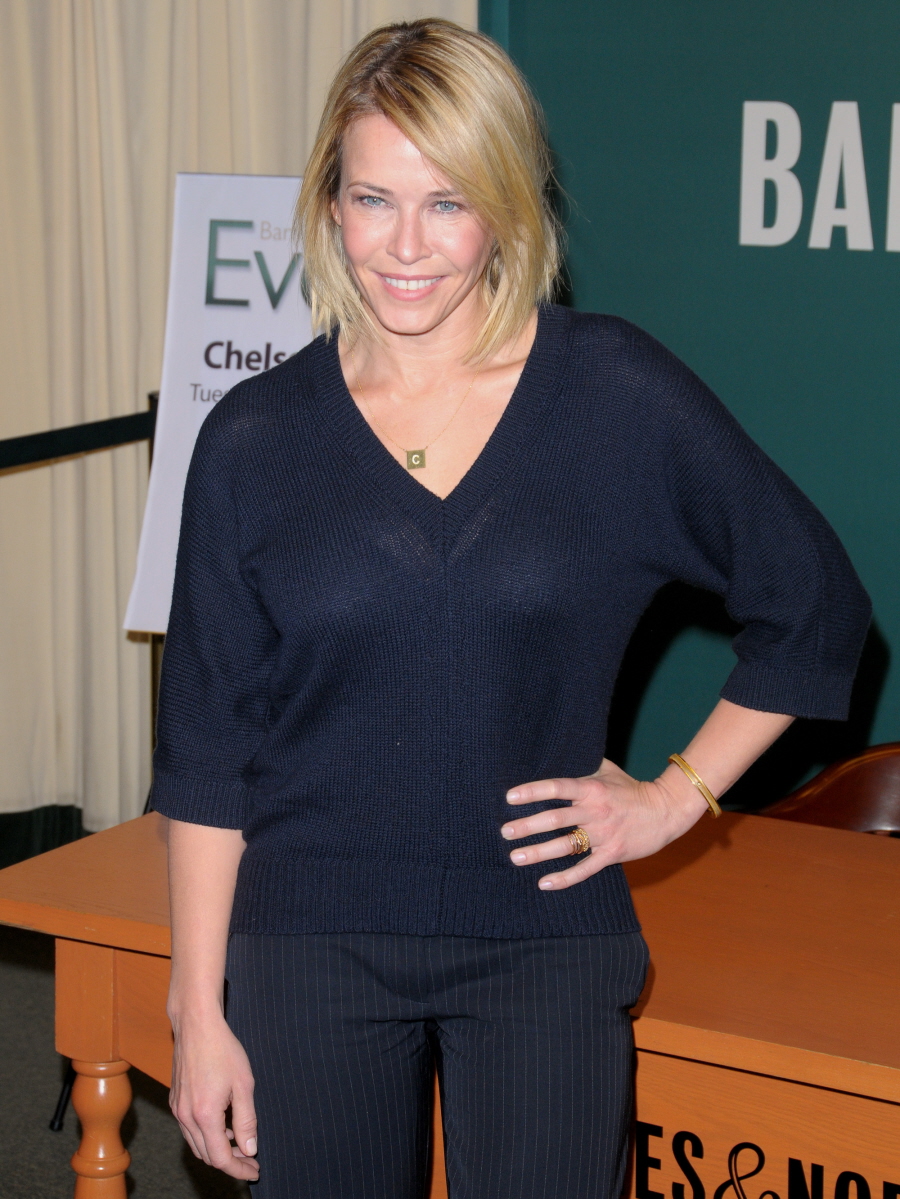 As Bedhead discussed last week, David Letterman announced his retirement last Thursday. Letterman is kind of leaving things open-ended, to the point where I really think he's going to work with CBS to figure out who will replace him. Dave won't be leaving until 2015, and he and CBS will probably spend a lot of time figuring this out, you know? The names being thrown around in the immediate wake of the retirement announcement probably won't be the shortlist six months from now, is what I'm saying. Still, let's talk about the names that have popped up right away.
Last Friday, Sarah at LaineyGossip made her case for why it will probably be Jimmy Kimmel, and I think Kimmel is probably one of the early "big contenders" that they'll be speaking to. Here's one that I hope gets pushed aside really quickly: Chelsea Handler. I'm suspicious of the fact that Chelsea announced her retirement from E! just days before Letterman, and The Wrap says there's good reason for my suspicion:
Chelsea Handler is in talks with CBS for a late-night talk show, an individual close to the producer and E! talk show host told TheWrap. CBS contacted Handler to discuss the potential of hosting a syndicated show in the wake of her announcing this week that she's leaving E! when her contract expires at the end of the year. But Handler has told CBS that she isn't interested in that option. As a result, CBS then expressed interest in considering Handler for Craig Ferguson's 12:30 a.m. slot.

She will be meeting with CBS Corp.'s chairman and CEO Les Moonves in the next few weeks to continue the discussions of joining CBS's late-night lineup, the individual said. But, Letterman's retirement announcement on Thursday has changed the landscape for her. Handler now has her eye on Letterman's "Late Show" spot instead. Either timeslot would make her the first woman to host a late-night broadcast show since Cynthia Garrett hosted NBC's "Later" from 2000-2001. CBS declined comment to TheWrap.

Of course, she'll have to prove to CBS that she can break out of her niche audience and appeal to a more general audience for CBS to consider her for the spot. A role with CBS is just one of the projects that Handler has been considering. Ideally, she wanted a weekly radio show on Sirius XM with a taped version of the show on Netflix, the latter of which she's already in talks with, according to the individual. (Netflix told TheWrap that Handler had not been in talks with the company about a show.)

The insider said that she has also been approached by Jeff Zucker for CNN or HLN and by FX. But, again, the Letterman spot has changed things for her. It is now No. 1 on her list. The CBS-Handler talks would also suggest that the network was at the very least entertaining a replacement for Craig Ferguson at 12:30 a.m. The "Late, Late Show" host reportedly has right of first refusal for Letterman's spot, although CBS may not want to give it to him.
My take: it would be sacrilegious to have Chelsea Handler take the reins at The Late Show, and it's making my skin crawl just thinking about Handler being mentioned in the same breath as David Letterman. She is not network TV material. Full-stop. I would argue that she's not even cable material, but whatever.
There are also lots of people saying it should be Jon Stewart or Stephen Colbert, who basically run little fiefdoms over on Comedy Central. Whenever Stewart or Colbert negotiate their contracts, Viacom basically throws money at them and gives them whatever they want. Both Colbert and Stewart are extremely popular in the key demos that CBS would want for late-night shows and I could see Letterman pushing either man as his replacement. Mashable has a lengthy article (you can read it here) about why it's totally going to be Colbert. The basics? Jon Stewart probably isn't interested in going network because he's working on lots of side-projects (like directing his feature debut, Rosewater) and doesn't want to be tied down with a network contract. As for Colbert, sources say that he would have to drop "the character" he plays on The Colbert Report and he would have to do less politics and do more celebrity interviews, and it's not clear he would want to do that.
Other names in the mix: Neil Patrick Harris (a CBS/Viacom company man, they love him over there), Tina Fey (she's more of an NBC woman, but she could travel) and Aisha Tyler (she's on CBS's The Talk, so she's in-house). I think it would a SIN to approach Chelsea Handler like she's the only woman who could possibly do the show – if Chelsea's in the mix, then BY GOD Tina and Aisha need to take meetings too. But I think it will probably be a dude, and that dude will be Colbert, Stewart, Kimmel or… yeah, Neil Patrick Harris. I think grooming NPH for that job would actually be inspired. He's likable, he has broad appeal, he loves to dress up, he loves to sing and dance… it could work.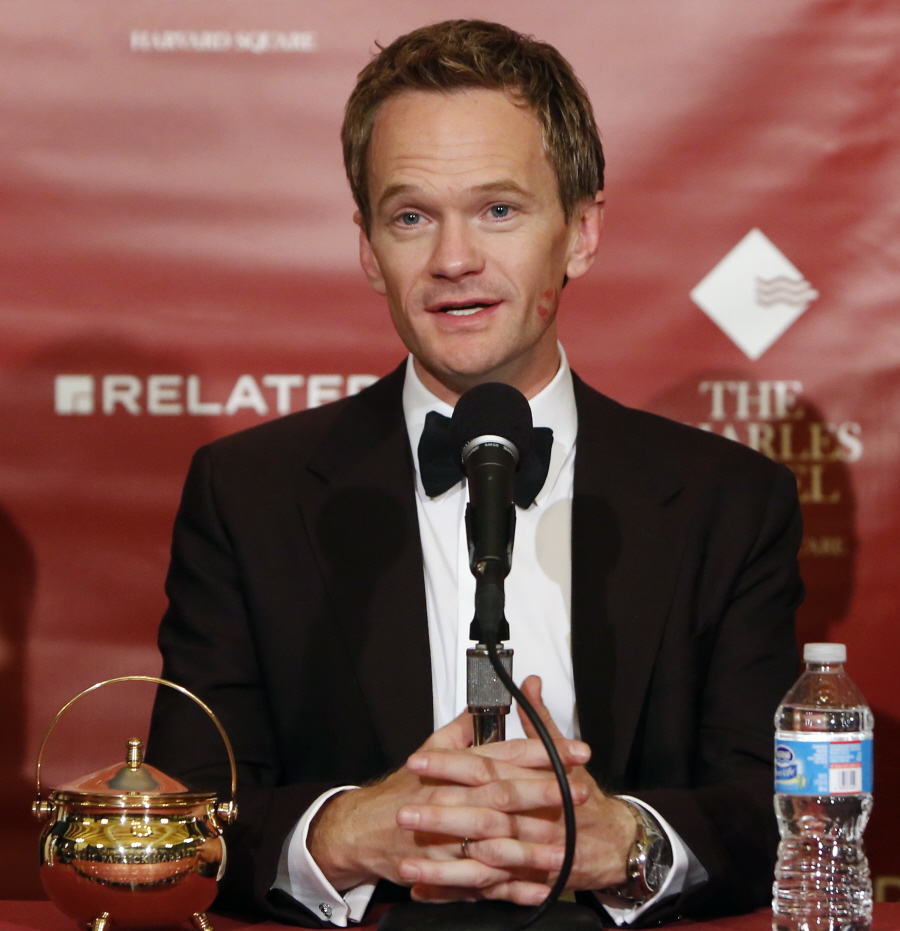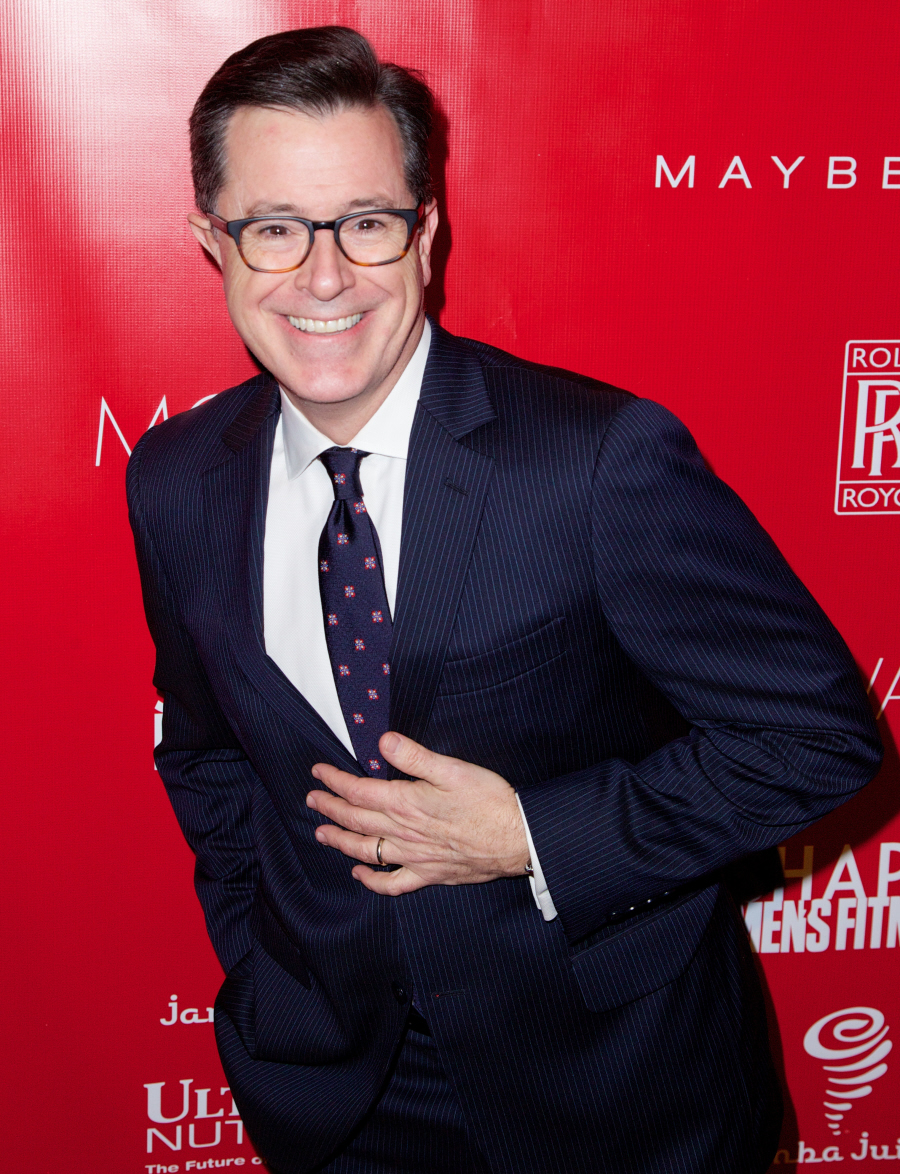 Photos courtesy of WENN.