Anderson Cooper has discreetly managed to dodge answering the "Are you gay?" questions for quite sometime now, but that hasn't stopped the media from continuing to speculate he's the Silver Fox of Chelsea. In fact, curiosity about Anderson Cooper's sexual orientation is starting to reach proportions of mass hysteria. Everyone from the gay community to the straight community wants to know one just one thing: Is Anderson Cooper Gay?
In the Radar's recently published "Anderson Cooper's Gay Timeline", Anderson Cooper has been quoted as saying:
"You know, I understand why people might be interested. But I just don't talk about my personal life. It's a decision I made a long time ago, before I ever even knew anyone would be interested in my personal life. The whole thing about being a reporter is that you're supposed to be an observer and to be able to adapt with any group you're in, and I don't want to do anything that threatens that."
Keith Olbermann, however, thinks it's time for Anderson Cooper to just come clean about it. In a recent interview with New York Magazine, Keith vented about Anderson's hypocritical reticence on the matter:
"Don't tell me you don't want to talk about personal life when you wrote a book about your father's death and your brother's death," says Olbermann. "You can't move this big mass of personal stuff out for public display, then people ask questions and you say, 'Oh, no, I didn't say there was going to be any questions.' It's the same thing as the Bush administration saying, 'We're going to war, but you really aren't allowed to know why.' "……..

"Don't tell me you can't talk about your personal life and then, when they send you overseas and you do a report that consists of your voice-over and pictures of you in a custom-made, blue-to-match-your-eyes bulletproof vest, looking somberly at these scenes of human devastation—like a tourist—and that's your report. Your shtick is your personal life."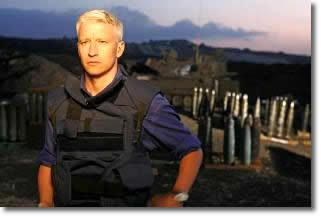 I personally believe it's nobody's business to "out" someone. If someone wants to come out on their own that's fine, if not, I really don't care. Especially when it comes to hotties like Anderson Cooper, a guy who has garnered the amorous attention of both the ladies and the gays, I don't want to know. If I found out Anderson Cooper truly was gay, it would totally kill my daydreams about him.