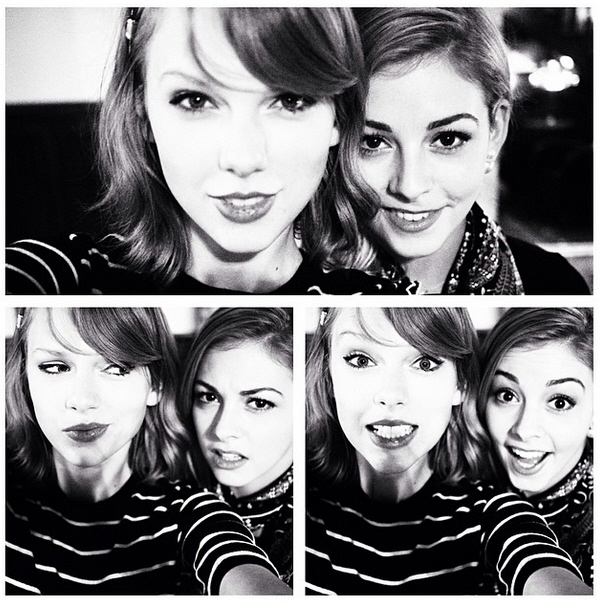 A lot of you criticize Taylor Swift for her revolving door of BFFs. I don't know though – it seems like Taylor genuinely wants to befriend other girls, but it also seems like she's an overgrown child arranging "play-dates" because she wants to be seen as gracious and cool. I have mixed feelings, basically. I also think my "Sex and the City" instinct was right-on. Taylor has moved to NYC, she gets pap'd daily in various cute outfits, and she's searching for her Miranda, Carrie and Samantha.
Anyway, she's still searching. Yesterday, Swifty baked cookies with Olympian Gracie Gold. Swifty Instagram'd a compilation photo, writing: "First we baked a bunch of cookies and then we made faces. @graciegold95". Gracie Gold is 18 years old. Swifty is 24. Is this a big sister thing? Doubtful. Swifty's mindset is pretty immature, so I'm sure Swifty thought Gracie was a big sister.
But Swifty was still searching for her "Samantha," so she also went out to lunch with… Cara Delevingne!!!! Yes, that Cara. The Cara who is currently in a lesbian relationship with Michelle Rodriguez. The Cara who does drugs and is a frequent public mess. I kind of love the dichotomy between them – Swifty in her cute, twee outfit and Cara in gross-looking clothes and (gasp) Chucks. I would guess that this playdate did not go very well. Perhaps Swifty's next playdate will be with Prince George and his Fists Of Doom.
Also – there's a rumor going around that Swifty has had some work done to her face. We all know (we were actually one of the first sites to point them out) that she got a boob job, but has Swifty gotten some recent face work? Witnesses at the ACMs on Sunday claim that Swifty looked "like a China Doll…She used to look so fresh-faced and real, but her face didn't seem to move! It was so smooth, not a blemish in sight! She looked false. It's sad that Taylor has gone all Hollywood." I'm not sure what that means… I mean, her nose is the same, her lips are the same, her eyes are the same. But maybe she was A) wearing a lot of makeup, B) Botoxed, or C) laser-peeled, plucked and tucked?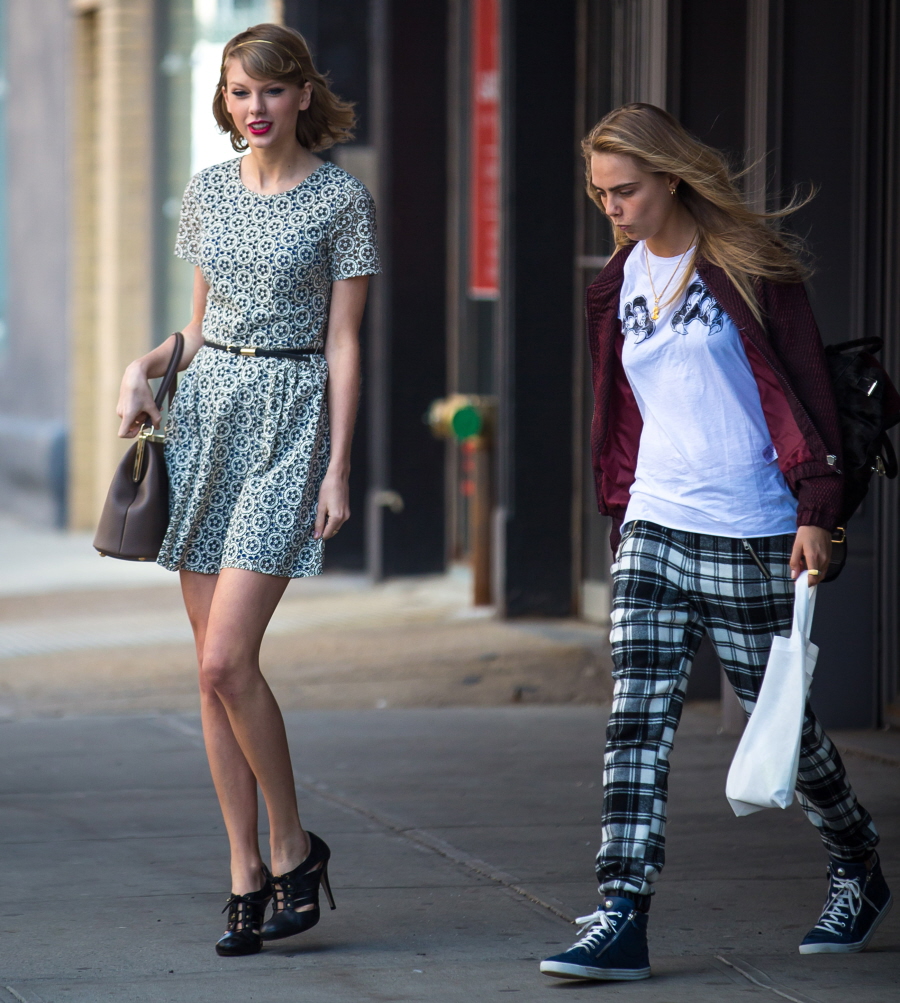 Photos courtesy of Swifty's IG and Fame/Flynet.