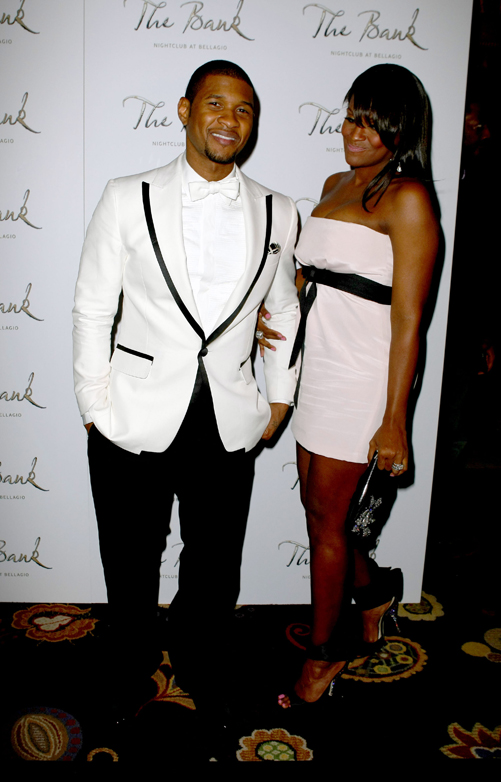 According to the Brazilian press, Usher's wife Tameka had some very serious complications during her plastic surgery. Usher pulled out of the Grammys at the last minute as a result and flew to Brazil. E! says Tameka was having liposuction. However she never got to the actual surgery – she had a heart attack while she was being anesthetized. Anesthesia always carries some risks, as just about every medical television drama points out. But they're very real, and it's more complicated than most people realize. It's one of the many reasons anesthesiologists are paid so highly. It sounds like it was very serious, and Tameka is lucky to be alive.
Despite the best attempts by Usher and his family to keep the situation under wraps, new details have emerged on the nature of wife Tameka Raymond's "serious" medical emergency.

"The family has demanded total privacy," a spokeswoman for São Paulo's Sírio-Libanês hospital told the Agence France-Presse. "The hospital is barred from giving any information," said the rep, beyond confirming the 37-year-old mother of two is currently listed in stable condition. But the blackout hasn't prevented Brazilian news outlets from digging beyond the official statement from Usher's camp, which says his wife had suffered "complications from routine surgery."

The news site G1 got much more specific, reporting that Foster was rushed to the hospital's intensive care unit last Friday after going into cardiac and respiratory arrest during a liposuction procedure. The life-threatening condition reportedly came on as the R&B star's wife was being anesthetized. According to G1, doctors at the hospital placed Raymond in an induced coma for 24 hours to stabilize her. She is currently in recovery.

While Usher quickly, and relatively quietly, canceled his Grammy weekend appearances to be by his missus' side, G1 reports that he and his mother likely had company during their flight to Brazil. Dr. Gabriel E. Hunt Jr., a neurosurgeon from Cedars-Sinai Medical Center, is said to be down in São Paulo to lead Foster's care.
[From E! News]
That's incredibly scary, but it sounds like Usher did exactly what he should have done. He dropped everything and got one of the best doctors he could to fly with him to Brazil. Obviously cosmetic surgery always carries risks – the death of Kanye West's mother Donda last year is a sad example. Novelist Olivia Goldsmith died during cosmetic surgery back in 2004 after she went into a coma. The website Plastic Surgery 101 has an article on the risks of anesthesia during elective surgery – fatal allergic reactions are uncommon but do happen. Obviously we don't know exactly what happened to Tameka, but it's definitely reason to think long and hard before electing to have optional surgery.
Here's Tameka and Usher hosting the New Year's Eve celebration at The Bank Nightclub in Las Vegas. Images thanks to WENN.