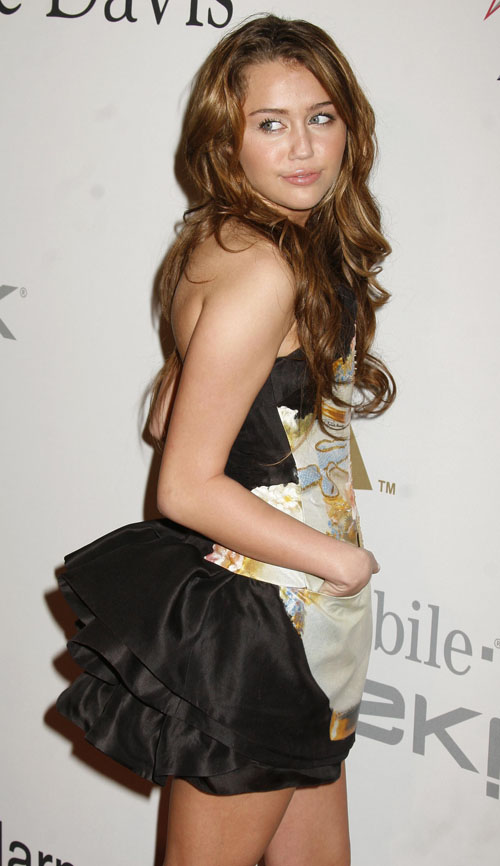 Miley Cyrus apologized earlier this week for a photo scandal in which she was seen pulling her eyes up in a photo in an apparent gesture mocking Asian people. She initially defended herself, saying she was just making "goofy faces," but then recanted, saying she was sorry and that she "learned a valuable lesson." Miley's apology is not enough for one woman in LA County. Lucie J. Kim has filed a class action lawsuit on behalf of over a million Asian Pacific Islanders in LA County, claiming civil right violations for each. That amounts to $4 billion:
A Los Angeles woman has filed a class action suit against Miley Cyrus, claiming she mocked Asians in a recent photo by slanting her eyes. Price tag: $4 billion.

Lucie J. Kim claims to represent more than 1 million Asian Pacific Islanders who live in L.A. County. Kim claims when Cyrus posed for the photo, she "knew or should have known that her image would be publicly disseminated via the media, which Cyrus knew focused on her private life, specifically TMZ."

Kim says in the suit, filed today in L.A. County Superior Court, that each Asian Pacific Islander is entitled to the minimum damages for a civil rights violation — $4,000. Add it up — $4 billion!
[From TMZ]
While I don't think that Cyrus' behavior comes even close to warranting this kind of lawsuit, she's become the famous public face of anti-Asian racism. This lawsuit is trying to bring awareness to the fact that Asians are discriminated against and that it's incredibly hurtful and cruel to make the "chinky eyes," as Margaret Cho and others call it.
Yes, it can be interpreted that "going after a 16-year-old would just make the Asian American community look hyper-sensitive and mean," as someone advocating a letter-writing campaign to Disney writes. Miley is 16 but she's also a superstar and this lawsuit is trying to take advantage of that for maximum publicity.
Some of you mentioned that you think it's harmless to sing the children's song "Chinese, Japanese, dirty knees," but why is this? Why do kids think it's ok to sing songs about Asians but it's not ok to sing songs about African Americans? We don't sing racist songs about black people because it's mean. It's also mean to make fun of Asian people, but somehow we're being "touchy" about this, and the people who are upset about hurtful remarks and gestures, including little kids, should just "get over it." It's not about Miley and her thoughtless behavior at this point and has become a larger issue.
Maybe by being a dumb kid Miley has served a greater purpose and will start to bring awareness to how pervasive anti-Asian discrimination is. I don't think she meant to hurt anyone and this lawsuit will probably get thrown out, but people are hurt by those same gestures and we shouldn't brush it off as if it's meaningless. Think of where we would be as a society if we just ignored that kind of behavior against every other minority group in the past. Miley and other young kids should know that it's just not acceptable to act that way.