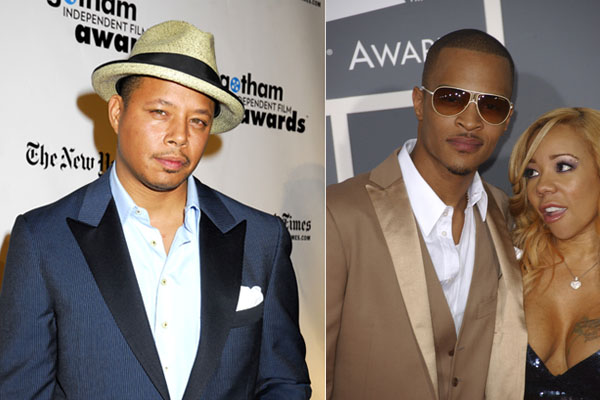 Terrence Howard and T.I. came out separately in support of Chris Brown in the wake of reports that he beat his girlfriend, singer Rihanna, to the point of leaving her unconscious with a split lip and black eye. Both are now saying that they made those statements before they knew the supposed facts of the case and are retracting comments favorable to Brown, which may haven been interpreted as being dismissive of how serious the allegations are:
When asked by paparazzi last night if he had any comment on the Chris Brown incident with Rihanna, the actor said, "It's just life, man. Chris is a great guy. He'll be all right. And Rihanna knows he loves her. She'll be all right. Just everybody's got to get out of their way."

But now, Howard is insisting he didn't know about the allegations made against Brown when he made his remarks.

"When they asked me about Chris Brown the other day, I was in no way aware of what he had been accused of," Howard said in a statement. "Had I known, I would have never had said something so insensitive."
Howard is the second high-profile celeb in as many days to retract remarks they made about Brown and Rihanna.

Rapper T.I. issued a statement yesterday regretting comments he made the night before on Last Call With Carson Daly. T.I. said he "made a mistake of commenting before understanding the situation."
T.I. told Daly that he had spoken to Brown since the alleged incident occurred early Sunday morning. "I told him, 'This too shall pass.' We're celebrities, we're entertainers, but we're still human—all of us," he said. "Don't expect us not to make mistakes because we will."
[From E! Online]
I believe them. Not everyone follows celebrity gossip as closely as we do, and they may have only heard brief reports and assumed that something else happened before more details came out. T.I. knows Brown and probably doesn't consider him capable of something as barbaric as strangling and biting someone.
It's possible these advance details we've been hearing, supposedly leaked from inside the LAPD, are incorrect and that the situation is different than we've been told. It's best for celebrities to err on the safe side, though, and not to say they're supportive of someone who was supposedly capable of doing that. It makes your heart sink to even think about that situation and you hope Rihanna is ok. If Chris did that to her, he needs to be prosecuted. A British source is reporting that Rihanna needs plastic surgery. I've seen that same paper routinely make up and embellish stories and am hoping that one is complete BS.