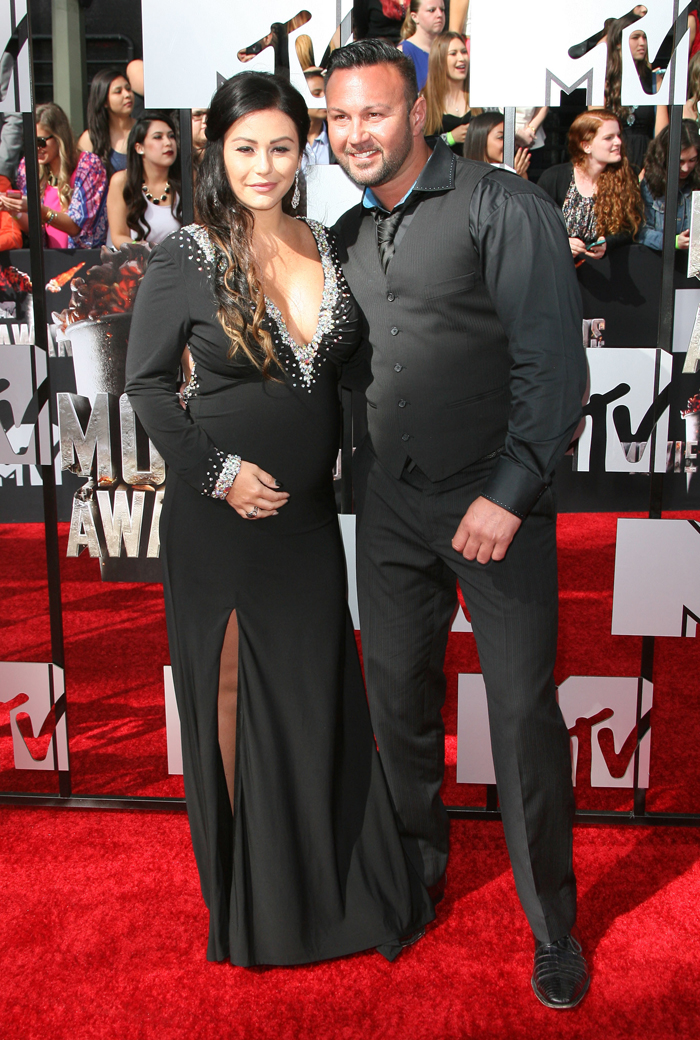 These are photos of Jenni "J-Woww" Farley and Nicole "Snooki" Polizzi at the MTV Movie Awards on Sunday night. We skipped these two ladies in our coverage, but you probably didn't notice (I won't judge!). Jenni (who is belly cupping with pride) is now 6 months pregnant with her first child. She announced her pregnancy in December with a sonogram Christmas card. Many of you agreed that this is a strange method to announce that one is with child, but we are talking about a reality tv star. J-Woww is all about the glitter and pink diamond engagement rings, so posting an online photo of her uterus is right up her alley. Expected even.
Jenni has continued to update the internet with details of her pregnancy. It's a girl! She recently posted updated sonogram photos (which I won't post here). J-Woww had a brief scare where she found out her daughter had a small cyst on her brain, but the doctor reassured her that this is a rare but usually benign occurence. The cyst has gone into remission, and now Jenni is left to ride out the last trimester of her pregnancy. She's feeling uncomfortable like most women feel during her last months:
Jenni "JWoww" Farley and Nicole "Snooki" Polizzi may be best friends, but there's one thing they don't see eye-to-eye on: pregnancy.

"[Polizzi] loves being pregnant right now and I f—king hate it," Farley, 28, told Us Weekly at Sunday's MTV Movie Awards. "I'm not a fan of pregnancy right now with my thighs touching and my boobs changing but I know it will be worth it and hopefully I get back to that really quickly."

The Jersey Shore buddies showed off their matching baby bumps at the awards show at the Nokia Theater in Los Angeles over the weekend.

While she may not love the experience right now, her pal Polizzi (who is mom to 1-year-old Lorenzo) thinks Farley will adapt to motherhood.

"I know she is going to be a great mom," Polizzi, 26, told the magazine. "She took care of me for four years on Jersey Shore. The whole labor thing she is really nervous about but anybody is nervous about that."

Farley announced that she and fiancé Roger Mathews were expecting their first child on Christmas Day.

Rumors began swirling that Snooki and fiancé Jionni LaValle, were expecting their second child in February. The pint-sized reality star finally confirmed the news earlier this month.
[From Page Six]
J-Woww's body will probably bounce back in no time when she gives birth. She has a long, lean build, and she usually focuses on strength training to keep up her muscle factor. She'll be fine. I can't speak for grumpy Roger, but Jenni will find her way. She had a very maternal way about her on the Jersey Shore, and that will come back when she needs it.
As for Snooki … yes, she's pregnant for the second time. I've stopped watching the girls' MTV show. Are Jionni and Snooki are still living in his parents' basement? If so, that arrangement will get crowded really fast. These crazy kids.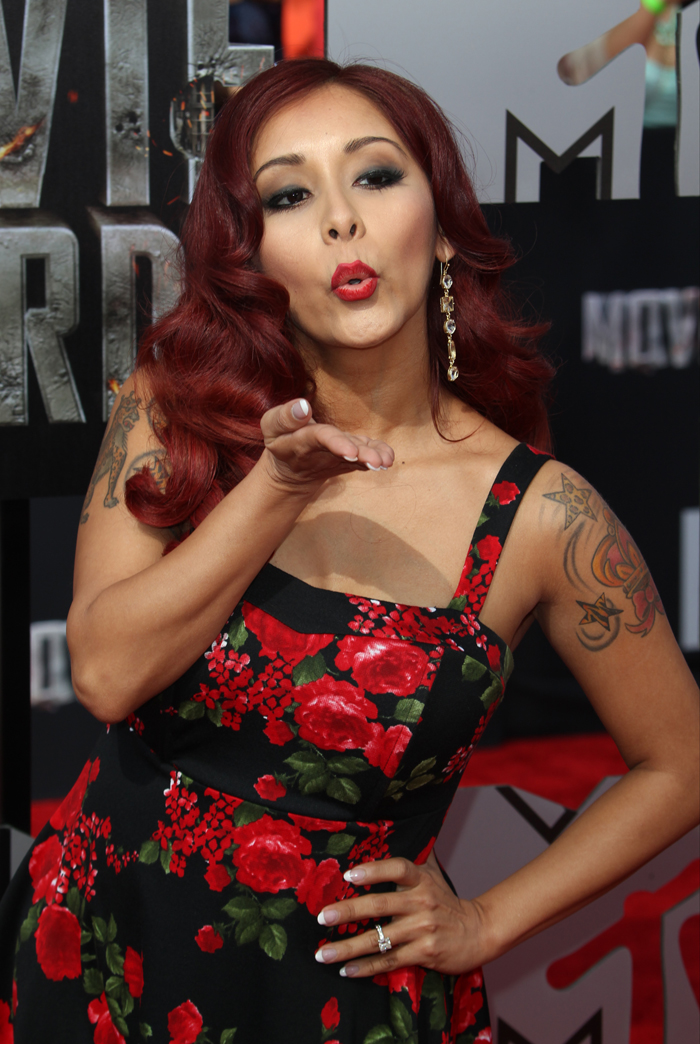 Photos courtesy of Getty, Fame/Flynet & WENN