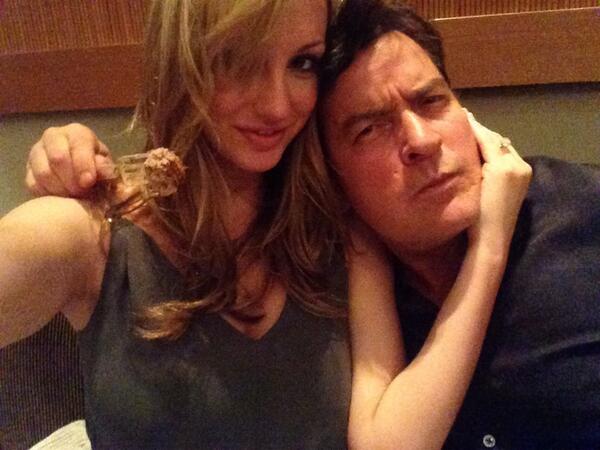 Charlie Sheen threw an engagement party this weekend for his young fiance, former pr0n star Brett Rossi, that involved a party planner, catering and surely some "entertainment," although it's not mentioned. Radar Online has some scant details including the fact that their source thinks the soiree must have cost Charlie at least six figures. (That's more than any wedding I've ever been to, but all my friends are middle class non-famous people.) So Charlie is defaulting on his child support to Denise Richards, but he can still throw huge parties. Maybe he was trying to save the money up.
Charlie Sheen… treated his extended entourage to an elaborate engagement party at his Beverly Hills mansion over the weekend – and he told guests the wedding will be in the next few months!

"Brett had been asking Charlie to throw a huge party for them celebrating their engagement," an insider tells Radar, "and he agreed to last weekend."

"The party was absolutely stunning, and must have cost Charlie at least $100,000," the source continues. "The event was catered and a party planner was enlisted to take care of the details so Brett and Charlie could just enjoy the festivities."

The guest list "consisted primarily of Brett's porn star friends and her family," according to the source.

And they'll all likely be gathered together in just a few months, the source says, Sheen and Rossi plan to wed as soon as the prenuptial agreement is ironed out.

Sheen's one time nemesis and ex-wife, Brooke Mueller can expect an invite too, as Radar has reported, since she will be attending the wedding with their twin sons, Bob and Max.
To me this signifies that Charlie is getting married to his fourth wife soon, which means that another epic meltdown is coming. However, the sort-of good news is that Charlie is getting a prenup. (Not that I give a toss about his finances, but at least he'll have some left over for court-ordered payments to Denise.) Charlie may invent ridiculous phrases to tout his imagined prowess, but he's not stupid. He did say that "prenups poison marriages," so I guess he'll have a built-in excuse when this one inevitably goes south.
I was checking Brett Rossi's Twitter for photos, and noticed that she just went to Paris with Charlie on a private jet. Cha-ching! I don't wish Charlie on anyone, but I bet Lindsay Lohan is wishing she got a piece of that crazy money pie when she had a chance.