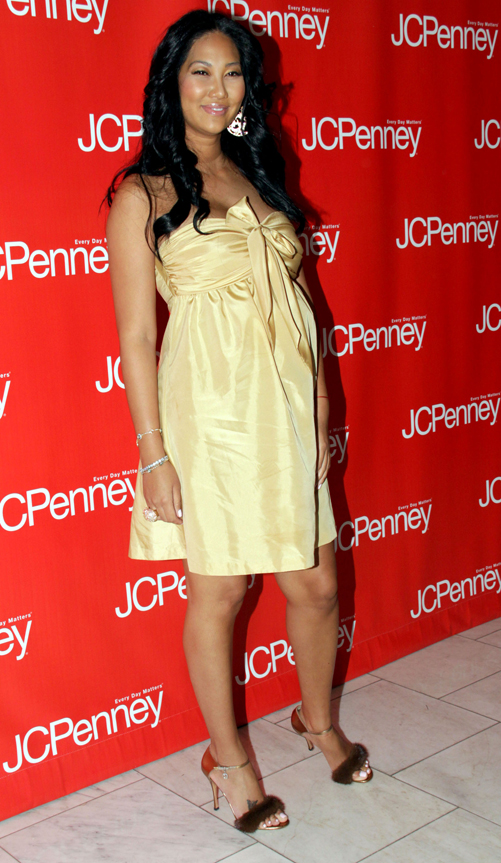 You know times are tight when someone like Kimora Lee Simmons is toning down her bling-encrusted fashion line. Simmons is the founder of Baby Phat, whose entire empire is built about the image of a glamorous lifestyle. Now walking around New York, I see a lot of Baby Phat being worn by people that I can guarantee you do not live anything that vaguely resembles Kimora's lifestyle. And she must recognize that, because Baby Phat – normally a highlight of fashion week – is going comparatively low-key this year, with Simmons noting that it's, "not the time to be running all over and flaunting the money that we don't have."
For years, the Baby Phat show that ends New York fashion week has been the raucous capper to eight days of runway shows–cocktails flow freely, the front row is filled with celebrities and about 1,600 guests cram into venues like the Roseland Ballroom just to get a glimpse of Kimora Lee Simmons's latest creations. This season, however, the party is over for Baby Phat.

Ms. Simmons has cut her guest list in half in order to show at a smaller venue, Gotham Hall, and has also decided not to host her usual massive after-party. "Now's not the time to be running all over and flaunting the money that we don't have," Ms. Simmons says. "Now's not the time to have all these people come to the show who are coming because they're your best friends — the people who need to be there are the buyers who need to see the clothes, the editors."

Ms. Simmons's comments reflect the new, more sober attitude designers have adopted for fashion week, which officially begins Friday. Designers like Marc Jacobs and Proenza Schouler have cut back their guest lists this year and others such as Vera Wang and Monique Lhuillier have opted to do low-key presentations instead of big runway shows.

In Ms. Simmons's case, she also moved the Baby Phat show to a Tuesday timeslot in order to reach out to international buyers, who typically left New York before her Friday show took place. And while she's planning to have a small cocktail toast after her show, "it's going to be small, intimate" she says, describing it as a quick "have a drink, thank you, I salute you, but OK, now we have to go home" affair.
[From the Wall Street Journal]
I generally find Baby Phat clothing to be incredibly unattractive and obnoxious – at least when I see it worn by real people on the subway. I'm not sure how most of it is considered flattering or attractive, but clearly people love it because I see it anywhere. But Kimora is obviously a smart businesswoman and knows how to make herself appealing to her demographic. When people were into the fabulous lifestyle, that's what she gave them. But right now that seems so far away and unattainable to people, so toning her show down can only help her.
Here's Kimora Lee Simmons and Djimon Hounsou on February 9th in New York. Images thanks to WENN.