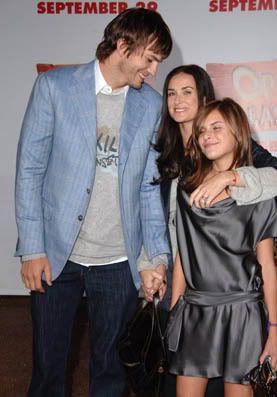 I would have hated to have had Bruce and Demi as my parents. Who looks at their precious little girl when they are born and says "I know! Let me call my daughter the most imaginable name I can think of, a name other children can't possibly make fun of at her school playground. I'm going to call her…SCOUT!"
Usually any girl would hold in the aggression they feel at being called such a ridiculous name, and then rebel when they are older by dropping out of university, dating losers, and becoming a complete slacker (like Rumer has done). Tallulah, however, is a sensible girl and is legally changing her name with her parents' permission. One problem: she's changing it to an even weirder name.
Ladies and gentlemen, please put your hands together for LULA WILLIS!
From SFGate.com
Bruce Willis and Demi Moore's teenage daughter Talulah [sic] is legally changing her name — because she has never liked the one her parents picked for her.

Willis went public with his 13-year-old's name-change plans during a taped appearance on "The Late Show with David Letterman" Thursday night.

He revealed, "She wanted me to mention here on the big show that she's legally changing her name from Talullah to Lula, just Lula. She doesn't like her name."
I admire Lula for having the courage to go up to her parents and saying that they suck at picking baby names. But, really–why get out of one ridiculous name to go and pick another one? Surely she didn't think she was getting enough attention with a name Tallulah?
I'm pretty sure Shiloh, Bluebell Madonna, Fortuna Daphne Bay, Brooklyn, Apple, and all the other unfortunately named celebrity babies right now will follow Lula's revolutionary lead when they are older. I bet that they will change their names to something like Sarah or David, though.
Note by Celebitchy: While the source article spells Lula's original name as Talullah, it is spelled with two Ls after the A according to IMDB and according to the low number of search results for the other spelling on Google. So her original full name was Tallulah Belle Willis, not Talullah as reported by SFGate.
Tallulah, I mean Lula is shown as the middle daughter below at the Over the Hedge premiere with her dad and two other unfortunately-named sisters, Rumer and Scout. [via]. She is shown in the header image at the Open Season premiere with her step father Ashton Kutcher and mom, Demi Moore.