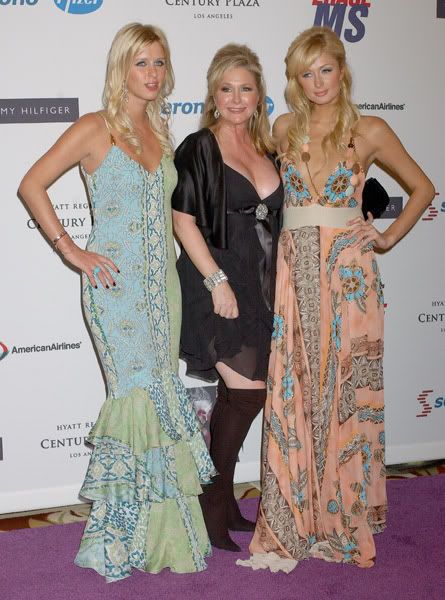 I saw some pictures on WENN photo yesterday of Paris and Nicky Hilton pumping gas and getting ready to go to Mother's Day dinner with their mom, and I honest thought "Where is their gift?" (The pictures are low-quality watermarked, but you can see what I mean in the last two rows, below. Look at how messy their car is!)
Now Paris' rep claims that a bag containing $10,000 worth of gifts for ther mom for mother's day was "stolen" from in front of the Hilton mansion:
Paris Hilton's mother can only imagine what her celebrity daughter got her for Mother's Day. That's because thieves stole the gifts before Kathy Hilton received them.
A gift bag containing nearly $10,000 worth of Christian Dior shoes, sunglasses, handbags and perfume was taken from outside the Hilton home, spokesman Elliot Mintz said Monday.
The younger Hilton "spent three or four hours shopping to put together this wonderful collection of things for her mom," Mintz said.
A delivery person set the package down outside the home's gate to ring the intercom when a passenger in a passing car snatched the gifts.
"A fellow just whizzed by and grabbed the package," Mintz said.
The Hilton family celebrated Mother's Day by going out to dinner, he said.
Now, it's totally possible that this happened, but it sounds like a typical excuse for forgetting to get your mom anything for Mother's Day. We know that Paris and Nicky went shopping on Saturday as they were photographed going to Kitson, but Kitson is a trendy casual store and doesn't sell Christian Dior items. They didnt have any bags with them that would suggest they got anything else. Maybe they went somewhere else, too, but we doubt it. The paparrazi follow them everywhere, and they would have been easily spotted at an upscale boutique if they actually did all this heavy shopping for their mom. Also, why would they have gifts delivered if they were going to see their mother on Sunday? Wouldn't they bring the gifts with them?
There's something about Paris' mom, Kathy, that makes you feel sorry for her. Sure she has more advantages in life than large portions of the planet combined, but she just seems needy and unfulfilled. Her family must take her for granted, but at least they had a nice dinner together on Sunday.
Here are Paris and Nicky on Saturday outside of Kitson and on Mother's Day outside the Ivy restaurant. It's nice that Paris is pumping her own gas. [via] and [via] Paris, Nicky and their mom Kathy are shown at "The Race to Erase MS," above.