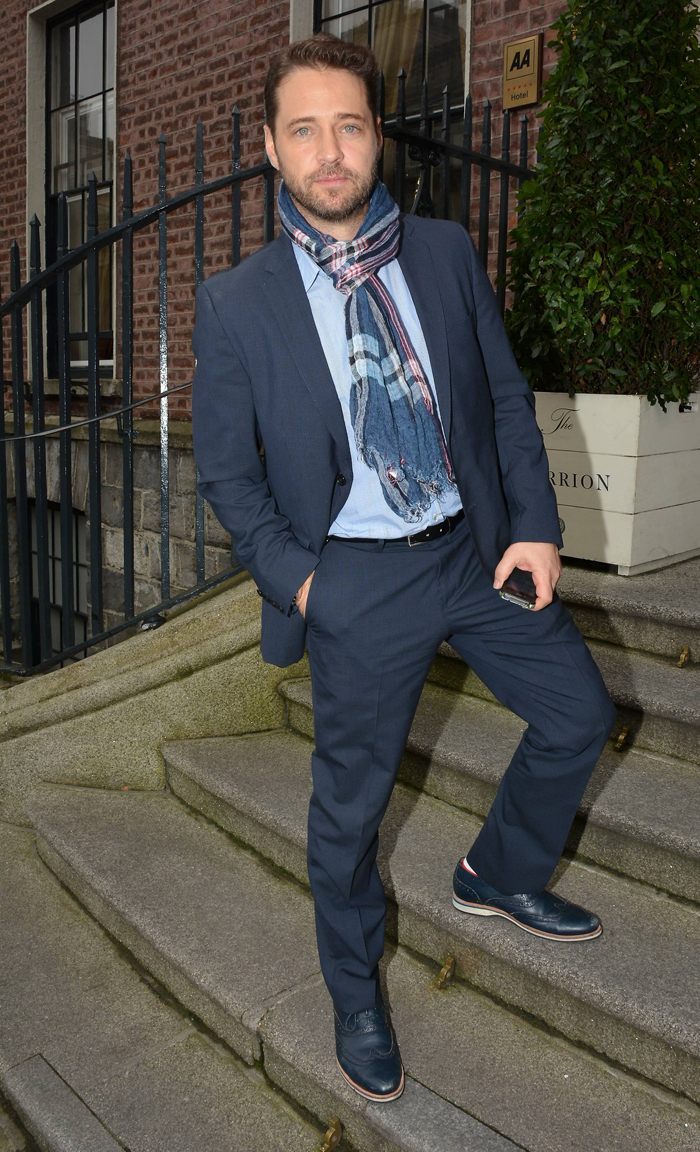 This is a photo of Jason Priestly at the Jameson Dublin film festival in February. Do you remember him? He was kind of a big deal in the early 1990s. This was long before the battles raged between Edward vs. Jacob and Gale vs. Peeta. Back in the day, it was Brandon Walsh vs. Dylan McKay on the original Beverly Hills, 90210. Okay … the dude characters didn't battle much. It was more like Brenda vs. Kelly. But in the hearts of the show's female fans, it always came down to who was dreamier, Jason Priestley or Luke Perry.
Who did I vote for during the 90210 run? Luke Perry all the way. Jason was alright but not my type. Plus Brandon always ended up going for the wrong girls. Remember Emily Valentine? Something inside of Brandon made him want to fix broken girls who didn't want to be fixed. Then something happened during the last half of 90210. Brandon pretty much dropped out of the show's soap opera. He could be found for one or two scenes per episode at the Peach Pit. One of the characters would go in and whine about their terrible life, and Brandon would unconvincingly squint in response. Jason looked like he had completely checked out of the part.
After the 90210 run was over, Jason stopped acting for many years. He drove race cars and posed for photos with hot race car babes. Only in the past few years has he made baby steps back into Hollywood. He directed his first feature film, Dylan and Cas, which received a small indie reception in Dublin. Now Jason is cashing in on his former co-stars with a memoir titled (ha) Jason Priestley: A Memoir. He has some things to say about bitchy Shannen Doherty, rude Tori Spelling, and smelly Brad Pitt:
Brad Pitt was his roommate in 1987: "Just for fun, we used to have competitions over who could go the longest without showering and shaving. Brad always won. Having to go on an audition meant cleaning up, which is what usually put an end to the streak."

Jason & Shannen Doherty once took a private jet to a NYC meeting: "I could not believe my ears at Shannen's very first words after she boarded. Her butt had barely hit her seat before she said loudly to the PR person, 'Really? A town car? You send a town car to take me to the airport, not a limo?' She sighed a very put-upon sigh. I laughed, as I couldn't really tell if Shannen was kidding or not. But that was just the beginning. I looked on, becoming more uneasy by the minute as she began bitching about the short notice and the food on board and the temperature in the cabin and everything else."

On Tori Spelling "I happened to be at home watching the local news one night, something I rarely got to do. Tori Spelling's yard sale made the broadcast that night. I saw my very own wedding invitation on the screen. Apparently, it had gone for five bucks, including a personal autograph by Tori. She sold my wedding invitation to a stranger."

Dean McDermott is a d-ck: "I walked over, extended my hand and said 'Hi Dean, Jason Priestley … He stared down at my hand, then back up at my face. No handshake…nothing… 'Well. [Mutual friend] Tom Cavanaugh speaks highly of you,' I said. 'Oh yeah?' Dean said aggressively. 'Yeah, for some reason he seems to think you're a nice guy.' I turned and left. Haven't spoken to him since."
[From Us Weekly]
Jason also has some bad stuff to say about Mischa Barton in his book. He also promises to reveal love advice from Bradley Cooper (wtf). Oh, I can't wait to hear about BCoop's serial-killer romantic tips. I'm not at all surprised to hear what he has to say about Brad, Shannen, Tori, or Dean. That was so rude of Tori to sell Jason's wedding invite. You know that she knew Jason would hear about it.
Here's Jason with Luke Perry at the Dark Tourist premiere last August. These two are still good buddies, which is very cool.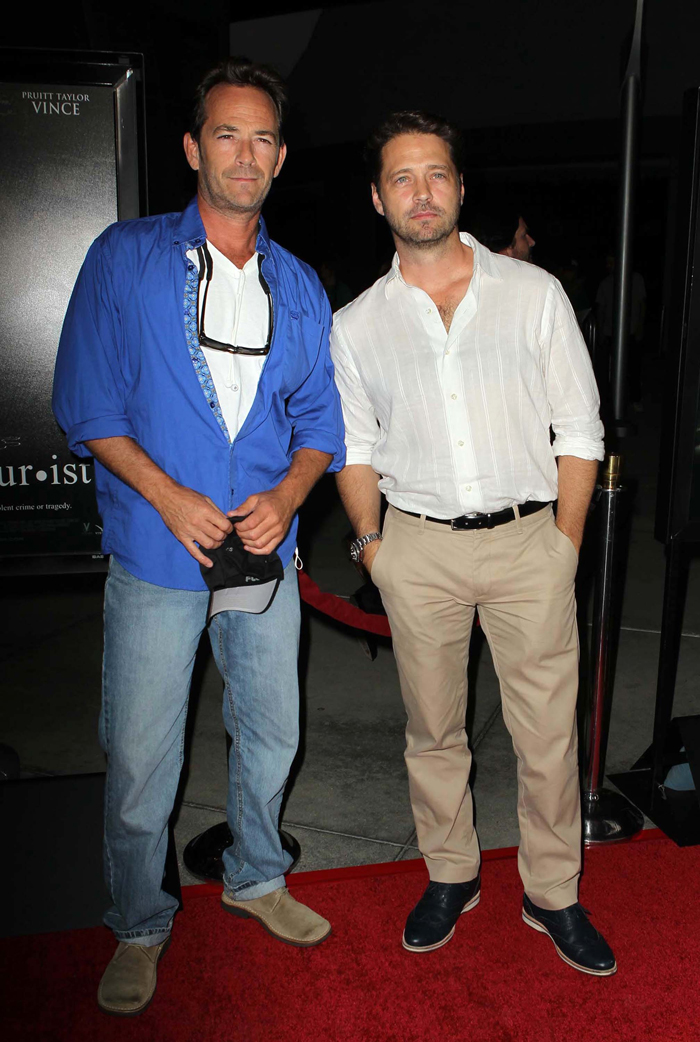 Photos courtesy of WENN