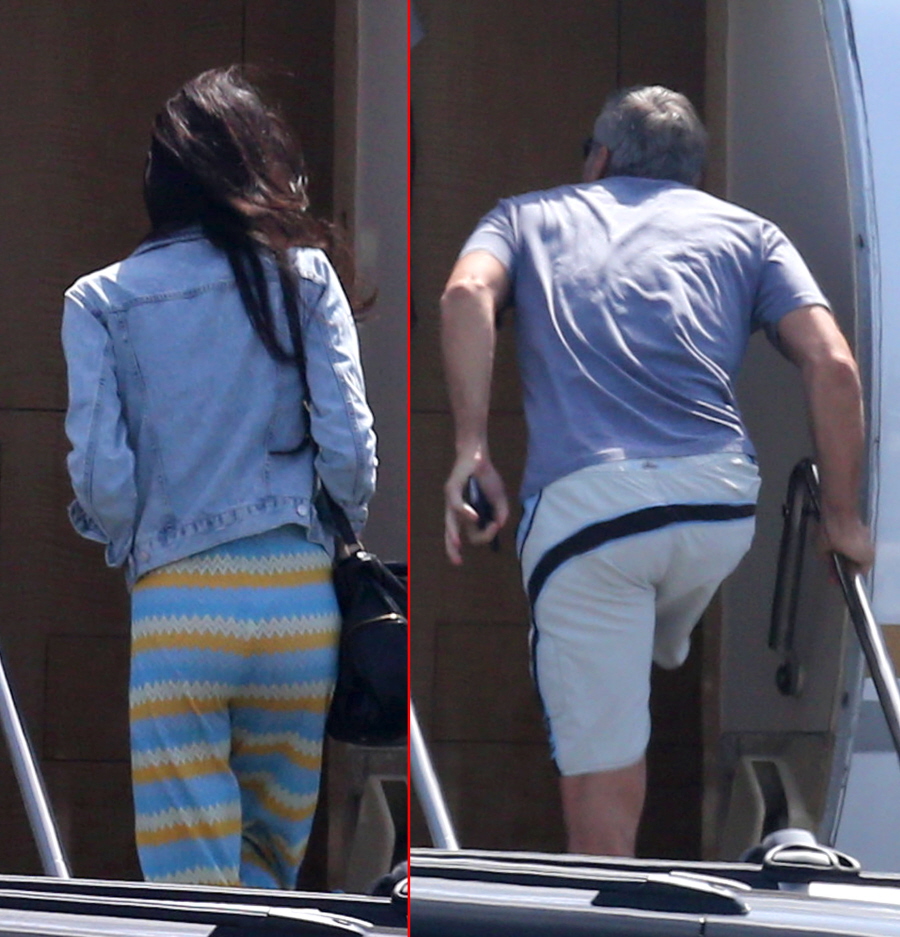 Here are some photos of Amal Alamuddin and George Clooney getting on a private plane yesterday. Check out the way George is pulling himself up. I'm telling you… this is a man living with significant back pain. My father was like that, so I know what it looks like.
Anyway, I've enjoyed this week full of George Clooney and his subversions of what everyone expected from him. Clooney is so stuck in the old-media paradigm, it's like he doesn't realize that by leaking all of these details about his proposal and The Ring, he sounds sort of try-hard. To be fair, I think he IS rather try-hard with Amal Alamuddin. But we'll see. Us Weekly has a funny/interesting story in this week's print edition. We know most of the stuff already, but here are some new details:
*George first met Amal in London in October of last year "to discuss a book she was writing." As soon as they met, "he turned on his patented charm." A source says: "He saw a future with her. Amal has her own career and drive."

*He liked her because she was "more interested in Darfur than Dancing With the Stars." Amal "is someone he can have a significant conversation with. It's the healthiest relationship he's ever had."

*His dad told him, "George, you need to be serious about a woman like this."

*One source says: "George has gotten his bachelor days out of his system. He was just waiting for the right girl."

*They plan to split their time between Europe and LA. One source says George "will spend more time in London to be with Amal."

*The wedding will be within a year. "Her family's pretty old-fashioned, so they won't be able to wait a long time." Apparently, "George sees the marriage lasting."
[From Us Weekly, print edition]
Ah, that's adorable. George has been transformed into one of the needy ladies he usually dates. I really hope Amal keeps him on his toes. And by that I mean… I hope she helps him get up from various chairs, because his back is probably killing him. When he got down on one knee to propose, he probably slipped a disc.
Radar also has a "scandalous" story on Amal's past legal career. Apparently, she advised the King of Bahrain years ago, around the same time that Bahrain was one of the worst human rights records in the world. She was hired by the king to write a report about his country's human rights violations, but the report ended up being a whitewash. You can read about it here.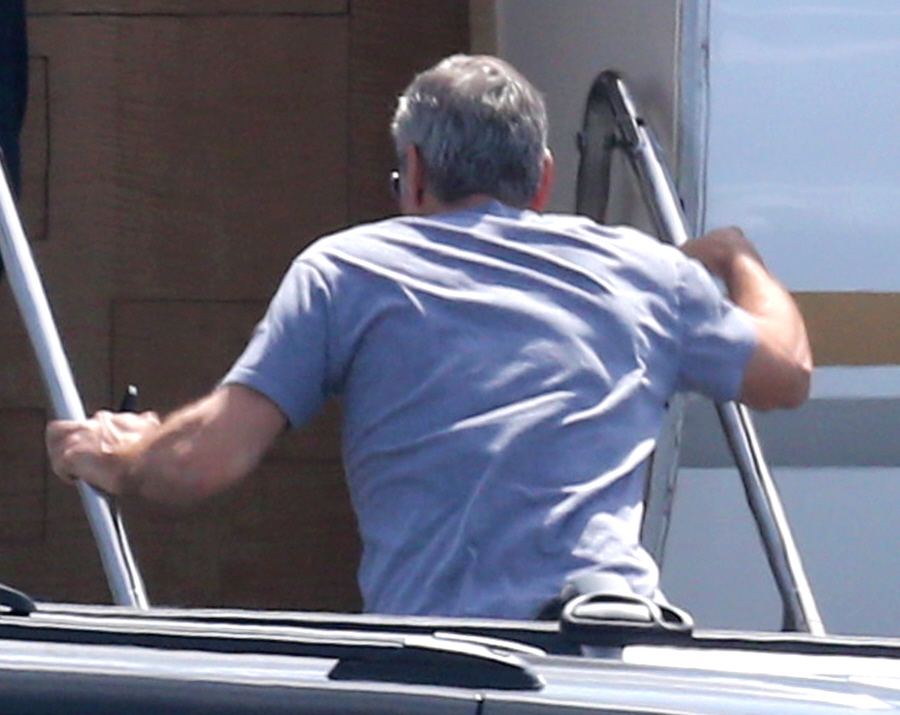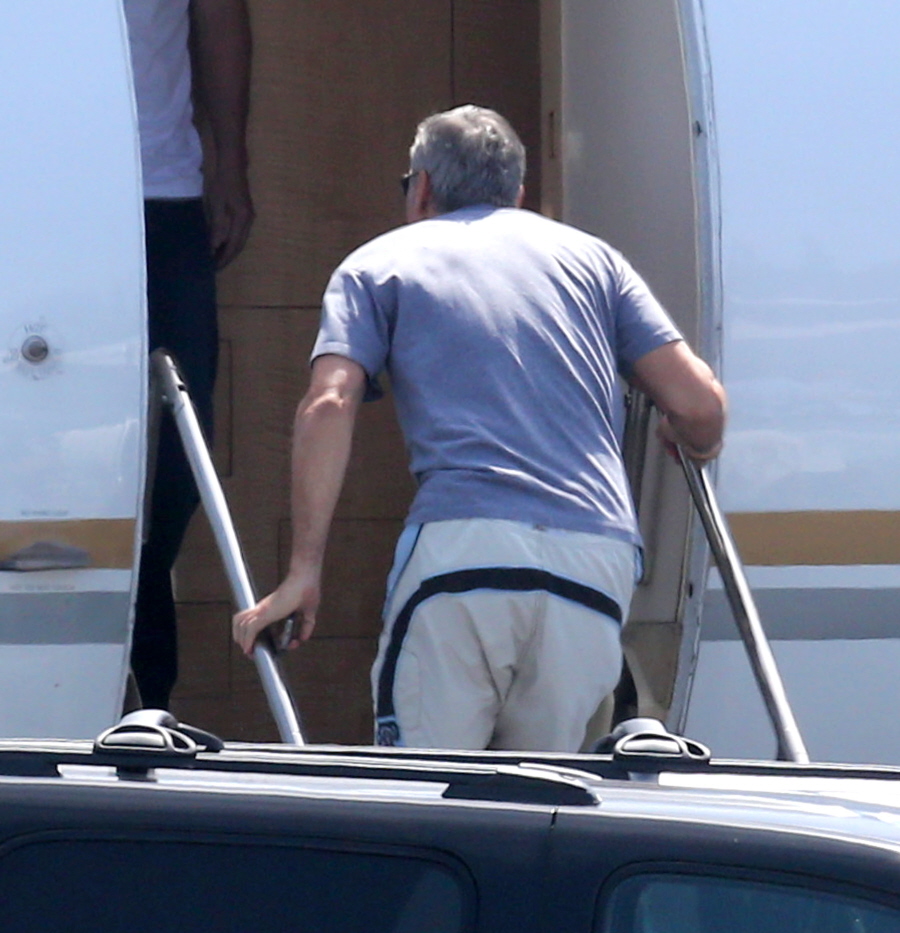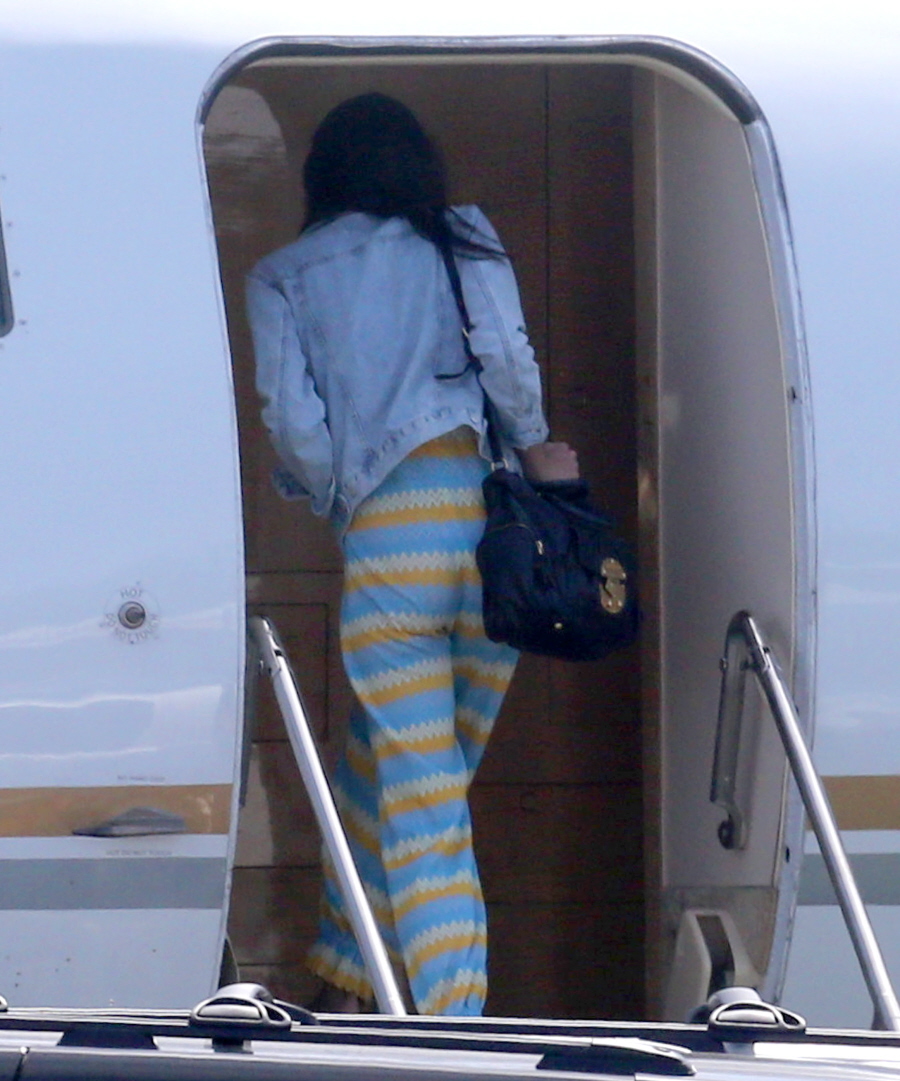 Photos courtesy of Fame/Flynet.