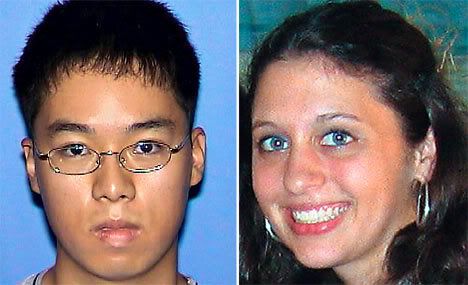 I want to write about gossip today, but it seems a little silly and pointless, especially as I know people who have been affected by this tragedy. I'm sure I'll get into a state of mind where I am able to write about celebrities a bit later, but I will feel a bit shallow if I don't cover this and pretend it never happened.
Cho Seung-Hui, the student gunman who killed 32 people on the Virginia Tech campus early Monday morning, may have been infatuated with his first victim, 18-year-old Emily Hilscher, also a student at VT. It's not known whether she ever responded to his advances, and to be completely frank I don't think it matters. No one deserves to be killed under these circumstances.
Here's the coverage from the Daily Mail:
Dressed more like a 'boy scout' than a mass murderer, he arrived at her dormitory room early on Monday morning.

It is unclear whether the first-year had responded to her killer's approaches. But Cho, jealous of Emily's boyfriend, gunned her down.

Another student, Ryan Clark, rushed to help after hearing his neighbour arguing with Cho. But the 22-year-old died alongside her.

Cho, who was described as a loner, then casually walked back to his own room, re-armed and embarked on an orgy of violence making him the most deadly murderer in American history.

Before killing 30 more, and then turning the gun on himself, Cho left a note which gave some clues to his twisted mind. He wrote: 'You caused me to do this'.

The 'very disturbing' letter, four pages long, includes a rambling list of grievances and attacks against 'rich kids', 'debauchery' and 'deceitful charlatans' on campus.

He died with the words 'Ismail Ax' written in red ink on the inside of one of his arms, leading to speculation that he may have been a Muslim. In Islamic lore, Ismail is a reference to the 'son of sacrifice'.
A candlelight vigil was held yesterday morning commemorating the dead, and President Bush attended a memorial service at the university yesterday.
Everyone is playing the blame game at the moment. It's America's fault for having lax gun control laws. It's the university's fault for not sending the e-mails out quick enough to warn people that Seung-Hui was on the loose on campus. It's the counsellors fault for not alerting people sooner as to how troubled this young man really was.
At the risk of being lambasted for this later, all the things I stated above ARE true. America has ridiculous gun control laws that vary from state to state, it's not regulated strictly enough, and my opinion is that our right to bear arms was put in the Bill of Rights back in the days of our forefathers when we were fighting British control of the colonies, not so everyone has the right to store a semi-automatic to use when they deem it necessary (because "necessary" can mean a lot of different things to different people).
The e-mails SHOULD have been sent out earlier, more imperative wording should have been used in the e-mails to make everyone know what was going on and to be vigilant. If anything, if there was a gunman on campus an announcement on a tanoid should have been on to tell everyone to keep gun an be wary that a psycho was on the loose. A police unit should have been sent to every part of the university to make sure no one else was affected.
The counsellors should have done more to alert others about Seung-Hui's behavior. It is reported that he had set fire to a dorm room in the past, for goodness sake, and that he was taking medication for depression after his behavior started becoming more violent and erratic. They knew this, and did not do enough with the information. They could have restricted him from attending university classes until his behavior was under control.
But the question still remains–what the hell are we going to solve by blaming each other? We could "shoulda, woulda, coulda" all we want, but in the end it was Seung-Hui's twisted reasoning (and I say twisted, because there is never a good reason to take someone's life) that led him to do all this. Everything else falls in the background–no one pulled that trigger but him.
No one seems to have learned from other tragedies like Columbine and Dunblane. Everyone commiserates the dead, and then think nothing about it until another tragedy happens. Instead of pointing fingers, people need to shut up and start acting on real solutions before another stupid atrocity like this happens again.
My thoughts are with the dead and their loved ones.