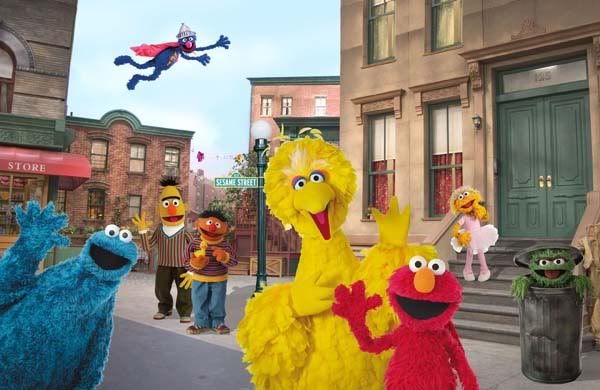 Plenty of celebrities have appeared on long-running PBS children's television show Sesame Street. Answers.com has an extensive list of celebrities, musicians, sports stars, and political figures that have been on the show since it first aired in 1969.
Johnny Cash sang duets with Big Bird and Oscar the Grouch in two separate appearances. There was even a character called "Johnny Trash" that was based on the famous country singer. The Goo Goo Dolls appeared in 1997 singing their hit "Slide" alongside Elmo, but modified it to have the title "Pride" and sing about things Elmo should be proud of, like being able to tie his shoes.
R.E.M. sang a version of "Shiny Happy People" called "Furry Happy Monsters" in a 1998 appearance.
In Robert DeNiro's appearance, he talked to Elmo about acting and about how you pretend to be other people. He asked the character if he would like to see him pretend to be an out of shape boxer, a taxi driver, or a cabbage, and Elmo asked him for the cabbage.
There are plenty of other cameos of famous people on Sesame Street including Lucille Ball, Mel Gibson, Glenn Close, Burt Lancaster, Liam Neeson, Dizzy Gillespie, William Shatner, Denzel Washington, Elijah Wood, and Stevie Wonder.
Here are the clips
Stevie Wonder singing Superstition

Johnny Cash

The Goo Goo Dolls

R.E.M.

Robert DeNiro

Perry Como and Julie Andrews, 1973

Here's a 1988 pledge drive special featuring several celebrities in a brief segments of a sing-along including the late John Candy, PeeWee Herman, Madeline Kahn, Jane Curtain, Paul Simon, Jeremy Irons, Rhea Perlman and Danny Devito.

And here's a cute song with Ernie singing himself to sleep. It's really low, but worth watching. It features quick appearances by Chris Meloni, Julianne Moore and her daughter, Whoopi Goldberg, Dr. Phil, Seth Green, and more.

Header image from BerlinWallpaper.com.