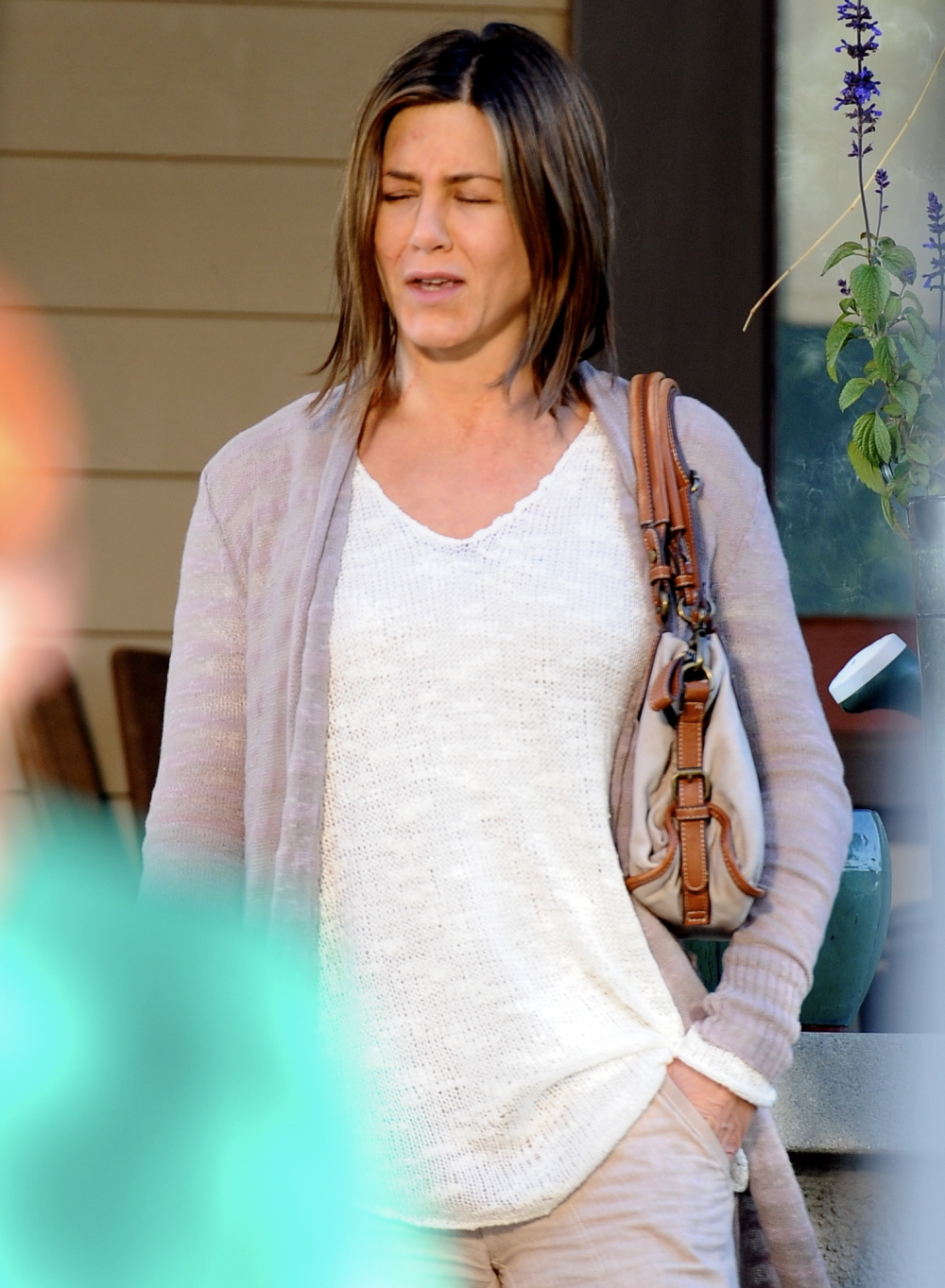 Jennifer Aniston has several new interviews, and they're all about her hair. Of course. I remember a time when Jennifer used to tell interviewers that she was more than the sum of her hairstyles, but that was before she had invested in Living Proof and had to do endless press about how Living Proof changed her (hair) life. Of course, she doesn't JUST use Living Proof, although she won't say that. She also uses experimental hair treatments involving formaldehyde. Seriously. Anyway, here are some assorted new quotes from Jennifer about her hair:
Showing off her dark bob for 'Cake': "I don't know, man. I did it! I feel great. I feel lighter. It's simple, it's really simple, that's for sure. But I'm always one of those girls who does a big old chop just to get it really healthy, to repair all the [damage from] hair coloring and stuff like that."

Her favorite movie hair: "I loved my hair in Along Came Polly. Dr. Julia from Horrible Bosses — I loved that. That was fun, glamorous."

Her look in 'Cake' is not new: "Well it's not. I just wrapped a movie [Cake] … It was basically for that … But I actually like it. This is how god created me."

Straightening: "The thing that makes me chuckle is when I hear that my hair is so this, or so that. My hair is always at odds with a brush and a hair dryer. To get my hair straight can be a struggle."

Her problem hair: "As a child [my hair], was problem hair. But … you sit in enough chairs with enough of these amazing, creative hairstylists and you start to learn how to manage it and now thanks to Living Proof it's even easier."
[From Us Weekly, People and E! News]
Aniston kills me. She has full, thick, naturally wavy/curly hair and it's like it would never occur to her to just own that. But no, she wants straight blonde hair and she's spent so much time, money and energy trying to achieve that. Meanwhile, so many women wish they could have her natural waves. Meanwhile, Radar claims that Jennifer now has a "drive-in closet".
Walk-in closets are so last season. RadarOnline.com has learned that fashion icon Jennifer Aniston is about to set fashionistas scrambling with her latest style innovation: a $60,000 drive-in closet!

Aniston is in the midst of renovating her 8,500 square foot Bel Air mansion, and seems to have found it is simply not big enough to house all of her designer duds: According to recent permits filed with the Los Angeles Building & Safety Department, the former Friends star plans on converting her garage to a massive walk-in wardrobe. The documents reveal that the 45-year-old's new boudoir is more like a Barney's boutique than a closet, with 24-feet by 36-feet of runway-worthy space, at a cost of $60,000.

And that's not all! To glam it up the former car park, Aniston is adding a skylight and a powder room to give the new addition some natural light when she's getting primped and fitted.

The drive-in walk-in is just the latest in the multi-million revamp of the manse, where even the chickens got upgraded digs. Aniston and fiancé Justin Theroux also recently remodeled their master bedroom to add 7-feet by 12-feet of extra room, added a 6-foot by 20-foot balcony, renovated the concrete staircase with water features made of lava veneer and glass railings, added living quarters to a guard house, and remodeled the kitchen and pool house.

The impressive estate also comes with a private vineyard, pool, landscaped gardens, high-tech indoor gym, library, gourmet kitchen, butler's kitchen, a dining room and library, and two upstairs guest rooms with a lanai.
While all of the renovations sound like Pure Aniston (she loves her luxury and why not?), this sounds like the antithesis of Justin Theroux's hipster shtick. He's happier in a small NYC apartment, hanging out with his hipster friends and wearing the same skinny jeans and boots day after day. He doesn't need a drive-in closet for his collection of jorts.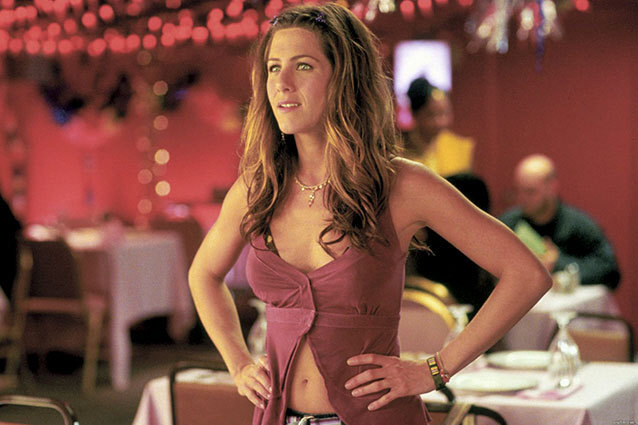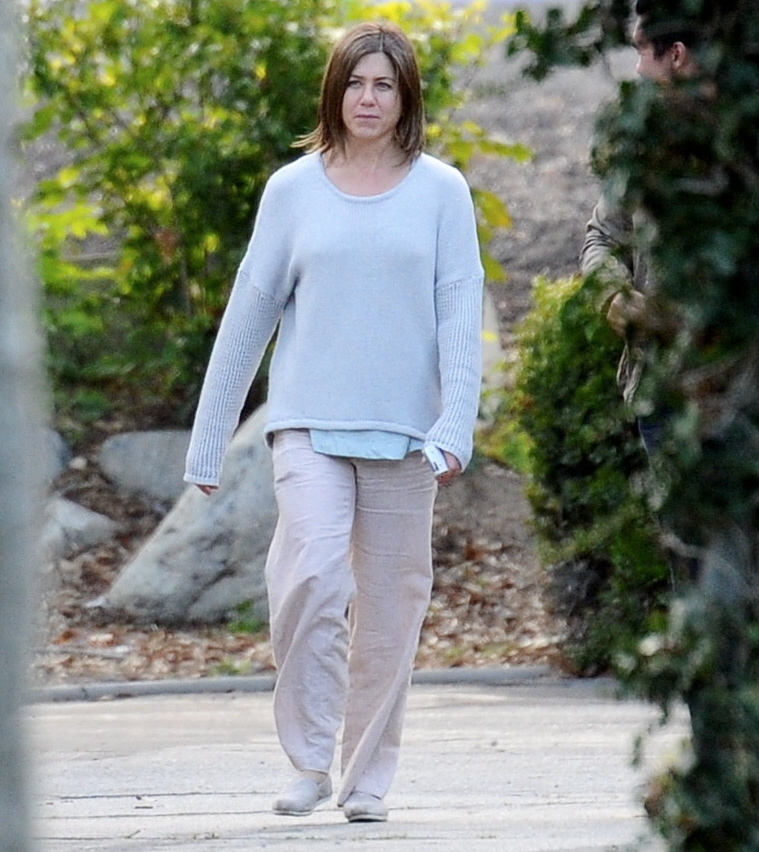 Photos courtesy of WENN, Fame/Flynet. Still from 'Along Came Polly.'