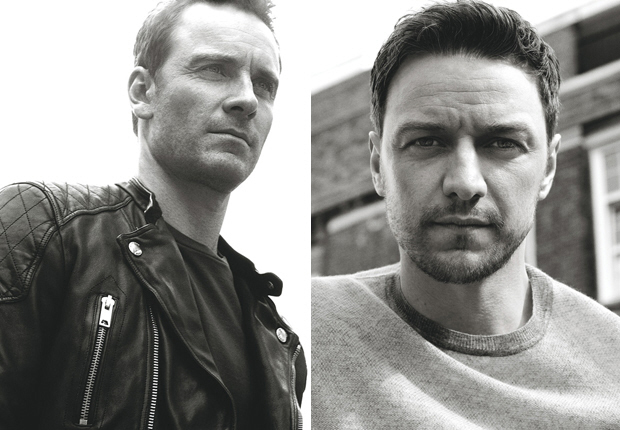 Michael Fassbender and James McAvoy did a joint interview with Details to promote X-Men: Days of Future Past, and it is without a doubt one of the cutest, funniest things I've ever read. Fassy and McAvoy get along really well – they're close in age, they're some of the greatest actors of their generation, they're both daredevils and they're both really funny. They tease each other throughout the piece, and you really get a sense that they just enjoy each other immensely. You can read the piece here (I would highly recommend it) and here are some highlights:
James on how much he loves Fassy: "It's not a contrivance at all. I love the guy. I do mourn your absence sometimes when I'm working with lesser dudes."

Fassy on why he announced he wasn't doing Oscar campaigns: "It takes five to six months to go and do a campaign, and that's fine, but I would prefer to make the movie and tell another story. And that's all I meant by that. It's not like, 'Oh God, this is a drag and I can't be bothered with this.' It's not that at all, and I don't want to take away from anybody who does it, because that's not what I meant. Basically, what I'm saying is, I think we live in such a politically correct time at the moment. It almost feels like the fifties again. People are so quick to judge and pick on something that you say. The fact of the matter is, of course it affects you—because of course everybody likes approval, that's just human nature—so you'd be lying to say it doesn't. Like James said, it's nice to hear your name called out."

Fassy on Lupita Nyong'o winning the Oscar: "I actually had predicted the way it went. I thought it would get best film. And I did sort of call the Lupita thing. I was pretty sure she'd get it, and I was so happy she did… And I wasn't there! I went outside to go to the toilet. Yes. I was taking a piss. And I did have a sneaky vodka tonic. But I got totally caught out, because I was thinking that category was going to be way down the line. And then, of course, you can't get back in until it's a commercial break, so I watched it backstage. I felt pretty embarrassed about that."

McAvoy on playing posh English blokes: "For the first five, six, seven years of my career, nobody even knew I was Scottish. Everybody thought I was posh English. Even Scottish people. Because it's all I did on TV, it's all I did in movies. State of Play, costume dramas, Becoming Jane, Atonement. And I was doing all right for myself—I got a real kick out of the fact that what was getting me somewhere was that I was able to pretend to be these c–ts that had annoyed me so much earlier in my life.

McAvoy on his wife & son: "I've been nesting since I was about 24, mate. You just choose the things you want to keep private and keep them precious. And if you sell them cheaply, then they become cheap to you also."

McAvoy on working with Angelina Jolie in Wanted: "It is amazing, seriously, and I am thrilled about it. [Laughs] I kissed f–king Angelina Jolie. Yes, we had a bit of a snog. I am sure Brad Pitt's deeply unthreatened, deeply unmoved, and probably reassured in his masculinity. Probably."

McAvoy on Jennifer Lawrence: "Jen's a demon, man. She's a demon, period. She can throw a punch, she's got a good shot, she can drink. She's proper. I like that girl."
If I had to choose, I think McAvoy is probably funnier than Michael, but there's something about Michael that brings out the wild, fun side of James. I loved that James was talking up Jennifer Lawrence, and if you go to Details, James tells a hilarious story about Ian McKellen stroking his face for three minutes straight while fish cakes sizzled on the stovetop. This was brilliant!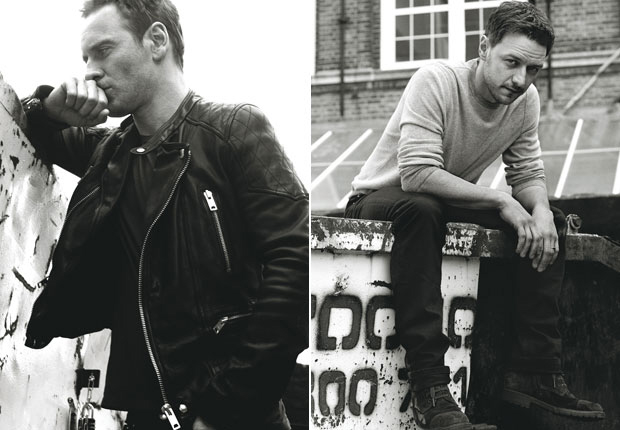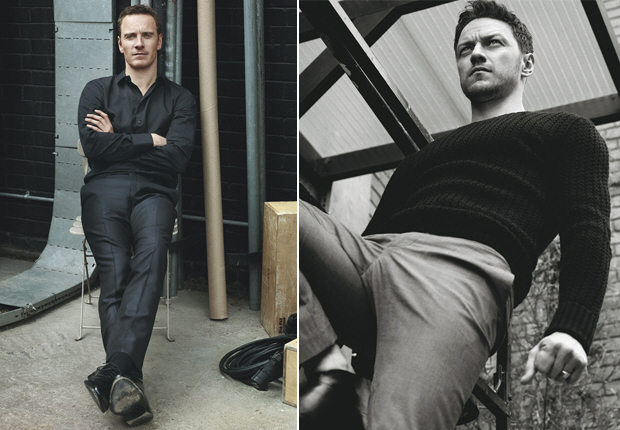 Photos courtesy of WENN, Details.