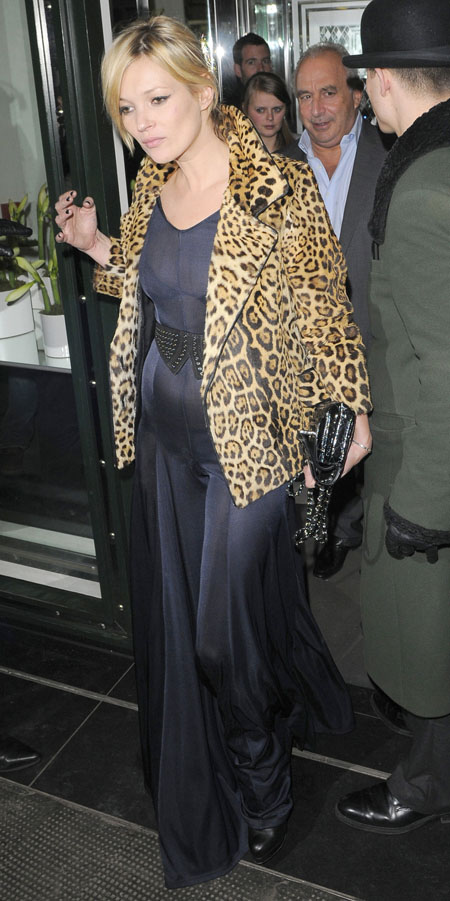 Kate Moss just did an interview with New York Magazine promoting her new Topshop line, which will be premiering in New York on April 2nd. It's really less of an interview with Moss, and more of a conversation between she and Topshop's CEO Phil Green. The two met when (the happily married) Green bought a kiss from Kate at an auction in 2006 for £60,000 (almost $86,000). They hit it off, and Green decided to work with Kate to create a line by her for Topshop. The beginning of the interview is a bit too doting in my opinion, but the rest of it, is quite interesting, though sometimes hard to understand because this is really a transcription of two good friends having a conversation. Sometimes there are shared memories and jokes that an outsider just wouldn't understand. It's a rather long interview, but here are some highlights:
On starting a line and designing clothes:
P: I think from Kate's point of view, becoming a designer was a natural progression. Kate was at a particular moment …

K: I love clothes. I know how clothes should fit and feel. When I would go to shoots, stylists would say to me, "You really should do something. You should take it another step." But it never felt right until I met Philip and the whole atmosphere of Topshop.

P: This wasn't something we needed to do, either of us. We didn't need to make money that week, that month. Make Kate a part of our family. The types of things Kate had to learn about—these things take time.

K: I've never done it before. Now I know what is possible and what we can do, which is a lot. It's really just making things that I want: the little sundresses that I always wanted, the little bus-stop dresses that I always cut too short and now I can't wear anymore. Now I make them a couple of inches longer. Even before I started modeling, I was cutting up flares and making miniskirts. When I started modeling, I used to just go to jumble sales and have bags and bags of clothes and then the stylists would use them on shoots. Harper's Bazaar asked me to edit the magazine— the whole magazine!—as a fashion editor. I went into the office and, oh my goodness, there was no way. It wasn't right.
On working with "people like Kate" (I assume he means "partygirl"):
P: Most people don't know how to work with people like Kate.

K: It's true. They try to make you into something you're not.

P: She calls me up and says, "Uncle Phil, I want to go to Cornwall on Wednesday." And I say, "Fine, go to Cornwall."

K: But it was for work!

P: Fine. It's got to flow. If Kate thinks it's just a workhorse job, you end up with a rail of product you hate.

K: It's not just turning up and doing a job. Because turning up on a modeling call—I still enjoy it, but it doesn't get me going.

P: In spite of all that party living, you look good.

K: I haven't partied since … last Friday!
On not being pregnant and gaining a few pounds "where it counts":
P: We're going to try and do lingerie for next season.

K: I've got a clear idea of what I want for lingerie. I've just started wearing bras. It's a miracle. Not today, but I have been. Great timing for my lingerie collection. I've just grown breasts.

P: Have you? I noticed.

K: I am a woman now! It's true. No, honestly, I've never worn a bra in my life. Ever! It's so awful, even my friends are phoning me up and saying "Are you pregnant?" And I'm like, "No! I just put on a couple of pounds, and they went in the right place." Isn't that weird? And how perfect for lingerie.

P: That's how it works. You've got to be lucky.

K: Now I can fill a B-cup. My friend does say I've got horseshoes up my ass. I'm like, What does that mean? It means I'm lucky—I've got a horseshoe up my ass.
On their working and personal relationship:
P: Let me tell you something about how this all works. Last summer, we're in Ibiza. And I have not been in Ibiza for five years.

K: Oh, shush.

P: So I decide to go to Ibiza, and this is how freaky it is …

K: The tide had come in, and we were completely stranded. Like refugees. And then I saw this massive boat go speeding past and I was like, That's Uncle Phil, I know it is.

P: Two minutes later, the phone rings: "Uncle Phil. We're shipwrecked." And there's Kate. On a rock. Seriously!

K: It is like that, though. It just happens.

P: It is funny. We do have fun. It works well. Everybody's happy.

K: We get the job done.

P: If I hate it, I say, "Oh, God, it's horrible."

K: He does not beat around the bush. I'd much prefer someone to say "Oh, that's shit." So it's really nice, honestly. And my name has become a brand, an entity. "I want to have the world of … " Can you imagine? [Laughs] Like Ralph Lauren!
[from New York Magazine]
Their relationship seems really sweet. At some point he reminds her that she has decided to give up smoking, to which she replies "Silence!"; and yet they also joke about the new size of her breasts. It's a great sibling-like relationship. He also seems to recognize that she's not a business woman, she's not a designer – she's a model who has a knack for putting together outfits. She admits herself that she wouldn't know how to go about drawing out the design for a dress, but she does seem to be very involved. I suppose she is more of a guide to the people who actually do the designs – picking colors and themes rather than choosing how many darts a jacket will have.
I've never felt the animosity towards Kate that a lot of people seem to have, but she comes off a bit arrogant in this article. At one point she refers to herself as a muse because she has been picked to host the Metropolitan ball – the first model to be asked to do so. There is a sense that she's a bit self-centered.
I'm really hoping that she's being honest and isn't pregnant because she was recently reported to have shown up to a photo shoot and drunk beer after beer during makeup. If she's pregnant and willing to do that at work, just think what she does after hours.
Kate Moss is shown out on 2/12/08. Credit: WENN