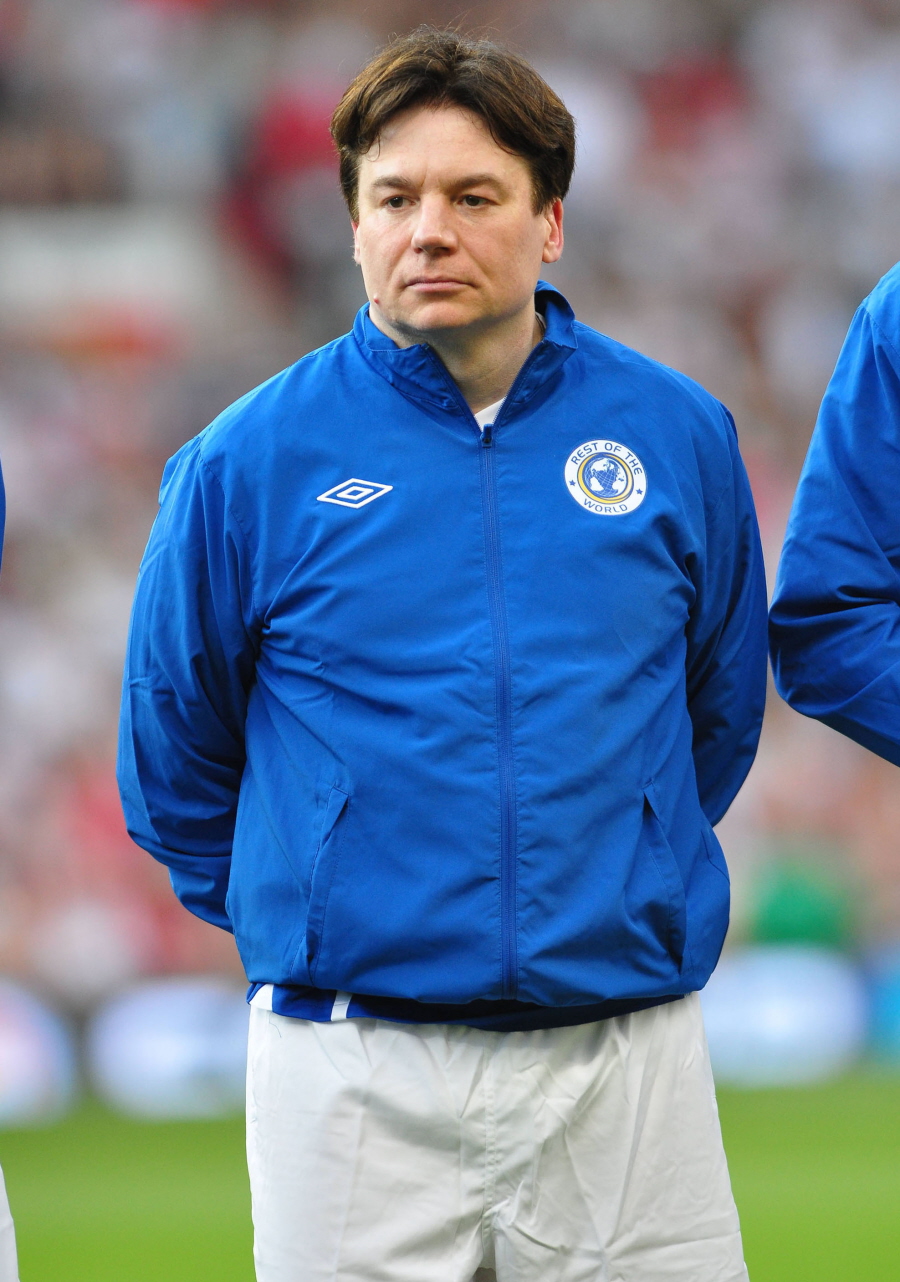 Mike Myers has a new interview in GQ. I know some of you say he has a reputation as a difficult man or even a d-bag, but I've always thought he was truly, genuinely funny. His episode of Inside the Actors Studio is still one of the greatest things ever, and the man knows how to give an interesting (albeit bizarre) interview. I would suggest reading the full piece here – he talks about his side projects, how he's been keeping busy (painting, becoming a father, writing, working on weird musical projects).
He also talks about the now-infamous incident at the Hurricane Katrina telethon in 2005, when he was paired up with Kanye West, who went gloriously and emotionally off-script for a full minute (while Myers projected discomfort) then Kanye blurted out "George Bush doesn't care about black people." It's worth watching again after all this time:
It's serious and it was serious at the time, and NOLA was devastated and people died and it was awful. But this was still one of the craziest live moments ever. And if you just watch Myers, you do laugh a little (or is that just me?). I mean, he was SO uncomfortable and then the camera cuts to poor Chris Tucker who has to follow THAT. Anyway, now that almost nine years have passed, this is what Mike has to say about that moment now:
GQ: Do you remember what you were thinking as he said it?
MM: I don't do many things. And I remember watching the television and seeing, because I'm a citizen now, my fellow citizens on the roofs of buildings dying. And I turned into my father, where my dad would shout at the TV. My dad hated injustice. I've been called for many, many telethons, hither and yon, and I remember just being so upset and feeling, ironically, that if this was white people on roofs, the army would be there in five seconds. And these are my fellow citizens, who just happen to be people of color, sitting on roofs for multiple days. So when they called me I said, "Yeah, I'll do it." I went there specifically because I wanted to help the Red Cross. I was supposed to be by myself, and I was, like, "fine", then they said "Do you mind doing it with somebody else?" And I always remembered that Live Aid thing of "leave your egos at the door", so I said, "Sure, of course." And they said, "Would you do it with Kanye West?" and I said, "Uh, sure." I actually wasn't familiar with his work. And then he said he was going to take some liberties with the thing… I didn't know that the liberty would be calling out the president.

If you watch the footage, I don't think he knew.
I don't think so either. But the question itself is a little beside the point of what actually went down in New Orleans. For me it isn't about the look of embarrassment on my face, it is truly about the injustice that was happening in New Orleans. I don't mind answering the question but the emphasis of it being that I'm the guy next to the guy who spoke a truth. I assume that George Bush does care about black people—I mean I don't know him, I'm going to make that assumption—but I can definitively say that it appeared to me watching television that had that been white people, the government would have been there faster. And so to me that's really the point—the look on my face is, to me, almost insulting to the true essence of what went down in New Orleans… What is so funny about peace, love, and understanding? To have the emphasis on the look on my face versus the fact that somebody spoke truth to power at a time when somebody needed to speak? I'm very proud to have been next to him. Do you know what I mean? I'm, like, super proud to have been next to him. The look on my face is…to be honest with you, I thought I handled it well. I was like "This is what's happening…" Because live TV is my milieu, and improv is my training, you know. It has been painful that the culture has at times meditated on my surprise, when it's really the message, dude. The message, the message, the message, you know. There's a world of fail culture, and it's hardly a fail on my part to be next to the guy that spoke truth to power at a time when horrific injustices…
Aw, that was nice, right? I remember Mike and Kanye doing a bit on Saturday Night Live a year or two after the telethon as well, and I remember being surprised the Kanye would agree to it (Yeezington does not do well in an atmosphere where he has to joke). Still, Mike's right – it's an iconic moment in television history and the point of it is not his reaction in real time. The point was (and is) Kanye calling out the president. Incidentally, in a post-presidency interview, George W. Bush listed that Kanye West moment as "the all-time low" of his presidency because of the blanket accusation that he (Dubya) was a racist.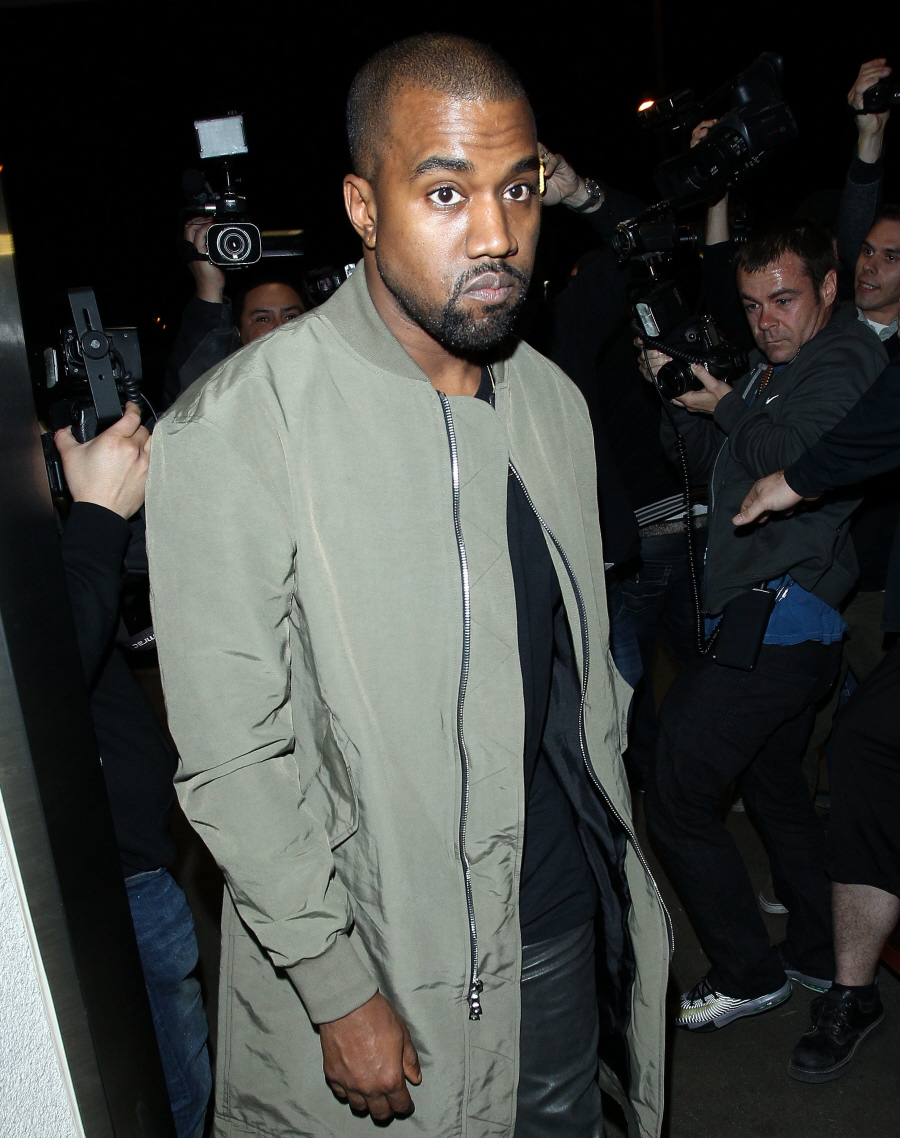 Photos courtesy of WENN.